Social Networking

App Development Services

Igniting conversations and connections with our user-friendly and engaging Social Networking mobile app development services.

Hire Industry Experts
Our Social Networking Development Service Offerings
To humanize your communication & ease connection building get personalized app solutions with our custom social networking development services.
Custom Social Networking App
Our expert and highly efficient developers build custom social networking apps integrated with trending features to deploy your unique ideas seamlessly.
Messaging App
We design user-friendly, secure & scalable messaging app for your business or organization that supports various multimedia formats like text, images, and video.
Forum, Blogs & Publishing App
Our highly experienced developers build feature-rich & trending forums, publishing & blogging platforms equipped with moderation tools & seamless user experience.
Social Game App
At Codiant, the social networking app development team is equipped in developing highly engaging & intuitive social games to connect with friends and the community.
Social Network Analysis Tool
At Codiant, we build user-friendly tools integrated with algorithms & data analysis techniques that help you to provide valuable insights & support accurate decision-making.
Video-Based App
We build custom apps to suit your specific needs that allow users to share & view video and integrate live streaming to deliver an immersive & unique user experience.
Our Customizable Solutions
Professional Networking Platforms
Codiant's comprehensive professional networking platform is designed for business networking, allowing users to create detailed profiles and connect with colleagues and industry professionals. Similar to LinkedIn, it enables building an online presence, expanding networks, and discovering career opportunities. Users can showcase their skills, and access industry insights, all aimed at facilitating career growth and development in the business world.
Custom Platform Development
User Authentication and Security
Integration with Social Media and Collaboration Tools
API Development and Integration
Scalability and Performance Optimization
Instant Messaging Apps and Chat Platforms
Our instant messaging apps and chat platforms provide real-time communication through text, voice, and video messages. The app solution is powered with features that enables users to send messages, make voice and video calls, and share media instantly. These apps are widely used for personal and business communication, offering features like group chats, emojis, and file sharing. Popular examples include WhatsApp, Facebook Messenger, Telegram, and Slack.
Custom Chat App Development
Web Chat Integration & Chatbot Development
Security, Encryption & Multi-Platform Integration
Integration with Third-Party Services
Cloud Hosting and Management
Enterprise Social Networks (ESN)
Codiant develops Enterprise Social Networks (ESN) as private social networking platforms tailored for businesses and organizations. These platforms enable internal communication, collaboration, and knowledge-sharing among employees, teams, and departments. With features like instant messaging, group discussions, file sharing, and project management tools, ESNs create digital workplaces that enhance productivity and connectivity. Prominent examples of ESN platforms include Microsoft Yammer, Slack Enterprise Grid, and Workplace by Facebook.
Custom ESN Development
Employee Onboarding and Training
Enterprise Chat and Messaging Integration
Multilingual Support & Enterprise Content Management
Data Migration and Upgrades
Photo and Video Sharing Networks
Codiant is the preferred technology partner for developing photo and video-sharing networks, which are online platforms enabling users to share visual content with others. Users can share visuals, spark interactions through comments and likes, and exhibit their creativity. Prominent examples of photo and video-sharing networks include Instagram, Snapchat, YouTube, and Vimeo.
Custom Photo/Video Sharing Platform Development
Media Upload and Storage Solutions
User Authentication and Privacy Control
Social Interaction Features
Geotagging and Location-Based Services
Dating and Matchmaking Platforms
Codiant offers dating and matchmaking platforms connecting individuals for romance or companionship. Users create profiles and find matches based on criteria. Our tech employs algorithms and compatibility tests for ideal matches, providing tools like messaging and video calls. Prominent examples of these platforms include Tinder, Bumble, OkCupid, and eHarmony.
Matching Algorithms and AI
Privacy and Data Protection Compliance
Multilingual and Internationalization Support
Media upload, sharing and user profile verification services
In-App Purchases and Subscription Management
Live Streaming and Broadcasting Platforms
Codiant creates live streaming platforms for global real-time video content sharing. Users stream events, gaming, and personal moments, with live interactions via comments. These platforms support interactive features, enabling content creators to form a community and monetize their streams. Prominent examples include Twitch, YouTube Live, Facebook Live, and Instagram Live.
Video Encoding and Transcoding
Live Chat and Interaction Features
Content Moderation and Safety Measures
Streaming Analytics and Insights
Multi-Channel Streaming
Making Development Simple for You
We have a highly skilled social networking app development team who make your idea a successful venture in the market.
Dedicated Team
We assign a dedicated team of developers for a project and ensure to maintain the project quality with timely delivery.
Latest Technologies
The developers remain updated with the latest technologies to build a highly advanced and trendy solution.
Varied Solutions
The team has deployed a variety of social media apps, such as dating apps, community, blogging, video & photo sharing, gaming & more.
Types of Social Media Apps Developed By Us
Our social networking apps help businesses to create meaningful conversations, share experiences, advertise, buy & sell, and cover a whole lot to boost ROI & build a brand.
We build social networking solutions to build relationships, connect with people & brands, and shopping platforms to make branded purchases. E.g. Facebook, Twitter, LinkedIn, Etsy, Fancy, etc.
We build easy to use dating platforms that help users to explore a network to engage, socialize, and meet with compatible singles. E.g. Tinder, Bumble, Meetup, OkCupid, etc.
We build trending and tech-advanced instant messaging solutions equipped with new ideas to offer a user-friendly experience. E.g. WhatsApp, Signal, Telegram, etc.
Our expert developers build custom blogging and discussion forms, where users can find, discuss, and share information & their reviews or opinions instantly. E.g. Reddit, Quora, Medium, Twitter, etc.
We deliver highly innovative & interactive platforms to support photo, video, and live video sharing that can help you to build a highly engaging brand. E.g. Snapchat, Instagram, YouTube, etc.
To connect with like-minded people, build platforms that support easy item discovery, saving, sharing, and discussing trends, creative & new content. E.g. Flipboard, Pinterest, etc.
To deal with innovative ideas and businesses, we build custom solutions to advertise, find, share, buy/sell & trade products & services. E.g. Uber, TaskRabbit, Airbnb, etc.
Why Choose us for Social Networking App Development?
We have worked with a wide range of businesses and enterprises to help our clients with cutting-edge technologies and custom solution development.
Domain Experience
Our social networking app development is highly equipped and effective in delivering domain-focused solutions to ensure effective problem-solving and decision-making.
Functional Experts
Codiant has a specialized and experienced individual in their specific areas, like development, quality assurance, project management, etc. to bring value & expertise to the project.
Goal-Oriented Workflow
We define projects' goals, objectives, and timelines accurately for each phase of the project. It helps the entire team to remain on track and drive results within time and budget.
Extensive QA Testing
To ensure the project quality, we perform rigorous testing throughout the development process. We deploy error-free and functional solutions that meet the standards.
Our Work & The Impact Stories
See our product development journey helping our clients open new opportunities and drive growth. Our solutions are conditioned with your customers' voice.
Zinglin
Zinglin is an online social media app platform that allows users to create, upload, and share short, entertaining videos. The platform enables a unique feature for the users to earn reward points on their uploaded videos based on the number of likes and shares.
Create entertaining videos displaying great talent.
Add animations and effects to the videos.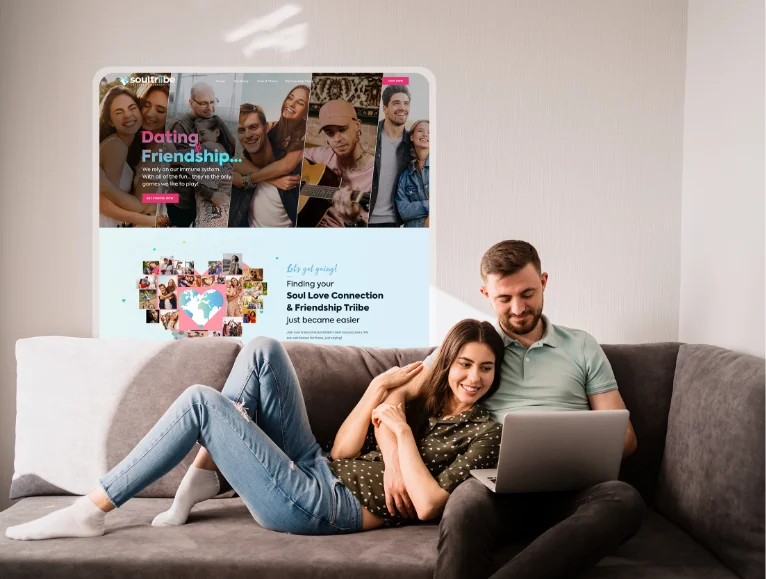 Soultriibe
Soultriibe is an on-demand online dating app that has no age-limits to find a soulmate or a friend tribe to connect. The app has ditched the old-school viewpoint that dating apps are only meant for youngsters.
Users can invite, connect, chat, or send GIFs based on their preferences.
Users can send a request for a match, like their profile, and can chat with the person of their preferences.
Nuvopia
Nuvopia is a platform that enables users to create personalized URLs, QR codes, and bio link pages by providing a branded touch to the client's business and streamlining online presence of the businesses.
Users get intuitive interface that offers effortless addition, removal, or rearrangement of links.
The app allows users to easily purchase smart digital contactless cards as per their requirements.
Fytness
Fytness is a platform specially designed for fitness freaks and enthusiasts to remain fit and inspire others to stay fit and challenge peers with certain fitness goals.
Customers can post photos and videos of their fitness journey to motivate peers.
The app offers users a plethora of options to chat with friends and connect with other fitness freaks.
Live Date
Live Date is a modern dating app enabling individuals to connect with potential partners by exploring profiles, chatting, video calling, and engaging with like-minded people.  
The app offers a seamless way to socialize and build romantic connections with interactive features and relationship status options.

 

Users can choose a membership to access more accounts and their contact details or they can use it for free with limited access. 

 
Social Networking App Development Process
To build a game-changing solution, we follow an innovative and user-centric approach to fulfil each business's demand.
We understand your business needs and define strategies to identify the right solution for your business needs.
Visualizing the prototype and creating wireframes. Based on that we prepare a working design for the project.
By selecting the right tech stack, we build the solutions by integrating all the required features & APIs.
We perform various manual and functional testing practices, to ensure 100% bug-free solution delivery.
We deploy the project on a suitable platform or server. Additionally, offer maintenance service to make it bug-free.
Looking to build a viral social networking app?
Hire our top-rated social media developers creating custom solutions for your target audience.
Get in Touch
Supercharge Your Social Networking App
Integrate cutting-edge technologies into your social networking app that can serve as a powerful catalyst for its success.
Artificial Intelligence (AI)

AI in social networking apps leverages Big Data for content recommendation and boosting user engagement and app downloads.

Chatbot

The Chatbot- powered social apps offers highly personalized experience, such as virtual assistant and seamless interaction between users & brands.

Internet Of Things (Iot)

We build custom IoT app solutions integrated with smart objects. It enables automated processing such as posting & sharing done by the mesh of connected devices.

Blockchain

Blockchain technology fosters transparency in social media apps, enhancing customer trust, safeguarding user privacy, and securing user-generated content within the app.
Frequently Asked Questions
Experience brand popularity, higher user engagement, interactive communication, targeted audience focus, and a stronger customer-brand connection by adopting our social networking app development services.
To Develop an app like Tiktok you can start by first researching your target market, choosing the app monetization model, then you define your project scope by identifying the features you want to integrate post that you can kickstart the development.
The advanced tools & technologies that our Social Networking App Development team uses are Java, PHP, Python, JavaScript, Angular.js, Swift, and other platform-dependent technologies.
Our development team ensures that you get the aptest solution for the defined idea and be your reliable social networking app development services using the latest technologies.
Yes absolutely. We offer highly customized services to cater to our diverse client's needs. Our development process starts with your business idea analysis and understanding your work progress. Overall, we ensure to develop the solutions that fulfil your business idea and highlight all the features.
In the initial phase, it is not possible to precisely define the cost of social networking app development. The overall development cost relies on various factors, such as app model, features and functionalities, 3rd party APIs, development team and expertise, team location, server cost, type of platforms, and other factors.
To find an approximate cost of social networking app development, we suggest presenting detailed project needs and goals to get a quote for the same.
Yes, we provide comprehensive digital marketing services. Our services also include customer engagement program, digital ads creation, PPC services, digital research and strategy, and influencer marketing services. Let us know your niche we can create a custom digital strategy for you and help you increase the user engagement rate.