Hire Dedicated

Mobile App & Web Developers

Hire pre-vetted industry professionals to build amazing digital products. We offer hourly, part-time or full-time services for mobile app development and web apps development.

Hire Expert Developers
Hire Expert Developers for Your Evolving Project Needs
Explore our diverse expertise of IT staff augmentation or build your dedicated team for advanced mobile app & web development.
Hire Mobile App Developers
Build your dedicated team of mobile app developers having experts in different tech & platforms i.e. Android, iOS, Flutter, React Native, Swift, MVP, PWA, & more.
Hire Front-End Developers
Scale up your project's front-end development process by hiring our developers with expertise in AngularJS, ReactJS, Vue.js, HTML/CSS, and more.
Hire Back-End Developers
To ensure high-quality security, data storage & accurate data processing, hire our experts equipped with Laravel, PHP, Node.js, ASP.Net, & other technologies.
Hire Database Developers
Our database experts build effortless data management systems to store, manage & analyze data with MySQL, MongoDB, Redis, PostgreSQL, & more.
Hire Digital Marketing Experts
For a streamlined & guided marketing approach, hire our expert digital marketers in SEO, ASO, PPC, SMA, and Content Writing & Marketing.
Hire eCommerce & CMS Experts
Introduce your traditional or outdated retail business into a digital world by hiring our well-versed experts in WordPress, Shopify, Magento, & more.
Scale & Engage with Teams the Way You Like
To simplify your digitalization experience, hire resources or build a team as you need and get the best quality end-product.
Remote Development Team
Efficiently build your virtual team or hire individual resources by avoiding recruitment hassles & maximizing ROI.
360 Product Development
Delivering end-to-end software development services right from project ideation to development and deployment.
Strategic Partner
Expand your team by hiring our reliable tech experts to improve your project development pace & enhance quality.
Remote Resource Management Structure
To increase your productivity and witness quick and quality results, hire our expert resources by adopting any of the suitable models.
To minimize the communication barrier, promote easy collaboration, and enhance the understanding between the client and the development team, we assign resources with minimal or no language and cultural barriers.
We assign our remote development experts in their respective technology & industry to help our clients remain a step ahead in developing an MVP to complex size software development within the assigned timeline.
Our hybrid developers work effectively from remote sites and we ensure to assign only the relevant and experienced resources to meet the high-end needs of our clients while being in close collaboration and timely updates.
To meet our client's requirements, we set up an Offshore Development Center to allow our clients to select the right resources based on their project needs & budget. Moreover, the developers maintain the product quality & build a highly effective solution.
Get Started Today with Our Dedicated Development Team
Meet your Startup, Enterprise, or Business Needs by hiring our dedicated developers. Here is the hiring process we follow at Codiant.
Contact Us
Fill out the contact form with basic details and a brief about the project idea to schedule a meeting with our experts to build a digital solution.
Get Consultation
Connect with our experts on the call at the scheduled time to analyze your project feasibility, resources and tools & technical requirements.
Get an Estimation
Based on the discussion and further analysis, we share a project proposal with tech stack, budget, timeline estimate & other details.
Project Kick-off
Once the details & conditions are accepted and finalized, we sign the final agreement & introduce both teams to kickstart the project.
Our Work & The Impact Stories
See our product development journey helping our clients open new opportunities and drive growth. Our solutions are conditioned with your customers' voice.
Cosmetic Choice- A Beauty, Health, & Wellbeing Consultation App
Cosmetic Choice is a beauty, cosmetics, health and wellbeing consultation platform where customers can find the right professionals. The customers can connect through video calls for consultation and can seek required e-prescriptions and relevant treatments on physical visits.
Search different experts instantly (based on their expertise).
Get an immediate appointment with a specialist (virtual or on-site).
Gallivant- A Digital Travel & Tourism Planning App
Gallivant is a travel and tourism platform that enables its customers to create and plan a multi-destination trip they like to visit. They can create custom trip itineraries by adding locations, share them with friends and family, and allow viewers to update the trip.
Find the 'n' number of destinations en-route to their final journey.
Subscribe to the platform and follow other trip-planners.
Fytness- A Social Networking Platform for Fitness Enthusiasts
Fytness is a platform specially designed for fitness freaks and enthusiasts to remain fit and inspire others to stay fit and challenge peers with certain fitness goals.
Customers can post photos and videos of their fitness journey to motivate peers.
The app offers users a plethora of options to chat with friends and connect with other fitness freaks.
Open Office- An E-Learning Platform to Conduct Live Sessions
OpenOffice is an e-learning online app where mentor and mentee can connect and conduct live sessions for some of the specific industry topics and areas like raising capital, music producing, marketing, building teams, real estate, product-market fit, etc.
A mentee should be able to explore/join/schedule the live session.
Enable mentee to reset payments options and check transactions.
UFO Dealbox- An Entertainment App for Ads & Lucrative Deals
Dealbox is a trailblazing entertainment app designed to revolutionize the cinema experience by seamlessly integrating advertisements with personalized offers.
Offer seamless app interaction between the users and the brands.
An extensive, unified responsive app platform is helping brands leverage business growth from ad conversions.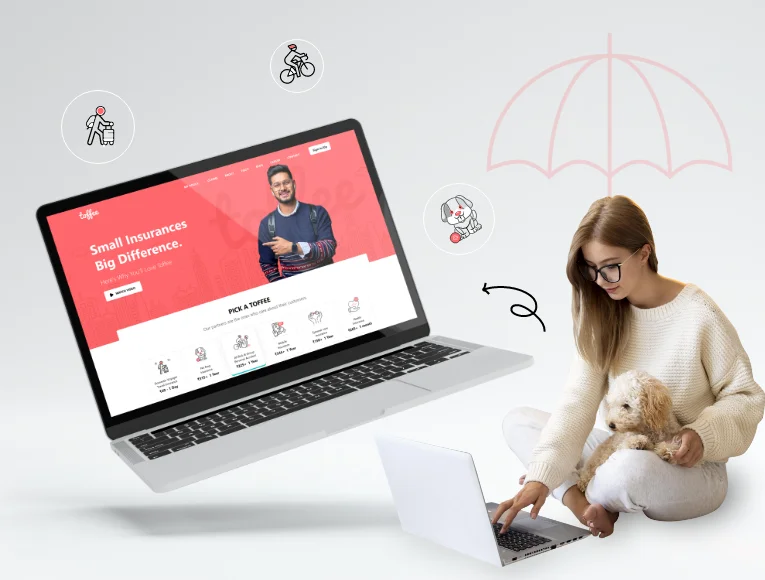 An Micro Insurance Platform For Securing Little Things
Toffee Insurance is one of the best platforms to insure things you are close with, making all the complicated paperwork hassle-free without visiting any bank physically.
The app users can explore a variety of micro-insurance products to secure things.
Allows users to buy insurance at minimal prices with a quick & efficient claiming process.
Dedicated Developers Hiring Model We Follow
We follow a definite engagement structure with our clients to build a team and deliver digital software development results.
Fixed Price Model

In this time-bound model, our dedicated developers deliver the quality solution within the defined timeline and budget.

Time & Material Model

In this model, the definite time and resources are assigned and based on the working hours the overall bill is generated for a definite number of days.

Monthly Hiring Model

This model is perfect for larger & long-time projects, where the client pays a fixed monthly charge for a set of resources & definite working hours.
Build Your Dedicated Development Team Now!
Codiant can be your best partner to build user-centric designs & robust solutions for Web, Mobile, & Cloud projects. Build team now.
Get In Touch
Let's Hear What Our Clients Say
Rewarded with 2500+ Customer Stories. See some of the amazing stories that distinguish us from the rest.
Working with Codiant has been an absolute game-changer for our grocery delivery start-up. Their expertise in developing both our front-end and back-end, along with the iOS and Android applications, has been exceptional. Highly recommend their services!

Ramiz Nathani
Co-Founder, Instafresh

Codiant delivered precisely what we needed, a top-notch website, with seamless film recollection. Their expertise exceeded our expectations, and we couldn't be more satisfied with the final result. Thank you, Codiant, for an outstanding collaboration!
Gezabel Perroti
Co-Founder, DISTRI7

Codiant has been our go-to partner for a while now. They've successfully handled several major projects. Among them, Autism Connect stands out as their greatest achievement. Their dedication and expertise are phenomenal. Highly recommended!
Catherine Kleins
Co-Founder, AUTISM WEST MIDLANDS

I have done a software project with Codiant which was a difficult challenge for both of us because of the language differences and the wide scope of work (web, IOS and Android). However, they have delivered the project as per...

Basim Albeladi
CEO, Labayh

Codiant team did a great job on helping us build our presence on iOS, Android and Web. The Codiant team is skilled and dedicated to delivering a product that exceeds requirements.

Michael Patchen
Founder, PadTime

Great company and great people. Worked through difficult requirements. Once they understand, they deliver.
Cliff Holsenbeck
Founder, Fantopias
Frequently Asked Questions
Hiring a dedicated developer's team from Codiant can offer a handful of benefits to you throughout the project.
Reduction in the overall budget
Cooperation with talented and industry experts
Minimize development time
Develop a high-quality solution
Increases overall efficiency
Easy risk management,
No investment in hardware & software
Agile Approach
Collaborative engagement, and many more.
Depending on the project, the requirement varies. However, the standard dedicated development team comprises of following resources;
Mobile app developers (Android, iOS, or PWA)
Web Developers (Front-end and Back-end)
Quality Assurance Engineers
DevOps Engineers
Project Manager
Yes, we do. We are a highly committed and responsible team of experts who always strive to satisfy our client's operational requirements. We follow the standard process by signing NDA with our clients to achieve results and maintain transparency with our clients.
Yes, the hired dedicated developers will work only for you dedicatedly on your assigned project for a definite period of time, or until the project is complete.
On the other hand, Yes, you can add or remove any resource from your team if you find your ongoing progress is not up to the mark or any other genuine reason that may hamper your project.
To ensure the project's quality and the team's efficiency, we follow the standard procedure of submitting regular reports by email and updating our clients regarding the same through video calls as well.
For smooth and quick communication with you and the team, we adopt multiple tools like email, skype, calls, etc.
Yes, we give the flexibility to our clients to hire developers on an hourly or project/task basis. Additionally, you can even switch the hiring mode later on.