Banking, Finance &

Insurance Solutions

Secure new opportunities to outsmart your competitors with our custom Banking, Finance and Insurance (BFSI) solutions development services.

Hire Industry Experts
Our BFSI Service Offerings
To deliver the perfect digital solutions for your BFSI businesses, we offer varied services for web and mobile development.
Mobile Banking
We build user-friendly designed solutions to cater to diverse banking operations that enable customers to access services easily and save time.
Finance Management
We deliver custom solutions to manage your finances at your fingertips and keep a close tab on all the transactions in real-time.
Mobile Wallet
Our developers build customized mobile wallets for any website or app to initiate easy accessibility to payment gateways and enhance user experience.
Loan Management
We build custom loan management solutions that help to manage money with credit unions, credit card companies, banks, insurance companies, etc.
Insurance App
Codiant supports the development of multi-purpose insurance web & mobile app solutions for easy CRM management with an intuitive platform.
Fraud Prevention System
A custom solution to study user-pattern, behavior, transaction, detailed report & analytics to review or block any suspicious activity in real-time.
Accounting App
To manage day-to-day transactions, we develop a custom solution to handle cash, and assets, prepare invoicing, tax prep & saving, and more.
Crypto Currency App
We develop crypto-supported currency exchange and crypto wallet apps to allow the seamless conversion of multiple currencies.
Blockchain Integrated App
To enhance data security and business efficiency, our developers build a smart solution that enhances processes with lower charges.
Our Customizable Solutions
Core Banking & Insurance
Explore a new era of banking and insurance with Codiant's advanced digital solutions. Our open ecosystem brings financial institutions closer to clients, enabling personalized services. Complying with global standards, our solutions offer a trustworthy customer data repository, fuelling informed decisions and elevated experiences. Our next-gen solutions empower a comprehensive customer view that delivers personalized experiences.
Core Banking System Implementation and Integration
Digital Banking and Insurance Apps
Insurance Telematics and IoT Solutions
Chatbot and Virtual Assistant Integration
Cloud-Based Core Banking and Insurance Solutions
Retail & Commercial Banking
In Retail & Commercial Banking, customer experience is transforming with adaptable business models and real-time visibility. Codiant empowers banks with inclusive solutions to become global players, fostering increased customer engagement, loyalty, and seamless onboarding. Unlock the potential of holistic digital transformation and place customers at the heart of your business with our hyper-personalized solutions.
Digital Banking & Payment Solutions
Customer Relationship Management (CRM) Systems
Cloud Migration and Management
Digital Marketing and Customer Engagement
Cybersecurity Solutions
Payments & Digital Wallets
As the digital landscape continues to evolve, the Payments & Wallets sector is experiencing a significant shift towards instant and secure payment solutions. At Codiant, we recognize the need to stay ahead of these changing customer demands and business objectives. Our strategic payment solutions are tailored to meet the requirements of the new age, providing high-tech solutions backed by AI, NLP, and Blockchain technologies.
E-wallet Integration & Contactless Payment Solutions
Fraud Detection and Prevention
Digital Invoicing and Billing Solutions
Wallet Analytics and Insights
Payment Gateway Security Audits
Lending & Asset Management
Codiant's IT Solutions serve the BFSI sector, including Lending & Asset Management domains. Our solutions streamline loan processing, reduce risk, and enable prompt management of loans and leases. Our automated solutions in Wealth Management provide data insights for customized portfolios aligned with client objectives. As demographics and technology continue to change, our services are essential for protecting and securing wealth management strategies for the future.
Loan Origination System (LOS) Development and Integration
Digital Lending & Portfolio Management Software
Investment Analytics and Reporting Software
Blockchain-Based Asset Management
Customer Relationship Management (CRM) for Lenders
Open Banking & Capital Markets
Embracing open banking innovations, Codiant pioneers finance transformation with hyper-relevant, platform-based solutions, revealing untapped growth possibilities. Our expert guidance leads financial players to a prosperous digital future, skillfully converting potential threats into unexplored opportunities. Beyond revolutionizing open banking, we drive a reimagined capital market landscape, harnessing modern technologies like cloud, AI, blockchain, and IoT to empower diverse clients.
Open Banking API Development and Integration
Financial Data Aggregation & Market Data Analytics
Investment Management Platforms
Financial Risk Management & Real-Time Payment Settlement
AI-Powered Financial Insights
Our Core Competencies in BFSI Services
We deliver end-to-end services to all the core industries by adopting digital transformation that yields efficiency, effectiveness, and compliance.
Banking
We design personalized digital banking solutions so that your customers can stay connected with you and transact smoothly & swiftly without any geographical boundaries.
Finance
Designed to address key financial concerns entrepreneurs & financial firms face today, we continuously help them improve regulatory compliance and reduce compliance costs.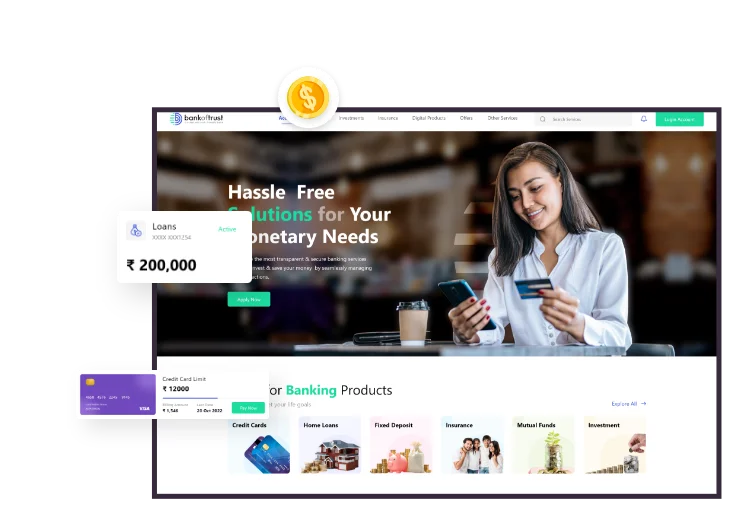 Insurance
Our insurance software solutions help insurers automate processes across the entire policy lifecycle with our event-driven architecture and powerful workflow.
Essential Features of BFSI Solutions
We integrate advanced features to build distinctive banking, financial services and insurance app development.
The app supports multiple account accessibility to minimize the hassle, save time, and promote customer experience with the platform & services.
In BFSI data security is very crucial, thus we integrate multiple layers of authentication to prevent customer's data and money from any type of loss.
We build a cross-platform app that runs smoothly on multiple devices and platforms i.e. Android, iOS and Windows.
For handy user services and quick support, the app must support loan and tax calculations based on earnings and expenses.
Study customers' earnings, expenses, and savings, and present them in graphical form to make it easier for customers to understand and analyze data quickly.
We develop solutions that strictly abide by the country's banking & finance guidelines defined by the government and regulatory bodies.
We build solutions integrated with various steps and biometrics to verify the customer's identity and avoid any fraudulent activity.
Why Choose Codiant as your Banking & Finance Company?
We offer tech-advanced customized banking, finance services & insurance solutions to help you stay competitive. Our varied services make Codiant the best development partner.
Customer-Centric
At Codiant, we adopt a customer-centric approach to prioritize your business-oriented requirements with custom designing & development.
Regulatory Compliance
We build solutions by following standard industry practices and guidelines to ensure that data security and privacy remain intact.
Credible Performance
Our developers are highly experienced and well-equipped to consistently deliver the best results that suit the business idea accurately.
Transparent Approach
From the initial stage till the deployment, we ensure to follow a transparent approach with our clients to keep them updated with every progress.
Discover Our Way to Impactful Work
See our product development journey helping our clients open new opportunities and drive growth. Our solutions are conditioned with your customers' voices.
Monay
Monay is a Digital Wallet that serves flexible and cashless solutions for peer-to-peer money transfers and retail payments. It allows users to make instant digital payments to other retailers or businesses.
Users can easily register and log in to their account with an email id/phone number and password.
Users can link their bank account by adding the required details and following the steps accurately.
ZuluPay
Zulupay is an instant loan-taking online app platform that allows salaried individuals to get easy approvals for instant personal loans. It removes the barrier of getting a sufficient amount of cash anywhere anytime in a hassle-free manner.
Provide easy and convenient access to loan approvals.
Ensure fast and secured disbursal of the loan amount.
Square App
The Square App is a mobile application designed to provide users with a seamless and convenient platform for cryptocurrency exchange and conversion.
Creating a user-friendly platform for easy cryptocurrency trading and conversion.
Redesigning the mobile app with an attractive interface to enhance the user experience.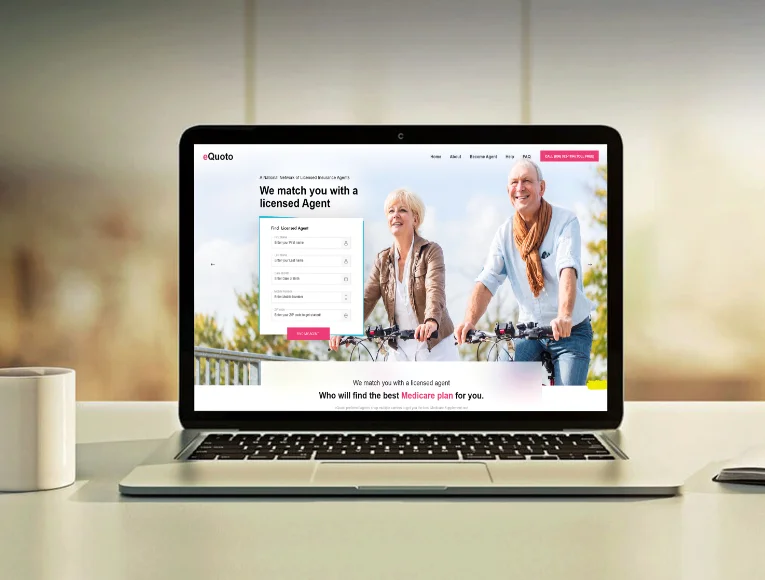 Equoto
Equoto is a perfect solution for all insurance-related events, to simplify the interaction between insurance agents and users without any middlemen.
Schedule or book an appointment from the available slots of insurance agents.
Communicate hassle-free with agents through text messages, calls, or emails.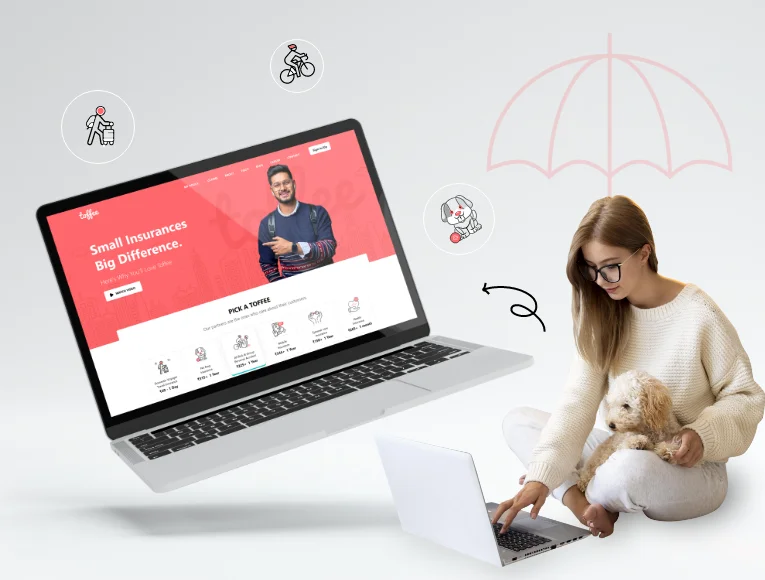 Toffee Insurance
Toffee Insurance is a user-friendly, secure platform for cost-effective coverage of small & valuable possessions.
Segments We Serve in Capital Market Solutions
We work across all business areas, sectors and solutions to modernize your operating models and adaptable to market trends.
Improve assets visibility, reduce IT costs, and ensure optimum utilization of assets and compliance with regulatory requirements.
Leverage Codiant's scalable and high-performance digital asset exchange solution for Cryptocurrencies, security tokens, FX, equities, margin trading, tokenization and more.
Mitigate threats & manage risks with Codiant's (GRC) technology solution designed to deliver actionable data intelligence, advanced reporting, insights & aligned with your business objectives.
Our frameworks and product-based investment banking solutions are designed to address all your technology requirements related to the front, middle, and back offices.
Accelerate time to market, maximize the value of cloud and address complexities with Codiant's investment management solution for financial services organizations.
Aiming for A Feature-Loaded Custom BFSI Solution!
We have an experienced and tech-advanced banking, finance & insurance web and app development expert team.
Contact Us
Users of BFSI App Services
We drive the most efficient solutions customized for the specific business requirements & goals that cater services for all users.
Users/Customers

Mobile banking app development is equipped with basic banking features used by customers to check account activity & schedule payments.

Financial Institutions

Our banking app developers build custom banking CRM to support interaction between banks and users and minimize paperwork.

Credit Unions

Credit unions can leverage BFSI app development to help customers during their crisis phase with a line of credit.
Frequently Asked Questions
The Banking, Finance Services, and Insurance solutions are developed to include system automation with an aim to enhance the overall organization's productivity by supporting employees to raise their productivity and promoting the automation of financial operation.
A banking, finance & insurance app promotes high performance with sophisticated features and boosts the user experience that helps to engage with end-users and deliver an advanced application. The BFSI apps also provide insightful information with enhanced performance, compatibility with browsers, responsiveness to multiple screen sizes, easy installation, and so on.
We integrate our decades of learning and experiences in building tech-advanced and highly secure custom web and app solutions for various financial service providers.
For advanced security, we leverage cutting-edge technologies like Machine Learning, Artificial Intelligence, Blockchain, Cyber Security, Big Data, etc. to ensure all the transactions are highly secure and encrypted.
Yes, we use high-level data encryption algorithms to keep the data secure and provide a secure and reliable transaction process.