Travel & Hospitality

Solutions

Delivering rich travel & hotel management experience with our accustomed digital transformation solutions.

Hire Industry Experts
Our Travel & Hospitality Service Offerings
The expert travel & hospitality developers at Codiant build custom solutions to transform your business operations by leveraging advanced technologies.
Hotel Management Software
We deliver solutions that simplify operations, elevate human resource management, and ensure a convenient customer experience.
Booking Management System
We build ticket & hotel booking management systems equipped with advanced technologies to make the entire experience interactive.
Travel Portal Development
At Codiant, we design and develop end-to-end travel solutions by integrating OTAs' and tour operators' websites to manage scheduling, payment, CRM & other functionalities in travel solutions.
GDS API Integration
Our industry experts specialize in building an intuitive architecture to integrate with Global Distribution System (GDS) APIs that allows customers to access a long list of hotels, tours, flights, etc.
CRM Solutions for Hotels
Our travel & hospitality development experts deploy custom CRM solutions for hotels to track customer lifecycle, loyalty programs, workflow management, data analysis, guest feedback, and more.
Payment System Management
We build custom payment management solutions such as bills/invoices, transactions tracking, personalized payments in real-time.
Our Customizable Solutions
Travel Management Apps
Codiant revolutionizes travel planning with user-friendly Travel Management Apps, offering seamless booking, itinerary management, and expense tracking. These essential tools enhance modern travelers' experiences, providing convenience, efficiency, and personalization. Whether for leisure or business, our apps are indispensable companions, elevating travel worldwide.
Custom Travel App Development & Optimization
Payment Gateway Integration
API Integration Services
Geolocation and Maps Integration
User Review and Rating Systems
Airlines Operations Management
Codiant excels in crafting advanced digital solutions for Airlines Operations Management, effectively streamlining flight scheduling, crew management, and passenger services. These solutions optimize resources, enhance safety, and deliver exceptional customer experiences. Our top priority is maximizing ROI, reflected in customized solutions that enable airlines to thrive in a competitive industry and spearhead technological advancements.
Flight Operations System Integration
Aircraft & Crew Management Solution
Real-time Flight Tracking and Monitoring
Airline Data Analytics and Business Intelligence
Cybersecurity and Data Protection
Restaurant & Hotels systems
Codiant offers tailored digital product development for Restaurant & Hotels systems, providing seamless solutions to enhance efficiency and customer experiences. From reservation management and order processing to inventory control and guest services, our customized systems optimize operations and boost profitability. Utilizing advanced tech such as loT and big data analysis, our skilled team enhances efficiency and revenue, delivering end-to-end mobility solutions.
Customer Loyalty and CRM Solutions
Online Reservation System & Table Management Software
Hotel Property Management System (PMS)
Mobile Ordering and Delivery App
Inventory Management
Payment Engineering
Codiant offers tailored digital product development for Payment Engineering, ensuring futuristic and secure payment processing solutions. It involves integrating various payment methods, such as credit cards, mobile payments, cryptocurrencies, and digital wallets for seamless experiences. Our payment Engineers work to ensure fast, reliable, and compliant transactions, safeguarding sensitive financial information.
Payment Gateway Integration & Custom Payment Solutions
Blockchain and Cryptocurrency Integration
Subscription Management Systems
Payment API Development & Performance Optimization
E-commerce Platform Integration
Shaping the Future of Your Hospitality Business
Our developers are having hands-on expertise in handling your travel & hospitality business challenges with cutting-edge technologies.
Internet of Things (IoT)
IoT-integrated travel & hospitality solutions and gadgets automate the flow of data, enhance your customer's experience, promote accuracy in data management, and more.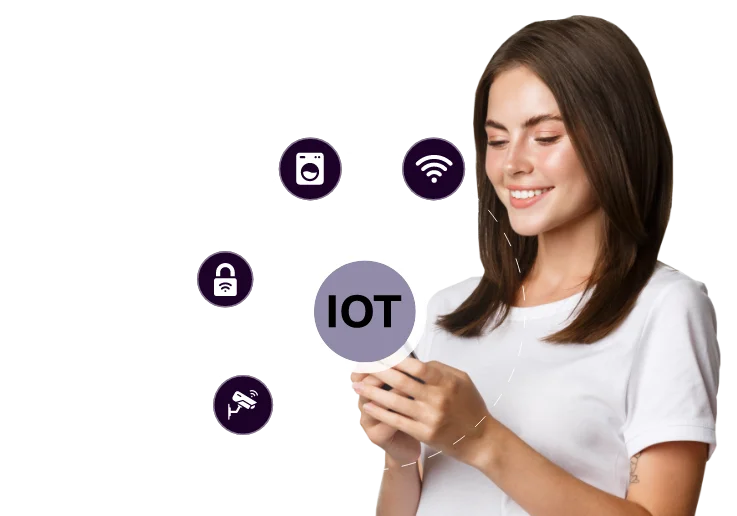 Artificial Intelligence (AI)
To promote customer experience and make precise suggestions – businesses can leverage AI and ML technologies to build the algorithm-based solution model.
Blockchain
Blockchain-based travel & hospitality solutions eliminate third-party expenses and facilitate global payments in your app that ultimately promotes business reliability.
Common Features of A Travel & Hospitality App
To accomplish the needs of modern traveller's the travel and hospitality apps should be equipped with the most advanced features, it includes:
Allows customers to organize and navigate their trips in real-time with an easy user interface that makes the overall experience positive and convenient.
Let customers make payments with a sense of security through various digital modes and wallets by integrating robust security services during the payment process.
Allow multiple filtering options and direct search options to enhance user experience with convenient and quick options to find hotels, flights, trips, and more.
Integrate GPS-enables search based on real-time location, which helps users easily explore multiple nearby options.
Allow in-app review and rating functionality that permits customers to share their experience about every individual restaurant, hotel, and flight experience.
Allow user to create their profile easily and make the entire onboarding experience convenient and smooth.
Key Benefits of A Travel & Hospitality App Development
Technology has rapidly face-lifted the landscape of tourism and introduced a diverse array of benefits to the travel and hospitality businesses.
Business Branding
Digitalization of your business works no less than a smart branding tool, which presents a great opportunity to enhance your performance, promote services, and build a good market reputation.
Promote Customer Engagement
Business automation is an additional benefit for your business to minimize manual work and allows customers to fetch various details (i.e. instant booking, check availability, payment details, etc.) in real-time.
Targeted Marketing
With your travel & hospitality app, you can easily plan targeted marketing strategies by using features like, push notifications that allow special offers and recommendation facilities.
Quick Bookings
Mobile apps support easy and quick services at the fingertips for users to book tickets, and hotels, search location-based properties, and more for personal and professional meetings, stays, and other events.
Discover Our Way to Impactful Work
See our product development journey helping our clients open new opportunities and drive growth. Our solutions are conditioned with your customers' voices.
Gallivant
Gallivant is a travel and tourism platform that enables its customers to create and plan a multi-destination trip they like to visit. They can create custom trip itineraries by adding locations, share them with friends and family, and allow viewers to update the trip.
Find the 'n' number of destinations en-route to their final journey.
Subscribe to the platform and follow other trip-planners.
Perks of Partnering with US
Codiant follows the path of delivering the best solutions with complete satisfaction to our clients. You can avail following benefits to stay ahead of your competition.
Codiant has a team of experienced and highly qualified developers with deep technical knowledge. With us, you don't have to worry about all these aspects, just wait for your quality solution.
We offer advanced web and mobile app development services to our overseas travel & hospitality business clients.
Our experts never compromise with the quality of the solution delivery and ensure to serve valuable and excellent end-product and services catering business needs.
Our responsible and highly attentive team of experts keeps them up-to-date with modern tools and technologies to build future-ready solutions.
We Deliver, What We Promise!
Hire dedicated experts to build top-notch Travel & Hospitality Software Solutions and make your business a brand name.
Contact Us
Empowering and Serving All Sizes of Clients
No matter if you are a small-scale Startup, SME, or Large-Scale Enterprise, we develop and deliver simplified solutions with new technologies and business model innovations.
Startups

Our solutions for startup innovators act as an accelerator to growth, capability building, and other strategic imperatives. View our custom startup solution offerings to stay ahead of the innovation.

SME's

Find the next vectors of growth to strengthen your operations with our end-to-end SME-specific solution offerings and digital expertise. Our customized solutions are designed to help you move with speed and confidence.

Enterprise

Innovate and scale flexibly with our integrated suite of software development offerings for large-scale enterprises. Our exhaustive services expand and cover all thing Web and Mobility.
Frequently Asked Questions
If you are aiming to scale up your business and reach a broader audience globally, then you are going to require a mobile application to achieve your targets. Apart from that, the mobile app will help you to automate your entire business and offer a much-enhanced experience to your customers.
The development cost of a mobile application is immensely variable due to the factors you as a business owner are preferring. It includes project complexity, features & functionalities, developer's experience and locations, development platform, development timeline, and many more.
All these factors play a vital role in defining the development cost. Despite that, we can't suggest an accurate development cost. However, the ballpark figure to develop a travel & hospitality mobile application ranges somewhat between $5,000 to $50,000 and more.
At Codiant, we have a specialized team of experts in building travel and hospitality solutions that engage and delight users. We build solutions for all major platforms, including Android and iOS. We follow a dedicated development approach and a well-rehearsed development process to meet your business needs. This includes:
Project Consultation
Market Study & Analysis
UI/UX Designing
Project Development
Quality Assurance
Deployment
Marketing & Maintenance
We provide all these services as per your project requirements and whatever you demanded for. So, for more details and assistance you can connect with our executives at info@codiant.com.
If you are aiming for a custom solution development, then you can prefer integrating the following must-have features in your app.
Flight & Hotel Booking
Currency Conversion
Contact Option
Payment Gateway Integration
CRM Solutions
Payment/Transaction Management, and more.
Yes, our expert developers can do that for you. You can hire our experts and brief your requirements to them, and based on that they will update you regarding the time duration, number of resources, technologies, and other details. All these details will help you make the decision accordingly and get an advanced version of your travel & hospitality business app solution.