About Zinglin
Zinglin is an online social media app platform that allows users to create, upload, and share short, entertaining videos. The platform enables a unique feature for the users to earn reward points on their uploaded videos based on the number of likes and shares. This eventually helps gain more popularity worldwide, and the user also gets a chance to display their videos on big movie theatre screens.
Client's Location

India

Development Time

06 Months

Target Users

Broadcast Media brands, TV Channels, Media Influencers
Technologies Leveraged
We leveraged the strength of robust and secure technologies, tools, and frameworks used in the app/web to escalate the creation of new features and functionalities.
Laravel

PHP

MySQL

HTML5

CSS

Bootstrap
The Need
The fad of creating entertaining videos will never fade among millennials. However, people manage to create the videos on their own, it's pretty challenging to share/circulate them among the audience they are looking for.
In due course, our client figured out this problem and decided to create a social media app platform that offers features that keep the users on their toes.
Moreover, the reward-earning feature to gain popularity is a fantastic add-on to the platform. It allows users to reach a greater audience for the content they upload and share on their profile.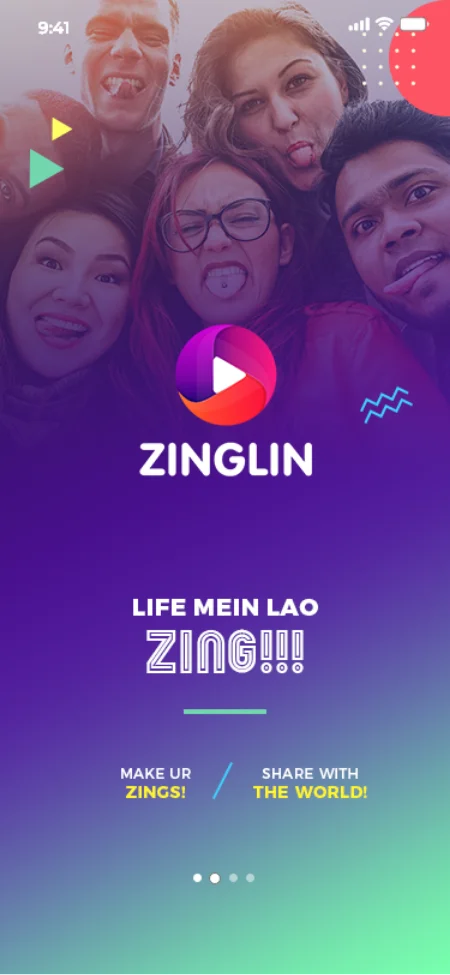 Client Goals
After deeply analyzing the rising market trends of video sharing among people, our client decided to build a similar social media platform that promises a hassle-free way of creating, editing, uploading & sharing videos. The Zinglin platform came up with the functional features that helped in fulfilling the pre-decided goals of the clients:
App Objectives

Create entertaining videos displaying great talent
Add animations and effects to the videos
Share easily with the people you want
Go viral by showcasing your extraordinary talent
Grab a chance to win rewards as raffles
Mobile Visual Designs
Our UI/UX team developed hi-fi prototype after low-fi approval, through intuitive interfaces and aesthetically appealing layouts.
Development
The high-fidelity prototype provides the pathway for the development of the project. The process was initiated by undertaking all the essential features of the stakeholders in the app.
Login/Signup
Users can sign up/log in with an email id and password.
Edit Profile
Users can customize their profile by adding a name, bio, profile picture, etc.
Upload Videos
Users can seamlessly upload their creative video content with the required hashtags.
Filter And Effects
Users can add different filters and effects to make their apps more attractive.
Video Editing
To enhance user experience, a video editing function is available where users can adjust video appearance, speed, and more.
Likes And Comments
The audience available on the platform can like or comment on the videos they like.
Login
Admin can log in using their personal information like name, e-mail, password, etc.
User Management
Admin can track all the user's activities, personal details, and video content uploaded by them.
Reward Earning Manag...
Admin can track the total earnings of the users earned by their viral videos.
Help Centre Management
Admin can quickly check the generated queries and take required actions to resolve them.
Content Management
Admin can keep track of the type of content that is shared on the platform.
Notification Management
Admin can keep track of the notifications sent to the users and audience.
Project Outcomes: Evaluating the Impact
Zinglin has become a digital hub of creative and entertaining videos, especially for millennials. The multiple attractive features, filters, and other editing option has helped the app platform to gain much popularity like other rising social media video-creating apps.
In addition, youths are extremely happy with this fanatically exciting video-creating app and many of them have got potential opportunities to showcase their hidden talent to the vast public.
Zinglin is a platform to express creative skills and showcase talents through short videos and clips.
It's a short video app containing entertaining and engaging content where users can quickly scroll through their feeds to get an enjoyable experience.
Zinglin has become an educational platform where users can learn new skills and gain insights into various subjects.
Zinglin fosters a sense of community and connectivity as users interact with each other through likes, comments, and sharing.
Read More Case Studies
We extended our services to scale operations & services of our global clients. Team Codiant received much appreciation for quality solution offerings and successfully build a trustable relationship with each client.
OIL & GAS
Ethos Energy is a web application that provides solutions and services to power generation, energy, and oil & gas industry markets through an integrated approach in delivering excellence. Dealers can easily track their inventory & view stock levels. The app allows dealers to customize branding on product content and co-branding options.
SOCIAL NETWORKING
Fytness is a platform specially designed for fitness freaks and enthusiasts to remain fit and inspire others to stay fit and challenge peers with certain fitness goals. Customers can post photos and videos of their fitness journey to motivate peers. The app offers users a plethora of options to chat with friends and connect with […]
TRAVEL & HOSPITALITY
Gallivant is a travel and tourism platform that enables its customers to create and plan a multi-destination trip they like to visit. They can create custom trip itineraries by adding locations, share them with friends and family, and allow viewers to update the trip. Find the 'n' number of destinations en-route to their final journey. […]