SaaS Application

Development Services

Turn your innovative idea into a fully-fledged SaaS application that not only captures customers' attention but also generates a consistent stream of revenue.

Hire SaaS Experts
Our SaaS Development Service Offerings
The highly experienced and proficient SaaS developers at Codiant build robust, efficient and scalable customized SaaS products.
Custom SaaS Platform
The tech-advanced team of developers leverages the latest tools & technologies to turn ideas into reality with our custom SaaS platform development.
UI/UX Design
Our experienced designers create user-friendly and interactive enterprise-grade UI/UX designs intending to drive higher revenue.
SaaS Mobile Solutions
To leverage the importance of smartphone users, our development team builds both native & hybrid SaaS mobile app solutions.
Tech Migration & Re-Engineering
At Codiant, the AI, ML, IoT, Blockchain, & cloud technology experts ensure to migrate your existing SaaS solution to emerging technology.
SaaS Architecture Design
Our well-defined architecture supports building a scalable, reliable & custom solution by considering the business needs & future growth.
OpenAI-SaaS Integration
To enhance the efficiency & productivity of your SaaS products, our expert OpenAI developers help you to integrate with existing SaaS products.
API Development
The expert developers help you to integrate varied 3rd party APIs into your SaaS app by linking external data sources to enhance operations.
SaaS Development Consulting
Our expert consultants help you to identify the right tech-stack by analyzing your business feasibility & also offer other required guidance.
Secure & Compliant SaaS Solutions
We follow best industry practices to maintain the SaaS product's security & ensure to meet industry standards for SaaS platform development.
Our Custom SaaS Solutions for Diverse Businesses
From aspiring startups to well-established businesses, we offer our tech-advanced SaaS solution development services to all.
Startups
We are an experienced team of SaaS developers who swiftly build functional web/mobile apps for startups, to make a successful business.
Small & Medium Businesses
We leverage cloud computing to streamline workflow, automate sales & enhance customer services to boost small & medium businesses.
Large Businesses
We build highly scalable & robust custom solutions that help large-scale businesses easily monitor, manage & market their services.
Our SaaS Product Development Process
A SaaS product development requires a well-balanced and organized approach. To achieve that, we follow a guided development process.
We perform extensive research before initiating development and analyze customer requirements to build solutions that cater to business needs with the required tools & technologies.
We build a basic version of the software infused with fundamental features and help to deduce quick value to users with minimal expenses.
In this step, we determine the technical aspects that need special attention while developing and scaling the MVP version while keeping in mind the long-term goals of the organization.
Now, we list out the features & functionalities that the solutions demand to satisfy your customer's demands and are a differentiator for your business.
We develop the solution and write codes over the selected technology to further carry out quality assurance parallelly and after development as well.
Launching the product in the active market is the final step of the development cycle and seeks feedback from the customers to make improvements and understand the user's experience.
Why Choose Codiant for SaaS Development Services?
Codiant offers highly robust, user-friendly, secure, and scalable SaaS solutions by leveraging cutting-edge technologies.
Quality Solutions
To enhance your business operations, we develop quality solutions equipped with advanced features & functionalities which improve overall efficiency.
Data Security
Our SaaS developers follow standard practices to keep data secure & ensure maintain the same security features at every stage.
Follow CI/CD Approach
We follow the Agile SaaS development process with CI/CD approach and DevOps, which help us to release updates every 2-3 weeks.
Geo-Specific Hosting
We enable geo-specific hosting in SaaS development, deployment & maintenance to ensure the app stays responsive in different markets.
Types of SaaS Solutions We Deliver
We have developed a variety of SaaS solutions to meet our client's unique requirements & industry challenges. Some of the types of apps are: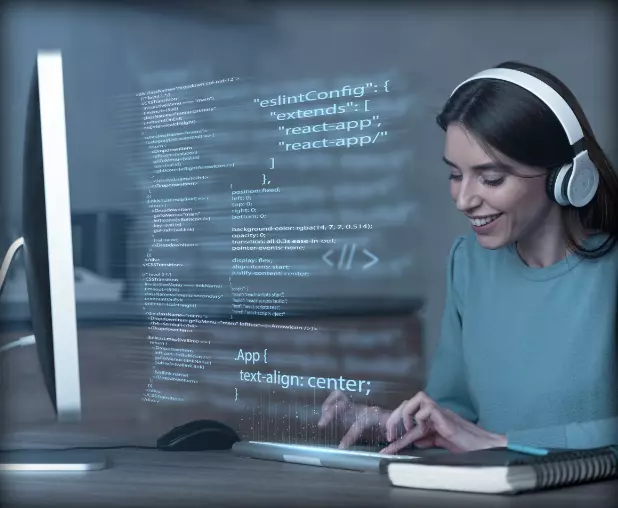 Payroll Management

We have automated & streamline the entire payroll system that can easily replace thousands of Excel sheets for accounting.

Enterprise Resource Management

We built enterprise solutions that facilitate day-to-day operations, analytics & insights management for future betterment.

Property Management

We deployed cloud solutions that streamline renting, property search, tenant management and accounting for a property app.

Content Management

Our SaaS solution resolves non-tech users' issues to control and change their website's contents without any tech assistance.
Aiming to Introduce Your SaaS Product Quickly in the Market?
Don't let your idea remain just an idea. Partner with us to transform it into a revenue-generating reality.
Reach out to us now!
Built On The Top Of Technologies
The highly experienced and passionate team of Codiant is rewarded with unconventional wisdom. Here is the list of advanced technologies & tools we already use.
Back-end
NodeJS
Python
PHP
Java
Ruby on Rails
Front-end
JavaScript
React
Angular
Vuejs
CSS
HTML5
Mobile
Swift
Kotlin
Flutter
React Native
Java
Objective-C
Database
MySQL
PostgreSQL
Redis
ElasticSearch
Infrastructure
AWS
Azure
DigitalOcean
Heroku
GCP
Let's Hear What Our Clients Say
Rewarded with 2500+ Customer Stories. See some of the amazing stories that distinguish us from the rest.
Working with Codiant has been an absolute game-changer for our grocery delivery start-up. Their expertise in developing both our front-end and back-end, along with the iOS and Android applications, has been exceptional. Highly recommend their services!

Ramiz Nathani
Co-Founder, Instafresh

Codiant delivered precisely what we needed, a top-notch website, with seamless film recollection. Their expertise exceeded our expectations, and we couldn't be more satisfied with the final result. Thank you, Codiant, for an outstanding collaboration!
Gezabel Perroti
Co-Founder, DISTRI7

Codiant has been our go-to partner for a while now. They've successfully handled several major projects. Among them, Autism Connect stands out as their greatest achievement. Their dedication and expertise are phenomenal. Highly recommended!
Catherine Kleins
Co-Founder, AUTISM WEST MIDLANDS

I have done a software project with Codiant which was a difficult challenge for both of us because of the language differences and the wide scope of work (web, IOS and Android). However, they have delivered the project as per...

Basim Albeladi
CEO, Labayh

Codiant team did a great job on helping us build our presence on iOS, Android and Web. The Codiant team is skilled and dedicated to delivering a product that exceeds requirements.

Michael Patchen
Founder, PadTime

Great company and great people. Worked through difficult requirements. Once they understand, they deliver.
Cliff Holsenbeck
Founder, Fantopias
Frequently Asked Questions
SaaS software development is a type of process that allows SaaS developers to design and develop centrally hosted cloud-based modern software. The SaaS software development process comprises design, development, quality assurance, debugging, and deployment phase.
The renowned SaaS examples are Shopify, Google Dropbox, Google Workspace, Trello, Zoom, Salesforce, HubSpot, Netflix, and more.
The SaaS app development cost varies a lot based on the type, quality, size, and other development factors. However, the development cost of a SaaS solution ranges somewhat between $10,000 to $250,000 or more. Some of the common factors that influence the development cost are its sophisticated features & functionalities, project complexity, development team and location, and many more.
Apart from business scalability and cost-efficiency, a SaaS app offers other benefits as well.
SaaS apps are quick to access regardless of device compatibility, this increases customer reach rapidly.
SaaS apps are highly scalable, which minimizes the development & deployment time.
Easy accessibility to critical tools and data the user requires from the app from any location.
Offers better security by SaaS cloud providers that protect against cyber threats.
High scalability helps businesses to grow limitless and without concern about infrastructure limitations.
For in-house servers, the SaaS developers are liable to write perfect codes to keep the entire network and physical infrastructure secure from any kind of intrusion or attack.
On the other hand, third-party cloud app services can also be leveraged to store and process data with much-needed safety and security. Hence, the developers are partially responsible for protecting customer data, and the rest of the data gets security for the cloud service providing company (AWS, Azure, Google Cloud, etc.)