Healthcare

& Life Sciences Solutions

We create secure, scalable, and medical compliant Healthcare & Life Sciences software solutions that simplify the interaction between patients & healthcare service providers.

Hire Industry Experts
Healthcare & Life Sciences Service We Offer
We deliver a complete range of web, mobile & medical devices from prototype to software development, deployment & maintenance.
Hospital Management
Our hospital management system offers efficient services management while enhancing healthcare quality & efficiency with advanced features.
Clinical Trial Development
Expedite your clinical development, enhance business outcomes, & streamline the trial lifecycle efficiently and with the latest technologies.
Discovery & Pre-Clinical
Codiant's expertise in discovery & preclinical services enhances drug discovery & development, reduces R&D costs, and mitigates trial failures.
Data Analytics Software
Our healthcare analytics software turns huge data into valuable insights, i.e. detailed reporting, predictive analytics, & meaningful patient connections.
Our Customizable Solutions
Telemedicine & Virtual Diagnosis
Codiant is at the forefront of IT-enabled healthcare services, utilizing advanced telemedicine technology to overcome geographical limitations. Through the use of innovative tools, we help care providers optimize clinical workflows, reduce operational costs and improve data management in various medical fields. The combination of automated reports and audit filters helps organizations in identifying life-saving procedures ultimately leading to superior patient outcomes.
Telemedicine and remote patient monitoring
Enhanced data management & reporting
Clinical support & workflow management
EMR/EHR solutions
Adherence to Regulatory Compliance
Pharmaceuticals & Biotechnology
For pharmaceutical companies seeking comprehensive support, Codiant utilizes advanced technology in critical areas such as production, inventory management, lab processes, and e-packaging. Leveraging the extensive experience in Biotechnology, Codiant serves as a catalyst in the advancement of drug development, combining software engineering and enterprise architecture expertise. We offer data analytics solutions, including CRM, ERP, CTMS, SFA, and eBR, empowering businesses with valuable insights.
Enhanced production process
Clinical data management analysis
Data mining & data warehousing
eCommerce portals & web development
Data analytics & insights
High-Tech Manufacturers
Codiant drives innovation in medical device manufacturing. Our experts use AI, Machine Learning, and 3D tech to revolutionize production processes. Our solutions enable seamless monitoring, data collection, compliance, and real-time metrics, boosting efficiency and cutting costs. We strive to install confidence in the industry and foster trust among stakeholders, ultimately leading to improved healthcare outcomes and a positive impact on global healthcare systems.
Enhanced production process
Coordination in supply chain management
Real-time metrics implementation
Seamless monitoring & data collection
Product Lifecycle Management (PLM)
Insurance & Claims
Codiant is a pioneer of futuristic solutions for medical insurance companies. Our expertise includes accurate electronic medical records, enhanced health informatics, fraud detection & claim settlements. Leveraging AI and NLP-powered sentiment analysis, automated processes, and data driven decisions, we deliver engaging and personalized experiences. At Codiant, we're committed to innovation, redefining customer engagement, and ensuring efficiency.
Conduct thorough customer data analysis
Expedite underwriting for custom plans
Efficiently handle coverages and claims
Implement a fraud detection system
Fast and Efficient Claims Processing
Healthcare Administration
Codiant offers innovative digital solutions for healthcare administration, empowering seamless operations and enhancing patient experiences. Our tailored offerings streamline the storage, access, and management of vital patient and employee data. With easy integration into existing systems, we provide comprehensive support for budget management, information management, regulatory compliance and more.
Inventory management
Patient data management
EMR & EHR management
Strict adherence to regulatory compliance
Data security, privacy & confidentiality
Clinical Trial Solutions
Streamline the complex process of conducting clinical trials with our Clinical Trial Solutions & Development Services. From protocol design and data management to regulatory compliance and patient recruitment, our web portal services cover every aspect of the clinical trial journey. With a focus on data security, quality, and compliance, our solutions adhere to the highest industry standards. Ultimately, helping you bring life-changing therapies to patients faster.
Electronic Data Capture (EDC) Solutions
Clinical Data Management Services
Randomization and Trial Supply Management (RTSM) Solutions
ePRO (electronic Patient-Reported Outcomes) Solutions
Data Analytics and Business Intelligence Solutions
Providing Healthcare Solutions for All Platforms
We build comprehensive healthcare solutions for all platforms, designed to improve patient assistance and financial performance.
Web Platform
Our healthcare platform caters to on-premises & web-based healthcare networks, meeting the diverse needs of all sizes of organizations.
Mobile Apps
Our healthcare mobile apps empower clinicians to enhance efficiency with extended care, by prioritizing data security & safety.
Smart Wearables
We specialize in creating innovative healthcare & fitness apps for smart wearable devices with advanced features.
Healthcare Software Development Process We Follow
At Codiant, we follow the Agile development process to build feature-loaded, robust web and app solutions to scale your business.
Our expert developers analyze the project's scope and form strategies based on detailed market research & analysis.
The UI/UX experts ensure to create an intuitive & user-friendly interface that enhances the user experience with the healthcare web/app.
We follow industry-based best development practices to maintain high-end security and advancements and integrate apps with suitable third-party APIs.
Our QA team carries out end-to-end testing of the healthcare solution by eliminating errors and bugs, additionally, ensures to maintain the code quality to enhance user experience.
After the successful development and testing of the solution, our expert developers finally launch the app on the respective app store, which makes it available & accessible to global users.
To maintain the continuous working of the app, it is crucial to regularly monitor the solution's functionality, security check, & introduce updates whenever required to remain competitive.
Why Choose Codiant As Your Healthcare Partner?
We offer end-to-end healthcare software development services, ranging from prototyping to deployment and maintenance & support.
Proven
Experience
Our developers have proven experience and working expertise with cutting-edge technologies to enhance user experience and streamline operations.
Innovative
Solutions
We leverage the latest technologies, tools and trends to build highly innovative and unique solutions to improve patient care and easier management.
Superior
Code
To ensure accurate performance, security and design quality, our expert developers and QA ensure to maintain high-quality codes.
Flexible
Engagement
We offer flexible engagement models that support our clients to design their teams as per their custom requirements and define engagement.
Solutions delivered by our team
See our product development journey helping our clients open new opportunities and drive growth. Our solutions are conditioned with your customers' voice.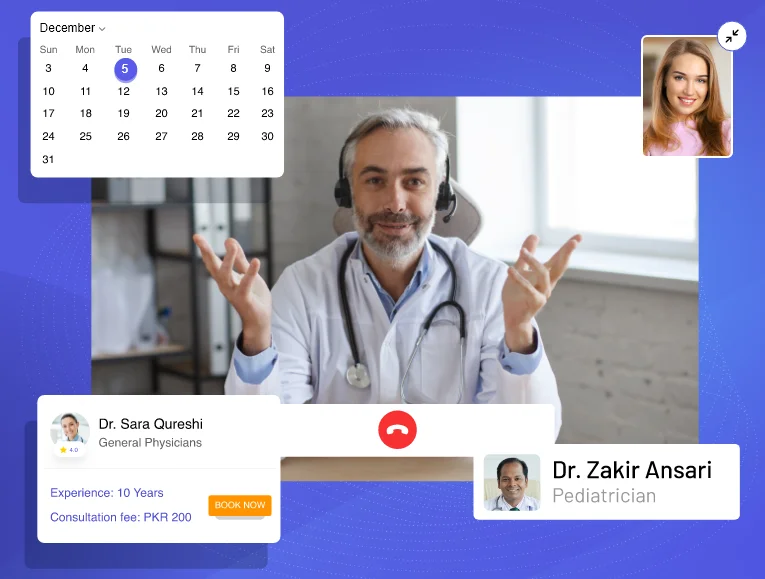 Click Drs.
Creation of a SaaS for Booking and Managing Online Medical Appointments. Providing 24/7 online access to video and audio consultations of general practitioners and clinicians.
Development of the SaaS for providing and receiving telecare services
Providing 24/7 online access to video and audio consultations of general practitioners and clinicians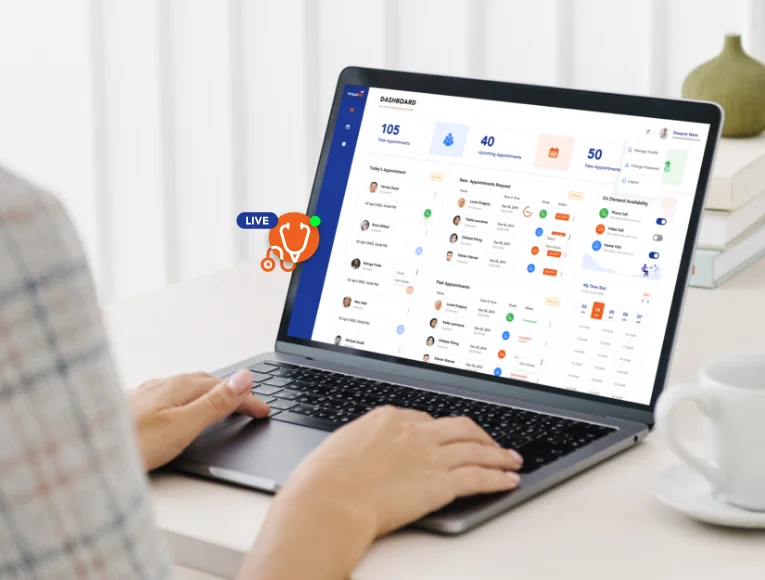 Virtual MD
A HIPAA compliant Telemedicine App for USA where patient and doctors can register to give and avail telemedicine services through the platform. It helps care providers, improve patient satisfaction, and increase practice revenue.
Patients can book doctors on-demand, select mode of communication, and payment mode.
Doctors can set their own on-demand availability on phone, video, or home visit with active/inactive toggles.
Synergy Health 360
Synergy Health 360 is an application that enables patients to access health and medical care conveniently without going anywhere. Users can consult with care providers, specialists, and coordinators effectively at home.
Patients can easily book/schedule appointments with healthcare providers and chat or call them in the app itself.
Healthcare providers can keep track of their patient's medical history and checkup reports, and also manage payment status.
Cosmetic Choice
Cosmetic Choice is a beauty, cosmetics, health and wellbeing consultation platform where customers can find the right professionals. The customers can connect through video calls for consultation and can seek required e-prescriptions and relevant treatments on physical visits.
Search different experts instantly (based on their expertise).
Get an immediate appointment with a specialist (virtual or on-site).
GoGiniPig
GoGiniPig is a premier platform that seamlessly connects models to Treatment Providers in the Hair, Aesthetics, and Beauty & Wellness sectors. Their primary goal is to simplify and enhance the process of completing Training, Case Studies, and Portfolios with utmost efficiency.
Create fully optimized & responsive web application.
Implement a user-friendly interface to cater to users of all proficiency levels.
Our Future-Ready Health-Tech Expertise
Our well-versed healthcare and life sciences experts leverage cutting-edge technologies to deliver custom and smart solutions.
Our developers integrate AI & ML technologies to make highly smart, intelligent solutions and customized algorithms that help the platform to study data and deduce results as per the query fired or operation performed.
IoT technology supports and fastens remote patient monitoring that enables patients and specialists to connect at their convenience and at any time. The technology is widely used in wearable technology that tracks patients' vitals accurately.
Developers at Codiant, adopt Blockchain technology with healthcare solutions to ensure highly reliable and outstanding security to keep the patient's health record and clinical trials data private. We abide by industry standards and follow standard protocols.
The expert developers leverage Augmented Reality and Virtual Reality technology with healthcare educational and training platforms. It supports highly interactive education for medical practitioners and professionals, as well as facilitates accurate diagnosis.
We build highly accurate and tech-advanced customized data analytics tools, that can analyze historic and current healthcare data. It can deduce much better results and predict future trends accordingly to improve business reach and manage the spread of any calamity.
Want to Automate & Fasten Your Healthcare Services?
Hire our healthcare solution development experts to build a highly advanced solution for your business needs.
Contact Us
We Strictly Adhere to Medical Compliance
We are a highly responsible team of healthcare app developers that meet all the legal parameters to safeguard both user and product.
HIPAA

The Health Insurance Portability and Accountability Act (HIPAA) states to define the standard for protecting sensitive data.

EHR

Electronic Health Records formulate cooperation between healthcare organizations and service providers.

FDA

The Food and Drug Administration is of the United States, which keeps a close tab on protecting public health by ensuring the safety and security of related products.

HITECH

The healthcare apps should abide by all the security audits to maintain strict enforcement of the HIPAA-based security and privacy rules.
Frequently Asked Questions
The medical software can refine and fast-pace the entire workflow while maintaining the data quality and accuracy to provide a better patient experience. Healthcare service providers use different types of software to reduce service expenses and make patient care much more advanced, efficient and quality.
Additionally, healthcare software helps doctors and healthcare service providers to use data in a precise manner and make correct diagnoses with the help of AI and Big Data technology.
The development cost of a healthcare app relies on several factors, such as app size, platform, features & functionalities, advanced technologies and API integration, development team, expertise and location, and many more. Hence, it is suggested to connect with our healthcare experts and share your idea specific that will help our team to define the average cost of your app development, by maintaining the highest quality standards.
New technologies used in healthcare solutions are as follows:
Blockchain for secure health data exchange
Artificial Intelligence (AI) for personalized assistance and predictive analytics
Telemedicine platforms for quick virtual consultations
Internet of Things for smart wearables and remote patient monitoring
Big Data Analytics for healthcare decision-making and population health management
Yes, we ensure to abide by and follow the highest level of data security and quality assurance throughout the healthcare software development process and we adopt best practices that comply with HIPAA standards to deploy the market-ready solution with ease.
Languages: JavaScript, Python, C#, C++, Ruby
Frameworks & Libraries: Angular, React, Ruby on Rails, ASP.NET, Vue.js
Cloud: AWS, Azure, Google Cloud, Rackspace
Mobile Technologies: React Native, Xamarin, Flutter, PhoneGap, Ionic
Platforms: Microsoft, Salesforce, Pega, Odoo