Blockchain App

Development Services

Tap into the world of blockchain technology with our top-of-the-line blockchain-based decentralized applications (Dapps) on Ethereum.

Talk to Our Experts
Our Blockchain Development Services
Whether you're a start-up or a Fortune 500 company, our robust and safe custom blockchain development solutions have you covered.
Blockchain Solutions
We provide blockchain solutions for different industries like Accounting and Finance, Healthcare, Retail, Logistics, Trading, and Information Technology.
Smart Contracts Development
Our smart contract development services include smart contracts architecture, design & development, smart contracts audit, and optimization.
NFT Marketplace Development
We offer development services that allow you to build entire NFT platforms from scratch, adding necessary functionality and a visually appealing marketplace.
Blockchain As a Service
Our Blockchain as a service (BaaS) give you the ability to do fast technology assessment, rapid prototyping, Design Thinking-led assessment, research trends, etc.
ICO Launch
Our ICO packages include smart contract development, deployment & maintenance, KYC integration, Live Chat, product video, and more.
Smart Contract Audit
Our smart contract audit services include smart contract performance validation and optimization via gas analysis, automated and manual analysis of code, and smart contract vulnerability identification.
Private Blockchain
Our offerings include custom blockchain/ distributed ledger development, multichain and hyper ledger fabric development, deployment, and infrastructure support.
Crypto Currency Exchanges
Make safer and secured transactions with zero risks by getting developed secured, customizable, cryptocurrency trading and exchange software solutions for all kinds of businesses.
Crypto Currency Wallet
We have an experienced cryptocurrency wallet development team that creates highly reliable and robust iOS and Android wallet apps.
Blockchain Trends Set to Shape the Future of Tech
Big data trends can make it easier for companies to make informed decisions, give customers a better experience, overcome obstacles, and boost productivity.
International Trade
Smart contracts make it easier to get licenses and certificates. This reduces transaction costs and increases speed and accuracy in the international trade.
Growing Enterprise Blockchain Adoption.
Blockchains are decentralized, which means they're more secure, more transparent, and more resilient to cyber-attacks. That's why several businesses use this technology.
Decentralized Finance and Banking
DeFi is a great way to use blockchain technology to keep your money safe and secure in your digital wallet.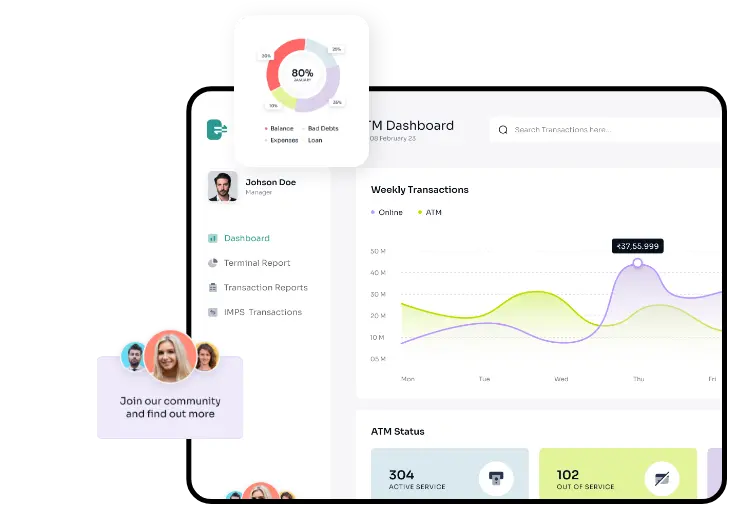 Industries We Have Transformed
Our blockchain development solutions have enabled us to make a significant impact in a variety of industries across the globe.
Blockchain can revolutionize financial management. Here is how our blockchain and banks can collaborate to make money more digital.
Improve Capital Optimisation
Enhanced Contractual Performance
Financial Solutions in Terms of Crisis
The healthcare industry is a domain that is critical, data-driven, and labour-intensive, here's how the healthcare sector can be benefited:
Patient-Centric Electronic Health Records
Supply Chain Transparency
Drug Traceability
Cryptocurrency, blockchain & smart contracts are growing at a fast pace across all industry verticals. Here are some potential benefits for the supply chain industry:
Regulating Product Recall
Regulating Product Recall
Logistics & Post-sale Services
Our developers can create an Ethereum-based blockchain program for your ecommerce business. Here's what your business can get:
Improved Business Processes
Greater Access for Global Consumers
Easy & Fast Transactions
Why Choose Codiant For Blockchain Development?
We have the know-how to turn your vision into a real-world with safe & scalable solutions. Here's the reason why:
Cost-Effective Development
Our experts ensure productivity throughout the entire development process, helping you create a top-notch outcome for your client.
Agile Development Process
Our developers implement a well-structured development process. This approach is designed to provide optimal value to end users.
Client-Focused Approach
We conduct comprehensive risk analysis and provide end-to-end solutions. Our unique selling point is our ability to bring value to your project.
All-inclusive Support
With 24*7 support for blockchain, you can avoid downtime all the time and scale your app according to the needs of your users.
Blockchain Development Process We Follow
Our development process allows us to adapt quickly to changing requirements and deliver efficient blockchain development solutions.
Blockchain Consulting

When your company needs a blockchain-based solution, our blockchain consultants analyse the market, platforms, and tools to carry out feature prioritization.

User Experience & Design

Our designers meticulously craft high-quality designs that not only captivate users visually but also ensure a seamless user experience.

Enterprise Blockchain Development

Our developers evaluate, conceptualize, and construct enterprise-grade applications with the goal of maximizing the ROI For the business.

Blockchain Application Deployment

From front-end development to node validation, our blockchain projects are deployed in multiple phases from pre-launch testing of deployed programs.
Ready to Unlock the Benefits of Blockchain For Your Business?
Let's collaborate and harness the power of blockchain to streamline your business process.
Start your project today!
Blockchain Tech-Stack
Enhance your business intelligence Using big data solutions and technologies.
Key Technologies
Solidity
Ethereum
Microsoft Azure
NodeJS
Web3 Js
Let's Hear What Our Clients Say
Rewarded with 2500+ Customer Stories. See some of the amazing stories that distinguish us from the rest.
Working with Codiant has been an absolute game-changer for our grocery delivery start-up. Their expertise in developing both our front-end and back-end, along with the iOS and Android applications, has been exceptional. Highly recommend their services!

Ramiz Nathani
Co-Founder, Instafresh

Codiant delivered precisely what we needed, a top-notch website, with seamless film recollection. Their expertise exceeded our expectations, and we couldn't be more satisfied with the final result. Thank you, Codiant, for an outstanding collaboration!
Gezabel Perroti
Co-Founder, DISTRI7

Codiant has been our go-to partner for a while now. They've successfully handled several major projects. Among them, Autism Connect stands out as their greatest achievement. Their dedication and expertise are phenomenal. Highly recommended!
Catherine Kleins
Co-Founder, AUTISM WEST MIDLANDS

I have done a software project with Codiant which was a difficult challenge for both of us because of the language differences and the wide scope of work (web, IOS and Android). However, they have delivered the project as per...

Basim Albeladi
CEO, Labayh

Codiant team did a great job on helping us build our presence on iOS, Android and Web. The Codiant team is skilled and dedicated to delivering a product that exceeds requirements.

Michael Patchen
Founder, PadTime

Great company and great people. Worked through difficult requirements. Once they understand, they deliver.
Cliff Holsenbeck
Founder, Fantopias