Oil & Gas

Software Development Services

Improve your plant's productivity, make quick decisions, and boost revenue with our advanced oil and gas software development services.

Hire Industry Experts
Our Oil & Gas Industry Service Offerings
Our tech experts employ the latest and aptest development practices to build customized oil and gas software solutions.
Oil & Gas Supply Chain
We build business-specific data-driven customized supply chain management and distribution channels in real-time with precision.
Employee Management
Our expert developers build custom mobile apps that support oil & gas owners to manage manpower effectively & boost productivity.
Oil & Gas Analytics
We build web & app solutions to automate analytics & reporting that offers real-time management, budgeting, forecasting, and other production processes.
Pipeline Management
Codiant's expert developers build end-to-end pipeline management solutions with an interactive dashboard to track & manage details easily.
Refinery Scheduling
Our developers deploy refinery scheduling automation software that supports quick collaboration and response by scheduling vital activities in a go.
Downstream SCM
We deliver customized Supply Chain Management process from crude oil procurement to distribution, forecasting, analysis & other evaluation capabilities.
Our Customizable Solutions
Exploration and Production (E&P) Solutions
Codiant leads the way in Exploration and Production (E&P) Solutions, leveraging advanced geophysical technologies to unearth uncharted reserves beneath the Earth's surface. This empowers you to enhance resource discovery, refine drilling tactics, and efficiently manage reservoirs. A pathway to a forward-looking energy expedition, our solutions pave the route to optimized operations.
Seismic Data Analysis & Predictive Maintenance
Production Enhancement & Real-time Monitoring
Integrated Data & Asset Management
Health, Safety, and Environmental (HSE) Compliance
Integrated E&P Software
Production Optimization Solutions
Codiant presents Production Optimization Solutions designed to amplify operational efficiency across the board. Leveraging advanced technologies, we streamline production processes, fine-tune equipment performance, and enable real-time monitoring, ensuring you achieve maximum output while minimizing downtime and resource wastage.
Lean Manufacturing Implementation & Energy Efficiency Solutions
Quality Control, Assurance and Inventory Optimization
Automation and Robotics Integration
Supply Chain Integration & Digital Twin Technology
Performance Dashboards and Reporting
Refinery and Downstream Solutions
Codiant introduces Refinery and Downstream Solutions that revolutionize the way you manage refining operations. With a comprehensive suite of tools, we facilitate seamless process control, inventory tracking, and compliance adherence. Our solutions ensure the smooth journey of crude to the consumer, optimizing efficiency, reducing costs, and aligning with environmental standards.
Process Automation and Optimization
Cybersecurity Solutions
Maintenance Management Systems
Mobile Applications for Field Operations
Cloud Migration and Infrastructure Modernization
Asset Management Solutions
Codiant provides Asset Management Solutions that empower you with unparalleled control over your critical infrastructure. Through advanced technologies and custom software, we offer real-time monitoring and comprehensive asset insights. Seamlessly manage the health and performance of your assets, extend their lifespan, and ensure your operations run smoothly.
Asset Tracking and Inventory Management
Condition-Based Monitoring (CBM) Systems
Mobile Asset Management Applications
Integration with Enterprise Systems
IoT- Enabled Asset Intelligence
Remote Monitoring and Control
Codiant delivers Remote Monitoring and Control solutions that put you in the driver's seat, no matter where you are. Through advanced SCADA systems and real-time data analytics, we enable seamless supervision of crucial operations, allowing you to make informed decisions and take immediate action.
Remote Equipment Monitoring
IoT-Enabled Remote Sensors
Remote Data Visualization & Predictive Analytics
Remote Software Updates and Maintenance
Cloud-Based Remote Solutions
Environmental & Regulatory Compliance Solutions
Codiant specializes in Environmental and Regulatory Compliance Solutions that keep you ahead in a complex regulatory landscape. Our advanced tools and software enable meticulous emission monitoring, reporting, and adherence to environmental standards. Minimize your carbon footprint and ensure sustainable practices and compliance, safeguarding your reputation.
Environmental Data Tracking & Emissions Management
Waste Management Systems
Risk Assessment and Mitigation
Environmental Training Platforms
Customizable Compliance Dashboards
Our Expertise in Oil & Gas Industry
We build custom solutions to bring value to our partners by implementing better planning, forecasting and monitoring.
Upstream
Leverage our upstream expertise in exploration & production to redefine your business boundaries through digitalization.
Midstream
We build data-enabled midstream companies' infrastructure, like transport, pipelines, & storage to enhance networks & opportunities.
Downstream
Expand supply chain visibility & consumer reach with marketing to gain revenue for downstream companies like refiners & retailers.
Unique Features of Oil & Gas Software
Our custom oil and gas software solutions are equipped with some unique features to fulfil your business needs.
Our advanced operational and analytics feature help to get accurate data and insights to make highly-informed decisions, processes, workflow, and reduces operational expenses.
To increase the efficiency and effectiveness of the procurement process we integrate inventory management software solutions with advanced visualization capabilities.
The software equipped with sensor data and real-time predictive modeling with Machine Learning technology helps Oil & Gas businesses with predictive maintenance.
Our custom solutions allow your organizations to remotely track and monitor well and drilling operations, and can also set automated alerts through data visualization.
The oil & gas software will help your business to automate the usage and maintenance of tool planning and long-term maintenance.
Our custom oil & gas solution helps users to easily track and manage suppliers to monitor supplier performance and handle potential supplier risks.
Why Choose Codiant As Your Oil & Gas Tech Partner?
Our hand-picked tech and industry experts leverage cutting-edge technologies to build custom oil & gas solutions.
Result-Driven Approach
Our team is highly dedicated and responsible that follows a result-driven design and development approach for suitable solution building.
Latest
Technology
Our developers always remain updated and equipped with the latest tools and technologies to enhance their performance and deliver a high-end solution.
Continuous Support
We offer continuous support and maintenance to our clients based on their project requirement and demand to maintain the quality of the ongoing project.
Timely
Delivery
At Codiant, our developers follow a guided and dedicated approach to satisfy the client's needs and deliver quality projects on time.
Solutions Delivered by Our Team
See our product development journey helping our clients open new opportunities and drive growth. Our solutions are conditioned with your customers' voice.
Ethos Energy
Ethos Energy is a web application that provides solutions and services to power generation, energy, and oil & gas industry markets through an integrated approach in delivering excellence.
Dealers can easily track their inventory & view stock levels.
The app allows dealers to customize branding on product content and co-branding options.
Oil Stack Ltd.
Oil Stack Ltd is an application that operates a huge network of steel pipelines for natural gas distribution by digitalizing the oil and gas industry and streamlining sales and operations for CNG dealers.
Dealers can manage invoices, reports, and analytics of their CNG sales.
Gain insights of revenue generation, quantity sold, and commission earned.
Integrating Prime Technologies for Oil & Gas Solutions
For upstream, midstream, and downstream phases, here are the prime technologies that are upgrading oil & gas businesses.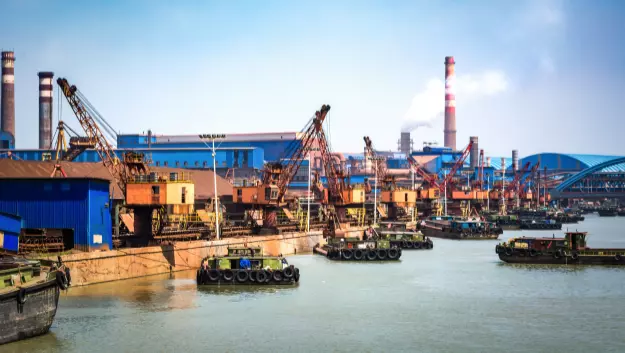 IoT-enabled GIS devices support oil & gas businesses to accurately identify the location & quantity of crude oil. Monitor remote assets, equipment failures, gas leaks, and more for optimized business processes & lower Non-Productive Time (NPT).
AI automation in the oil & gas industry can easily automate several surveys and forecasting processes. It also benefits from seismic insights, drilling optimization, reservoir management, & energy production enhancements.
Cloud computing assists in quick and accurate analysis and data study of the oil & gas industry at all phases. Leverage our industry expertise to build secure and valuable cloud environments, overcoming security concerns.
Leverage our Big Data Solutions to analyze vast data from upstream, midstream, & downstream processes in oil & gas. Gain insights into equipment maintenance, operational efficiency, safety, & information security.
With our expertise in Smart Contracts & Decentralized Applications for refining, exploration, and more, build a scalable & sustainable enterprise. Explore revenue streams through blockchain-based apps in equipment tracking, energy trading, asset maintenance, & more.
Get End-to-End Oil & Gas Software Solution Services!
Hire our industry experts to boost your oil & gas industry business's productivity with our custom solutions.
Contact Us
Benefits of Digitizing Oil & Gas Business
Digitizing your oil & gas business can bring many significant benefits.
Higher Productive

Remote monitoring and automated processes in your oil & gas business can increase business productivity by up to 90% or more.

Reduce Expenses

With Augmented technology, field inspection becomes quite handy & supports virtual connection, & reduces almost 10% of expenses.

Quick Inspection

Remote and handy devices, like camera & drones, fasten data collection & analysis and reduces the budget by up to 30% or more.
Frequently Asked Questions
Studies depict that about 90% of energy companies are adopting digital software. Despite that, here are more reasons to join the digitalization trend.
Accurate and quick data collection, analysis, survey, & forecasting at every phase of business
Predict the risks with financial and safety regulations
Improve the efficiency of the human and automated resources
Access vital data from anywhere and anytime with cloud integration
Simplify complicated operations and projects across several locations
To build a custom solution there is no such fixed cost to develop the oil & gas solution. Only after analyzing the specific features and objectives the software can be built and the cost can only then be predicted. Still, if you need a precise estimation, then share your project requirements with our experts at contact@codiant.com.
Yes, definitely. We sign Non-Disclosure Agreement with our clients to keep your idea and project details secure and undisclosed to the general public. We take care of all our clients' data privacy to keep the details confidential.
Well, every digital solution requires time-to-time updation to remain competitive and a trendy business solution. Hence, if you want to update your software- you have all our ears and assistance. Our expert developers and business analysts will listen and analyze your business needs and problems, deliver the right solution to those issues, and introduce new updates in the software.
Our team follows a well-designed approach to meet and exceed our client's expectations. Initially, we connect and discuss project details and understand your objectives. Then, we prepare the documentation to make you aware of all the required resources, technology & budget. Then, we move ahead with the oil & gas software development and testing phase.
Connect with us, to learn the process and closely experience our software development process with the expert's team.