About Nuvopia
Nuvopia streamlines online presence management with its innovative platform, enabling the seamless creation of personalized URLs, bio link pages, and custom QR codes. By centralizing diverse apps and tracking pixels from Facebook, Google Analytics, and more, it simplifies data capture and goal measurement. With options for custom domains.
Nuvopia ensures a branded touch. One can elevate their digital strategy effortlessly through this all-in-one hub, where efficient resource categorization empowers users to optimize their online footprint.
Client's Location

USA

Development Time

16-20 weeks

Target Users

Content creators, URL customizers, link shortening users, custom link users
Technologies Leveraged
We leveraged the strength of robust and secure technologies, tools, and frameworks used in the app/web to escalate the creation of new features and functionalities.
Laravel

PHP

JavaScript

React

HTML5

CSS
Identifying the Client Needs
Nuvopia was created to alleviate the pain points faced by individuals, businesses, and content creators while managing multiple links on social media platforms like Instagram. With limited link options in profile bios, users often struggle to share various links effectively. Constantly changing links in bios or posts can be time-consuming and lead to confusion for the audience. Moreover, including too many links can clutter profiles, diminishing user experience.
Client Goals
Our client wanted us to design Nuvopia, a user-friendly web platform that offers a single, customizable link that directs visitors to a clean landing page featuring multiple links and a QR code. This streamlines processes enables effortless updates, and provides basic analytics for tracking link performance. A valuable tool to boost online presence and engagement.
Web Objectives

Intuitive interface for easy link management.
Customization options for branding consistency.
Mobile-friendly design for seamless access.
Basic analytics to track link performance.
Secure and reliable platform with responsive customer support.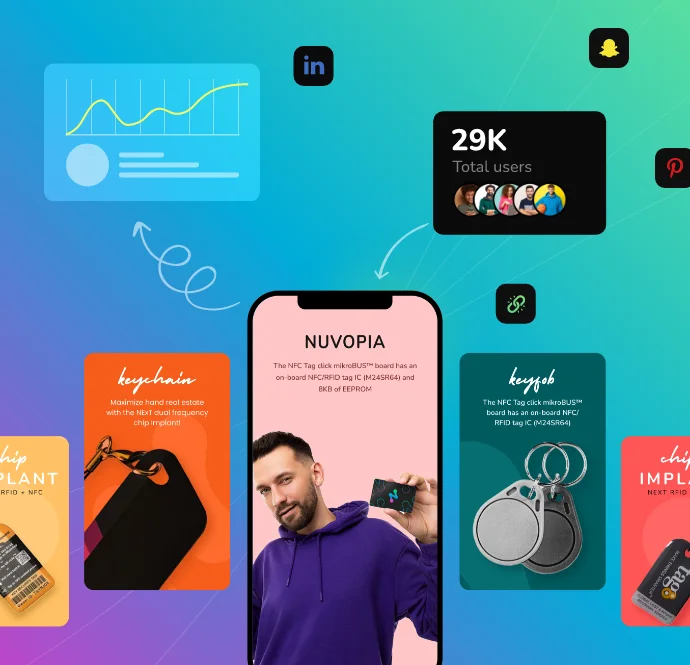 Web Visual Designs
To design visually captivating websites, our UX experts combined creativity and functionality to create a simple yet impactful interface that delivers the brand's message.
Development
The Nuvopia website has been carefully designed to cater to different stakeholders, encompassing Users as well as the Admin of the Public Platform. Offering an all-in-one solution, offering a single, customizable link that directs visitors to a single landing page. This landing page includes multiple links and a convenient QR code for easy access.
Login/Register
User can login & register using their personal information or social media credentials.
Claim into Pages
Users can create a clean and customizable landing page that hosts multiple links.
Custom QR codes
Users can generate QR codes that, when scanned, instantly redirect visitors to the user's bio link page.
Link Management
Intuitive interface for effortless addition, removal, or rearrangement of links.
Branding Management
Customize the appearance of the bio link page to align with personal or business branding.
NFC Product Purchasing
Users can easily purchase smart digital contactless cards as per their requirements
Shipping Details
Users can enter their basic details to get the products delivered to their address.
Make Payments
Users can easily make payments by selecting the mode of payment.
Subscription Plans
Users can buy subscription plans as per their personal & professional profile.
User Management
Admins can efficiently manage accounts, profiles, and permissions ensuring privacy & security.
Domain Management
Admins can facilitate the integration of custom domains, enabling a strong branded presence.
Analytics Dashboard
Admins can gain insights into link performance trends & user engagement patterns, for future enhancements.
Content Moderation
Admins can implement moderation tools to ensure that linked content complies with community guidelines and standards.
Branding Control
Admins can establish and enforce branding guidelines, ensuring a professional appearance.
System Security
Admins can implement robust security measures to protect user data and ensure reliability.
Customization Tools
Admins can offer advanced customization options for user bio link pages.
Support Management
Admins can facilitate efficient communication with users addressing inquiries or issues.
Feature Management
Admins can roll out new features, updates, and improvements to the platform.
Project Outcomes: Evaluating the Impact
In the realm of digital advancement, Nuvopia's innovative approach addressed the user pain points with an advanced solution, by introducing a streamlined method – a singular, shareable link that not only simplifies link management, eliminating the need for frequent profile updates but also offers basic analytics for valuable insights into audience engagement.
Nuvopia tackles pain points with a user-friendly solution, enabling the creation of a single shareable link directing visitors to a landing page.
The page we designed is organized, and customizable, allowing users to update links easily without constantly changing their social media profiles.
Nuvopia also offers basic analytics, enabling users to track link clicks and gain insights into their audience's engagement.
Intuitive UI & UX that streamlines the process of sharing multiple links and provides a more efficient way for users to manage their online presence.
Read More Case Studies
We extended our services to scale operations & services of our global clients. Team Codiant received much appreciation for quality solution offerings and successfully build a trustable relationship with each client.
BANKING, FINANCE & INSURANCE
The Square App is a mobile application designed to provide users with a seamless and convenient platform for cryptocurrency exchange and conversion. Creating a user-friendly platform for easy cryptocurrency trading and conversion. Redesigning the mobile app with an attractive interface to enhance the user experience.
HEALTHCARE, TELEMEDICINE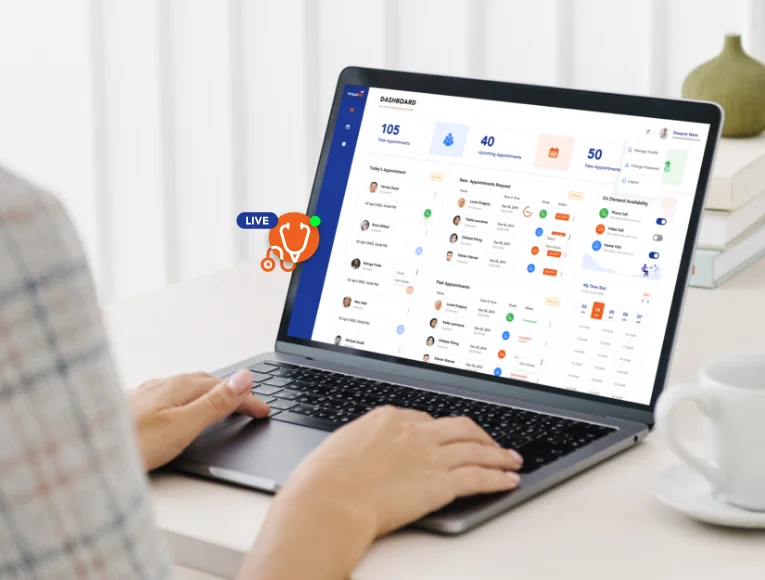 A HIPAA compliant Telemedicine App for USA where patient and doctors can register to give and avail telemedicine services through the platform. It helps care providers, improve patient satisfaction, and increase practice revenue. Patients can book doctors on-demand, select mode of communication, and payment mode. Doctors can set their own on-demand availability on phone, video, […]
REAL ESTATE
Assetlyst is a real-estate website for sellers, buyers, or renters. Users can search for properties and houses or rent/sell them through the app by uploading images or filling in details. Buyers or renters can filter their search as per their needs and requirements based on area, location, price, or size. Agents/sellers can receive notifications if […]