About Soultriibe
Ditch the old-school viewpoint that dating apps are only meant for youngsters. For Soultriibe- a dating website, age knows no limit to find a soulmate or a friend tribe to connect. The web platform has diminished the 'differences' between ages and sparked the sheen of romance, companionships, and soulful conversations with like-minded partners that churn the same feelings, preferences, and relationship goals.
While there is a lot that circles the web platform, a few high-key features that make it super functional are searching for like-minded people, choosing between dating and friendship, chatting, liking/commenting posts, notifications, and more.
Client's Location

UK

Development Time

06 Months

Target Users

Young Audience, between 16 - 35 years
Technologies Leveraged
We leveraged the strength of robust and secure technologies, tools, and frameworks used in the app/web to escalate the creation of new features and functionalities.
PHP

MySQL

Laravel

HTML5

CSS

Bootstrap
Identifying the Client Needs
Online dating is easier than ever. But the snag hits when the millennial age gets stapled with any hook-up-oriented site. Finding a perfect match shouldn't come with strings attached. Our client took cognizance of it and committed to developing a dating app that doesn't label age and binds the hearts in a conditional cage.
He approached us to build a one-of-its-kind web platform that offers a faster and more efficient way to make close connections with people and create good equations via in-web platform features like liking/commenting on posts, initiating chats, & more. The web platform is integrated with varied features that are perfect for people of all ages & sexualities.
Client Goals
To build a non-discriminatory online dating website that welcomes people of all ages, races, ethnicity, sexual orientation, relationship status, gender identity, and expressions. Other than this, the client aimed to integrate holistic dating app features like:
Web Objectives

Send a request to others either for friendship or for a relationship.
Initiate a chat once the connection is built
Check other connections' profiles, i.e., pictures, bio, interests, and more.
Like or comment on pictures and profiles.
Web Visual Designs
To design visually captivating websites, our UX experts combined creativity and functionality to create a simple yet impactful interface that delivers the brand's message.
Admin Visual Design
We've designed the Admin Visual Panel for the implementation of user interface elements and aesthetics for administrative interfaces, with a focus on clarity and functionality.
Development
The development team started working on building the mobile applications after considering high-fidelity prototypes for the stakeholders, i.e., users and admin. The development process long-established the friendly and smooth functioning of the stakeholders on the app. Here is the list of functions integrated for the user and admin panel to achieve the goals of the project:
Login/Signup
Users can signup/login using their email id, phone number, and password.
Profile Creation
User can add their personal details like photos, friendship goals, relationship goals, age, etc.
Purchase Membership
Users can choose to have either free or premium membership.
Select Module
While completing the flow, user can select the flow, i.e., friendship or relationship.
Friendship Flow
Users can invite, connect, chat, or send GIFs based on their preferences.
Relationship Flow
Users can send a request for a match, like their profile, and can chat with the person of their preferences.
My Likes & Matches
Users can view a list of matches and liked users.
Blocked User
Users can view a list of users they have blocked and unblock them too.
Message
Users can easily chat with matched users along with an option to unblock.
Notification
Users receive notifications on likes, match requests, got a match, and send a message.
Manage Profile
Users can view and edit profiles, manage membership, and change password.
GPS & Geo location
Users can easily give access to check their current location or restrict others as per their wish.
Login
Admin can log in using email id and password.
Dashboard
Admin can view and manage the total number of users, subscription plans, and the revenue generated.
Manage User
Admin can view and handle user's personal details like name, address, subscription status, etc.
Manage subscription plan
Admin can manage subscription plans like name, features, price, validity, etc.
Reports
Admin can view and manage the total revenue generated.
Manage CMS
Admin can view and manage the terms and conditions page.
Project Outcomes: Evaluating the Impact
Unlike many other dating apps, Soultriibe is a well-curated platform that features an intelligent matchmaking algorithm. People interested in making friendship or relationship connections can easily send a request to the people of their preferences and can chat to nurture the relationship. This web platform allows users to feel confident with a robust list of personalized features by neglecting age, identity or gender differences. Thus, it is super easy and exciting to find a soulmate or a friend tribe with Soultriibe.
This dating platform provides diverse dating options for users to choose from a wide range of preferences.
Soultriibe introduces users to strangers, opening opportunities to interact and connect with them.
The website has led to a positive experience, long lasting connections, and meaningful relations among users.
Soultriibe is beneficial for shy and introverted individuals who can't initiate conversation.
Read More Case Studies
We extended our services to scale operations & services of our global clients. Team Codiant received much appreciation for quality solution offerings and successfully build a trustable relationship with each client.
SOCIAL NETWORKING
Sociality is not like just another dating app brimming in the market. Soaked with reviving experience the app's open nature to befriend nearby people, view timeline, sports, etc. makes it a charismatic app to indulge into. Users can invite their friends to the app through social channels and messengers and earn points. Users can set […]
TRAVEL & HOSPITALITY
Gallivant is a travel and tourism platform that enables its customers to create and plan a multi-destination trip they like to visit. They can create custom trip itineraries by adding locations, share them with friends and family, and allow viewers to update the trip. Find the 'n' number of destinations en-route to their final journey. […]
BANKING, FINANCE & INSURANCE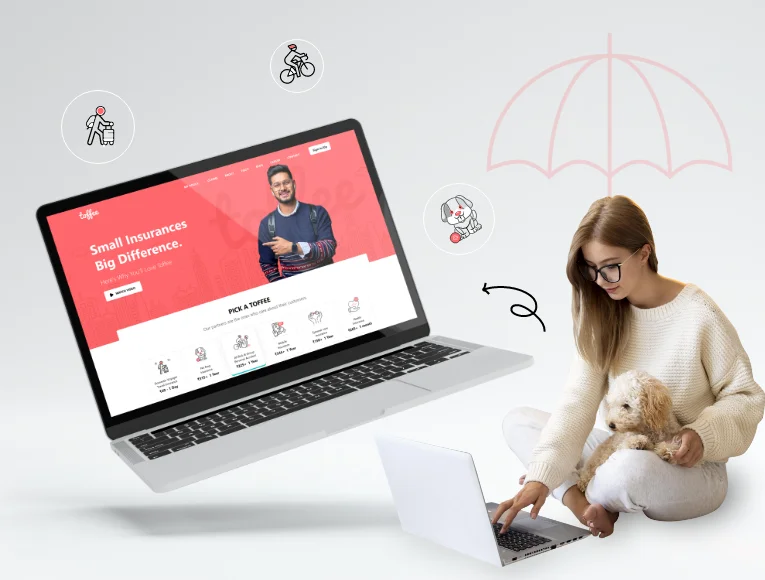 Toffee Insurance is a user-friendly, secure platform for cost-effective coverage of small & valuable possessions.