Telemedicine App

Development

Get built your virtual clinic app- accessible anytime, anywhere with our patient-centred telemedicine software development solutions.

Start A Project
Our Telemedicine App Development Service Offerings
We intend to help healthcare practitioners to improve patient experiences and generate new revenue streams with a wide range of Telemedicine app development solutions.
Telemedicine App Development
We create responsive telemedicine & doctor-on-demand apps to handle high-volume patients and lower hospital readmissions using cutting-edge technologies.
Electronic Medical Records Software (EMR)
Our expert telemedicine app development team builds powerful EMR apps to manage the entire clinical workflow and make it accessible anytime, anywhere.
Electronic Health Records Software (EHR)
Our developers build a highly organized electronic health record software ensuring prioritization and offering a streamlined dashboard to unify clinicians' roles.
Clinical Management System Software
Hire industry experts to leverage advanced technologies for developing a simplified clinic management system that works fast and delivers improved care.
HIPAA Complaint Mhealth Web and App Solutions
We design highly secured and easy-to-manage HIPAA Compliant Mhealth web & app solutions to regulate patient data protection seamlessly.
Mobile Hospital Management Solutions
We build feature-rich mobile hospital management apps to help hospitals establish a strong digital presence and ensure the smooth functioning of hospital operations.
BI/Analytics Solution
Our developers work on building BI/Analytics solutions to future-proof healthcare operations that simplify patient data collection and innovate patient care.
Health Insurance Apps
We build custom apps to meet your specific healthcare needs and offer on-the-go access to health information and keep track of all patient's insurance policies.
Fitness Apps
We build fitness apps by infusing top-notch technologies with attractive UI and easy-to-navigate design that easily beat the competitive world.
Exclusive features that make us stand out.
To arise amidst tough market competition, you must embrace these exclusive features in your telemedicine app development and never miss out on excellent opportunities.
Exclusive Video Conferencing
Experience screen sharing, Point-to-Point P2P communication, and integration of audio and video streaming to refine patient interaction.
Group Conferencing
Upscale user engagement with secure data sharing P2P or group conferencing with record/ stream abilities, screen share, and file transfer mechanics.
Virtual Office
Mirror your brick-and-mortar through HIPAA-compliant P2P video streaming and virtual waiting rooms to efficiently prioritize patients.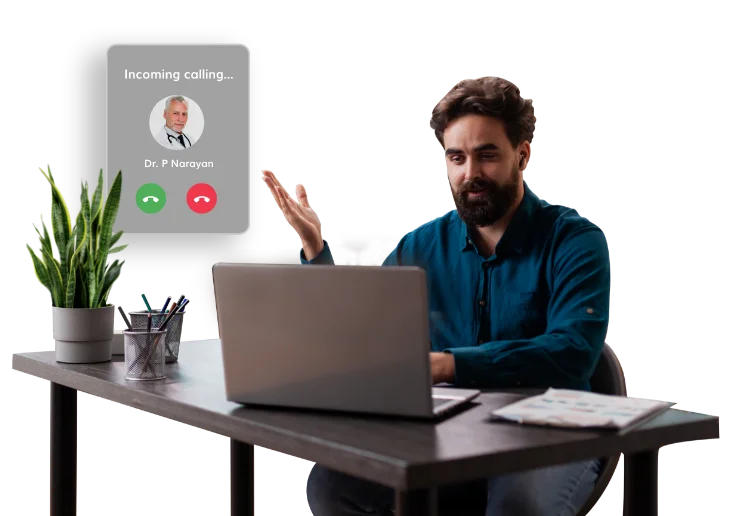 Telemedicine App Development Process We Follow
Our resilient tech team works on a guided process to create market-specific solutions that assure seamless patient experience and help you stand out in a competitive world.
We analyze current & future business challenges along with goals that can be defined and achieved in phases.
We define tech-stack, the latest frameworks along with the vital API integrations based on the data study & project requirements.
Our designers make stylistic choices to represent colors, fonts, design elements, and micro-interactions at their best.
We follow an agile development process to lower the scope of daily discussions and deliver quality-rich features.
We set up the web for usability testing within a limited group which helps us identify bugs and gaps in the end product.
We deploy the solution on a suitable platform or server and continue to work with your project to optimize and maintain performance.
Why Choose Codiant for Telemedicine App Development?
Codiant believes in delivering top-quality solutions to satisfy clients and help them in achieving desired business goals along with a better competitive market position.
Customized Service Offerings
We develop a totally new and custom telehealth offering all under your own unique brand that reflects your cubicle clinic.
API
Integration
Our robust suite of APIs allows a bidirectional exchange of information with EMRs and ensures doctors access the right data at the right time.
High-End
Security
All information shared and stored with us is fully encrypted as per HIPAA requirements using security and privacy programs.
In-depth
Domain Expertise
Our developers are experienced in HIPAA-compliant telehealth software development to build scalable, flexible, and robust solutions.
Our Work & The Impact Stories
See our product development journey helping our clients open new opportunities and drive growth. Our solutions are conditioned to your customers' voices.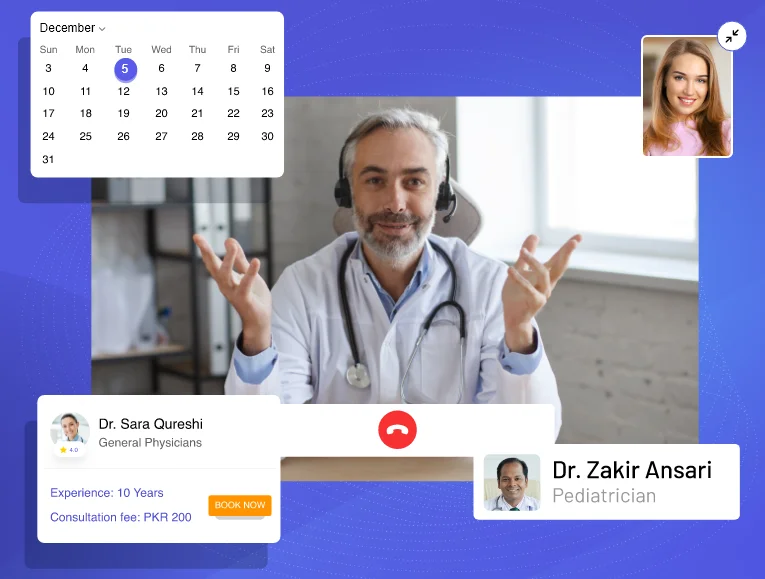 Click Drs.
Creation of a SaaS for Booking and Managing Online Medical Appointments. Providing 24/7 online access to video and audio consultations of general practitioners and clinicians.
Development of the SaaS for providing and receiving telecare services
Providing 24/7 online access to video and audio consultations of general practitioners and clinicians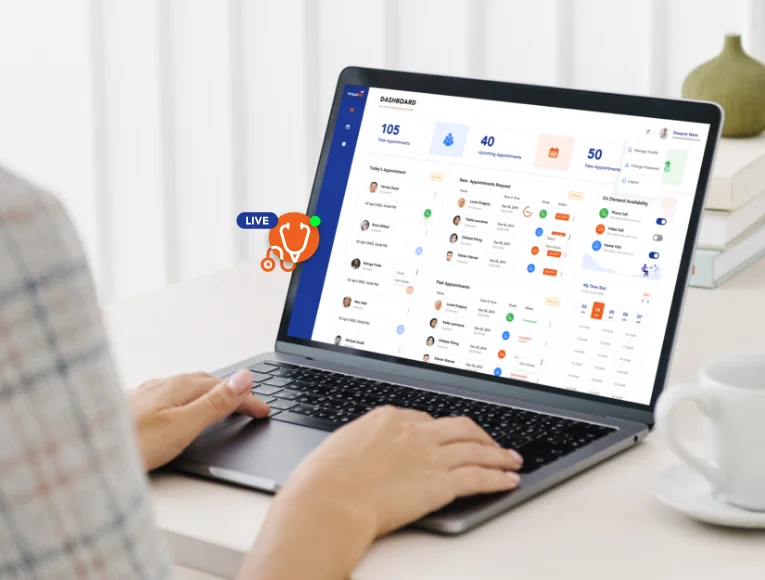 Virtual MD
A HIPAA compliant Telemedicine App for USA where patient and doctors can register to give and avail telemedicine services through the platform. It helps care providers, improve patient satisfaction, and increase practice revenue.
Patients can book doctors on-demand, select mode of communication, and payment mode.
Doctors can set their own on-demand availability on phone, video, or home visit with active/inactive toggles.
Synergy Health 360
Synergy Health 360 is an application that enables patients to access health and medical care conveniently without going anywhere. Users can consult with care providers, specialists, and coordinators effectively at home.
Patients can easily book/schedule appointments with healthcare providers and chat or call them in the app itself.
Healthcare providers can keep track of their patient's medical history and checkup reports, and also manage payment status.
Unveiling Telemedicine's Value-Driven Benefits
Open new avenues to experience breathtaking results. Our aim is to empower your healthcare vertical with our exceptional service benefits.
Digitization allows you to treat patients 24/7 and satisfy them with your special attention and flexible services at their convenience.
Easily manage and record your healthcare information and allow secured access to the clinical data for better patient care.
Creating telemedicine apps removes communication barriers between health centers, service specialists, and consultants.
Patients can easily reach out to doctors and get aid, especially during emergencies or any kind of natural disaster.
Telemedicine apps allow business automation where doctors can seamlessly update prescriptions online and track chronic disease patients.
Want Supreme Level of Patient Engagement?
Hire our industry experts to launch high-functionality telemedicine, remote patient monitoring, connected devices, digital health platforms and health applications.
Reach Out to Us Now!
Helping Clients with Different Requirements
Filling up the gap between remote care processes, we intend to aid all types of healthcare services with our simplified top-notch solutions using cutting-edge technologies.
Health StartUps

We accelerate health startups' growth by providing expansion capabilities to cater to patients' needs and stay ahead of the competition.

Healthcare Networks

We build healthcare network-specific solutions to offer end-to-end consultation and care solutions that enhance service speed and quality.

Primary-Care Clinics

Infuse innovation in your healthcare services by reducing the necessity for in-person follow-ups. We build custom solutions to scale flexibly.
Frequently Asked Questions