About Click Drs.
Click Drs. is a GDPR compliant telemedicine application having a dual platform, country-specific (the UK in this case) as well as Public Platform (global) allowing users to connect to healthcare providers. The app allows users to book appointments with doctors based on the platform they are on.
Patients can search for doctors based on current location and selected specialty and can book an instant or scheduled type of appointment. Whereas, Doctors can manage their schedules, write Electronic prescriptions and Clinical notes, and also prescribe lab tests based on the patient's medical history.
Client's Location

Birmingham

Development Time

06 Months

Target Users

Doctors, Patients, Clinics and Hospitals
Technologies Leveraged
We leveraged the strength of robust and secure technologies, tools, and frameworks used in the app/web to escalate the creation of new features and functionalities.
React Native

Swift

MySQL

HTML5

CSS

Bootstrap
Identifying the Client Needs
Healthcare organizations & hospitals around the world vie to give the flexibility to care providers. But the agility to extend their high-quality, multidisciplinary medical specialism limits locally & helps them to meet the needs of only local population.
The Click Drs. team partnered with Codiant to provide an opportunity to local healthcare providers to serve & extend their medical specialties to the undeserving & vexed population across geographical boundaries.
Client Goals
As the world braces for public health emergencies such as COVID-19, developing a telemedicine app solution to combat viruses and other acute/chronic diseases has become crucial. Identifying the emergent need, our client aimed to keep pace with modern technology and develop a solution that meets the following goals:
Appointment booking (Instant/normal)
Subscription plans (For self or dependents)
Multiple communication mode (Video/audio/chat)
Multiple payment gateways: wallet, pay by card.
Multilingual: english, arabic, and urdu.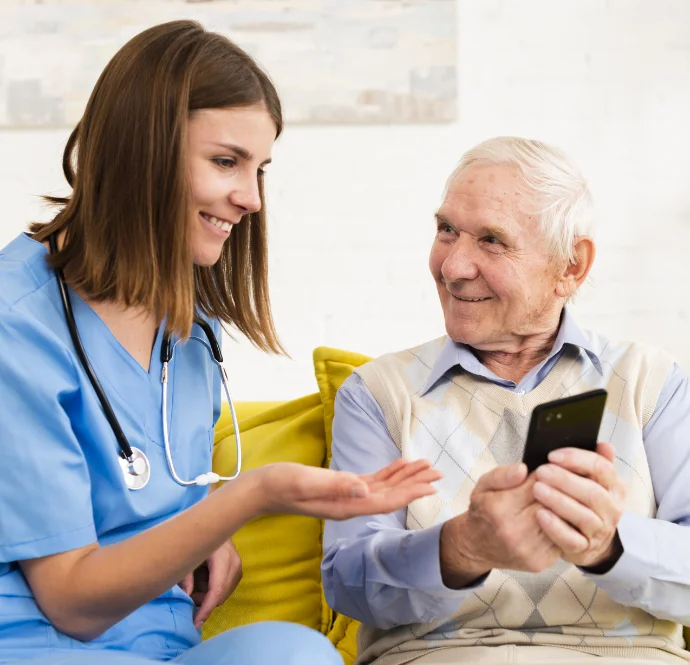 Mobile Visual Designs
Our UI/UX team developed hi-fi prototype after low-fi approval, through intuitive interfaces and aesthetically appealing layouts.
Web Visual Designs
To design visually captivating websites, our UX experts combined creativity and functionality to create a simple yet impactful interface that delivers the brand's message.
Development
Our development team headed the process by developing the telemedicine app for stakeholders like Doctor, Patients, and Admin forPublic Platform and UK Platform. Below given are the functionalities incorporated to make the healthcare app a bandwagon to support remote patient monitoring and online virtual consultation.
Easy Onboarding
Easy sign-up/log in through email and mobile number
Profile Management
User can manage profile by updating personal details (name, location, contact, etc.)
Dependents Management
User can add/delete/update dependents and their details.
Search Doctors
Users can search for doctors, apply filters, view lists of doctors.
View Doctor Details
Users can see doctors' profiles, available slots, ratings/reviews, and consultation fees.
Book Doctors
Users can book appointments with Doctors, add additional details and medical records.
Instant Doctor Booking
Patients can immediately see to a doctor by selecting instant booking.
Select Interface
Users can set the preferred mode of communication i.e. Audio/video/chat with Doctor.
View Appointments
Users can view past and upcoming appointments, cancel or reschedule appointments.
Rating and Reviews
Leave ratings and reviews to Doctor's Profile post online check-up.
Medical Records
Upload and manage medical records in .pdf, .txt, .doc, .jpg/.png format.
Lab Test
Easy viewing of lab tests, prescription list, clinical notes in the past appointments.
Online Payment
Users can pay via mWallet or credit/debit card.
Notifications
Users will receive notifications and alerts via email, SMS, and push notifications.
Video Conferencing
Connect with your medical specialist online using video-conferencing call feature.
Easy Onboarding
Doctors can easily log in through email/mobile number.
Create Schedule
Doctors can create instant and normal schedules, select date range, start and end time and appointment duration.
Manage Schedule
Doctors can view, edit and delete schedules.
Dashboard
Insightful view of appointments in chronological order and graph view.
View Appointments
View all upcoming and past appointments details, patients' info, and take actions.
Calling
Doctors can do video or audio calling with patients.
Live Chat
Doctors can chat and send attachments in image, doc, txt, or pdf format.
Notifications
Doctors will receive notifications through email, SMS and dashboard.
Prescription
Ability to view and write the online prescription, lab tests and make clinical notes.
Medical History
Doctors can view patient-specific medical history.
Calendars
Track appointment status and sync with personal calendars to ensure timely care delivery.
Medical Tips
Provide suitable tips to help patients in improving their health & maintaining a healthy life-balance.
Signup/Login
Admin can log in through email and password.
Dashboard
Admin can take an all-inclusive view of total no. of appointments, practices, doctors, and patients.
Manage Doctors
Admin can add doctors, manage existing doctors and new doctor requests.
Manage Patients
Admin can add/update/manage patients.
Manage Specialties
Admin can add/update/manage different types of medical specialties.
Multilingual
The app is multilingual with languages like English, Arabic and Urdu.
Manage On-Duty Doctor
Admin can select a date on the calendar and view doctors' on-duty, view their details and manage their schedule.
Lab Test
Admin can add/update/manage different types of medical lab tests.
Transaction Status
Admin can manage transactions, search them by transaction id, date and patient name.
Manage Cms
Admin has full capacity to manage both the app platforms that is a public platform and a UK platform.
Manage Subscription
Admin can manage subscription plans of family and individuals.
Logout
Admin can change the password when/if required and successfully logout.
Project Outcomes: Evaluating the Impact
Click Drs. is established as an independent telemedicine platform in the UK that is empowering care providers and hospitals to extend their healthcare offerings both nationally as well as internationally via online remote consultation or virtual care to communicate with the patients remotely. Now Doctors and Physicians enrolled as a part of Click Drs. can respond expediently during a crisis. "We did this for them. We can do it for you." Reach us out.
Click Drs. digital transformation delighted patients and empowered care providers and hospitals to extend their healthcare offerings both nationally (UK) and internationally via online remote consultation or virtual care.
Click Drs. have the potential to connect medical experts with patients, especially those living in remote areas with increased access to healthcare facilities.
This app schedules virtual doctor appointments for convenient medical care, saving time without waiting in long queues.
Read More Case Studies
We extended our services to scale operations & services of our global clients. Team Codiant received much appreciation for quality solution offerings and successfully build a trustable relationship with each client.
OIL & GAS
Oil Stack Ltd is an application that operates a huge network of steel pipelines for natural gas distribution by digitalizing the oil and gas industry and streamlining sales and operations for CNG dealers. Dealers can manage invoices, reports, and analytics of their CNG sales. Gain insights of revenue generation, quantity sold, and commission earned.
DIGITAL MARKETING
Cosmetic Choice is a leading healthcare marketplace for beauty and wellness services, committed to safety and client satisfaction. From cosmetic surgery to skincare, the platform covers everything under one roof.  Build a robust subscriber base by offering valuable content to improve customer retention.  Enhance social media engagement and expand brand presence online, driving growth and […]
ON-DEMAND DELIVERY
Beeptab is a platform helping deliver packages to customers. The mobile application provides an efficient, secure, and convenient package delivery solutions for both individuals and businesses. Users can check the status of their package delivery through live GPS tracking system. Users get notified about order confirmation, estimated delivery time, etc.