About LendKash
Lendkash is an online money lending platform based in Nigeria. The platform is designed with the aim of supporting people with a sufficient amount of cash. By integrating a secured and hassle-free cash-lending method, it has successfully narrowed down the struggle of consulting traditional banks for the purpose of processing personal loans. The borrowers can easily connect with the lenders to request the loan amount. Moreover, the repayment of the loan amount is done according to the EMI calculations and interest fixed. The platform is enhancing daily borrowers' experience by charging lower interest rates as compared to usual rates in the market.
Client's Location

Nigeria

Development Time

10 to 12 weeks

Target Users

Lenders, Borrowers and Investors
Technologies Leveraged
We leveraged the strength of robust and secure technologies, tools, and frameworks used in the app/web to escalate the creation of new features and functionalities.
MySQL

Laravel

iOS

Android

React Native

Firebase
Identifying the Client Needs
Turning around the traditional face of money lending was the major idea behind the development of the Lendkash. People used to suffer a lot as these maddening elements were the part of money lending process like continuous follow-ups and lining up long queues which were utterly frustrating. Our client closely witnessed this gap and thought of eliminating this common issue from the market.
He came up with the idea of building a user-friendly app connecting lenders and borrowers, simplifying the process for easy financial assistance and improved investment choices.
Client Goals
With a keen focus on addressing the diverse money-lending needs of the Nigerian people, the client sought to develop a comprehensive platform. The following features and functionalities have been effectively infused to ensure a seamless financial flow between lenders and borrowers.
App Objectives

The flexibility of getting desired loan & choosing the suitable tenure
Ensuring the safe and secure money lending process
Providing instant access to cash and quick approval
Track loan updates and other related information
Infusing loan calculator to calculate EMIs, tenure, and interest rates
Allowing lenders and borrowers to connect and discuss via chat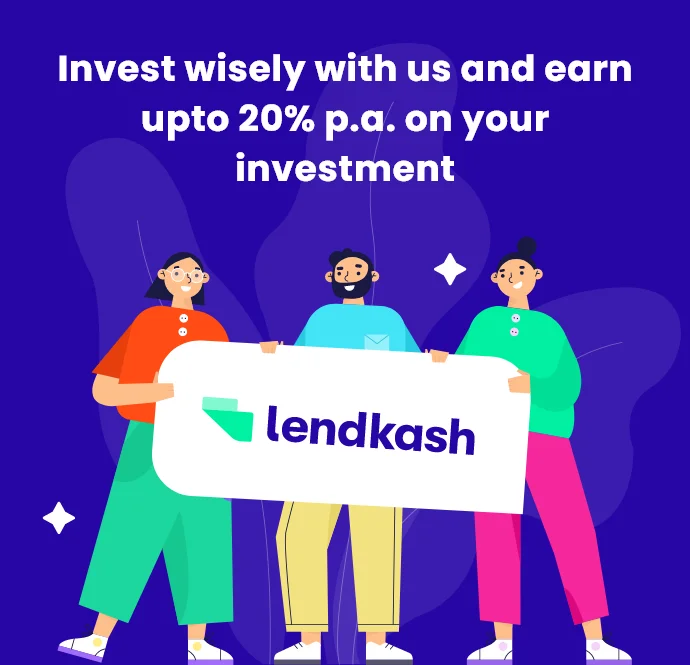 Mobile Visual Designs
Our UI/UX team developed hi-fi prototype after low-fi approval, through intuitive interfaces and aesthetically appealing layouts.
Development
The quick confirmation of the high-fi prototypes was enough to move ahead in the development phase. There are majorly two stakeholders in the app i.e. users and admin. The developers ensured to put important features and functionalities in the app for all the pre-define stakeholders.
Sign Up/Login
The user can signup/log in using details like name, email, mobile number, and password.
Loan Request
Users can raise the loan request including these details like loan amount, interest, EMI, terms, etc.
Complete KYC
Users can enter all the details to complete the KYC process.
View Loan Request Status
Users can check the loan request status including amount details.
Loan Calculator
The user can calculate the loan amount, loan duration, and the overall interest.
Transactions
The user can track all the performed transactions including essential details & info.
Sign Up/Login
The admin can signup/log in using details like name, email, mobile number, and password.
Manage Users
Admin can track/update user profiles and their personal details.
Manage Loan Applications
Admin can track loan requests received including details like interest, EMI, etc.
Manage Customer KYC
Admin can verify the user's KYC details and provide approval.
Manage Notifications
Admin can manage notifications that must be shared by the app.
Generate Reports
The admin can generate various reports summarizing user activities.
Project Outcomes: Evaluating the Impact
Lendkash's mobile app revolutionizes money lending in Nigeria, offering quick, low-rate loans. The platform eliminates tedious processes, providing instant funds with paperless documentation and easy approval. It's a game-changer for users seeking flexible and efficient financial solutions.
Lendkash fosters financial inclusion in Nigeria through a user friendly platform, empowering individuals with quick loan access.
The platform's streamlined approach, from low-fi wireframes to high-fi prototypes and eventual development, has resulted in an efficient and convenient lending process.
Lendkash's lower interest rates make borrowing affordable, enhancing financial wellbeing by reducing overall loan costs.
With features like loan calculators, tracking, and reports, Lendkash prioritized data-driven decision-making ensuring transparency and sustainability.
Read More Case Studies
We extended our services to scale operations & services of our global clients. Team Codiant received much appreciation for quality solution offerings and successfully build a trustable relationship with each client.
FITNESS & WELLNESS
Cosmetic Choice is a beauty, cosmetics, health and wellbeing consultation platform where customers can find the right professionals. The customers can connect through video calls for consultation and can seek required e-prescriptions and relevant treatments on physical visits. Search different experts instantly (based on their expertise). Get an immediate appointment with a specialist (virtual or […]
DIGITAL MARKETING
Clinical Trial is a prominent US healthcare provider dedicated to evaluating the safety and efficacy of medical innovations, especially in Chronic Liver Disease and other medical issues.  Optimize website ranking in Search Engine Results Pages (SERPs) for increased organic visibility.  Share valuable content on social media platforms to engage followers and expand brand visibility. 
E-COMMERCE
Kunooz is a leading Beauty and Personal Care e-commerce website platform exclusively available for the UAE audience. The e-commerce store has a great variety to offer to its customers that one can think of.   Easily explore the platform and quickly find the right product.  Send order details and status updates through email and SMS.