About Square
The Square App is a mobile application designed to provide users with a convenient platform for cryptocurrency exchange and conversion. The app aims to offer an all-in-one solution for users to register, buy and sell cryptocurrencies with INR, convert between different cryptocurrencies, and save their digital assets. One of the key features of the Square App is its integration with various APIs. These APIs enable the app to perform Know Your Customer (KYC) verification, access real-time market data, and utilize a secure custodial wallet for the safe storage of users' digital assets.
Client's Location

India

Development Time

14-16 weeks

Target Users

Digital currency enthusiasts and investors
Technologies Leveraged
We leveraged the strength of robust and secure technologies, tools, and frameworks used in the app/web to escalate the creation of new features and functionalities.
Swift

React Native

Java

HTML5

CSS

Bootstrap
Identifying the Client Needs
The Square App project has a clear focus: to transform the current mobile application to match the client's innovative design ideas. The ultimate goal is to create a user-friendly and efficient platform, catering to users who want to trade and convert cryptocurrencies effortlessly.
Developing a Cryptocurrency Exchange & Conversion app serves numerous purposes and meets various needs in the ever-evolving financial and technological landscape.
Client Goals
In the dynamic and constantly evolving financial market, Square App, our valued client, has joined forces with Codiant to embark on a transformative journey. The primary objective of this collaboration is to rejuvenate their business presence. Square App is dedicated to embracing cutting-edge technology and aspires to achieve the following key goals:
App Objectives

Creating a user-friendly platform for easy cryptocurrency trading and conversion.
Redesigning the mobile app with an attractive interface to enhance the user experience.
Catering to users seeking effortless cryptocurrency trading and conversion.
Mobile Visual Designs
Our UI/UX team developed hi-fi prototype after low-fi approval, through intuitive interfaces and aesthetically appealing layouts.
Development
Our cryptocurrency exchange app is expertly crafted for stakeholders like financial investors, stockbrokers, end users, retailers, market enablers, and the Admin for the Public Platform. Packed with features, it's the ultimate platform for seamless crypto currency exchange & conversion.
Easy Onboarding
Easy sign-up/log-in through email and mobile number
Profile Management
Users can manage their profile by updating personal details (name, location, contact, etc.)
Notification Bell
The user can get daily, weekly, monthly & yearly important notifications.
Market for Gainers & Losers
User can look into the list of all profit & loss-making coins.
Coin Page (Buy/Sell)
User can hop into the Coin Description, coin performance & investment details.
Square Flash
User can instantly buy & sell crypto assets in INR currency.
Converter
User can easily convert coins, and check coin balance & status (completed/pending).
Crypto Wallet
User can check the crypto balance in INR & can calculate the estimated rate & interest of the coin.
Transaction History
User can access their transaction history for deposits, withdrawals, and transactions.
Deposit Summary
User can submit a deposit request, check funds arrival & view deposit history.
Withdrawal Summary
User can submit withdrawal requests, check new balances & view withdrawal history.
List Of Conversions
User can check coin conversion details: the amount used, coins received, and status (Completed/Pending).
Withdraw INR
Users can check their wallet balance and withdraw INR, specifying the desired amount.
Deposit INR
Users can deposit manually, via VAN or UPI to monitor their available balance.
Square Plus
Users get a drop-down with listed plans, specialized USDT plans, investment details, notifications, reports, & special features.
Sign Up/Login
The admin can sign up/log in with an email id and password.
Dashboard
Admin can view the list of investors, stockbrokers, end users, retailers, and market enablers for a specific period.
User Management
The admin can keep track of all the registered users with their investment details, activities, etc.
Currency Management
The admin can oversee investments, currency conversions, INR transactions, withdrawals & deposits.
Report Generation
Admin can prepare instant reports on different data for varying periods.
Testing & Bug Fixing
Admin can test & fix bugs related to the cryptocurrency app including regular updates.
Project Outcomes: Evaluating the Impact
Codiant's skilled developers successfully accomplished the primary objective of the Square App project, which aimed to revamp and modernize the application for an enhanced user experience.
Developers built an efficient Admin dashboard for easy user management, staff management, and crypto coins management, reducing manual work and enhancing accuracy.
During redevelopment, Square App effectively employed a diverse team of resources (Front-End Developers, Back-End Developers, Quality Assurance experts, and Business Analysts) to implement the required solution.
The app's modernization breathed new life into the user experience, enabling seamless buying & selling, crypto conversions, and secure savings operations.
Rapidly augmenting tech experts accelerated the project development, avoiding exhaustive recruitment and saving costs.
Read More Case Studies
We extended our services to scale operations & services of our global clients. Team Codiant received much appreciation for quality solution offerings and successfully build a trustable relationship with each client.
TRAVEL & HOSPITALITY
Gallivant is a travel and tourism platform that enables its customers to create and plan a multi-destination trip they like to visit. They can create custom trip itineraries by adding locations, share them with friends and family, and allow viewers to update the trip. Find the 'n' number of destinations en-route to their final journey. […]
ON-DEMAND DELIVERY
Beeptab is a platform helping deliver packages to customers. The mobile application provides an efficient, secure, and convenient package delivery solutions for both individuals and businesses. Users can check the status of their package delivery through live GPS tracking system. Users get notified about order confirmation, estimated delivery time, etc.
ON-DEMAND DELIVERY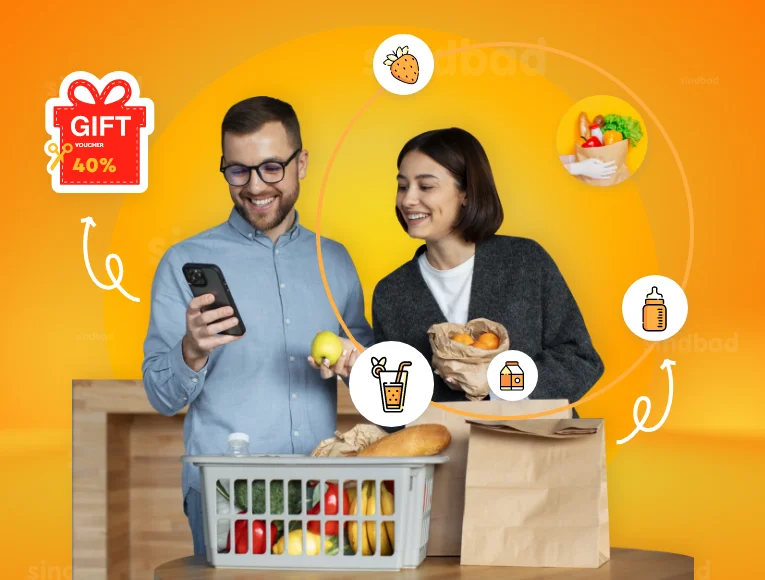 Sindbad is an on-demand grocery delivery app platform that rolls out the top line of features to connect users, delivery boys, and vendors with the aim to deliver daily essentials at the customer's doorsteps. Users can configure the package by entering family members details. Users can view packages matching with family configuration.