About Before & After Pro
Before and After Pro is an ultimate photo editing app that is designed to transform your cosmetic journey. This is an all-in-one mobile app that assists your creativity making it worthy of admiration. The app is specially designed for people who are looking to compare the change and cosmetic transformation in themselves. The app incredibly manages and monitors your transformation process by making image sliders, collages, and videos so that you can track your aesthetic progress step by step.
Client's Location

Australia

Development Time

10 to 12 weeks

Target Users

Social media influencers, content creators, and vloggers
Technologies Leveraged
We leveraged the strength of robust and secure technologies, tools, and frameworks used in the app/web to escalate the creation of new features and functionalities.
JavaScript

React Native

Swift

HTML5

CSS

Bootstrap
Identifying the Client Needs
Customers generally seek to gauge the progress of the transformation they have made to facial features, cosmetic procedures, or home experiments and improvements. For simplifying this progress arises a need for an app that can help users to compare the outcome of their efforts and creativity.
To find a sustainable solution the team of Before and After Pro planned to build an app that helps users to track and compare their before and after transformation. Users with just a few clicks can get astonishing results in no time at home.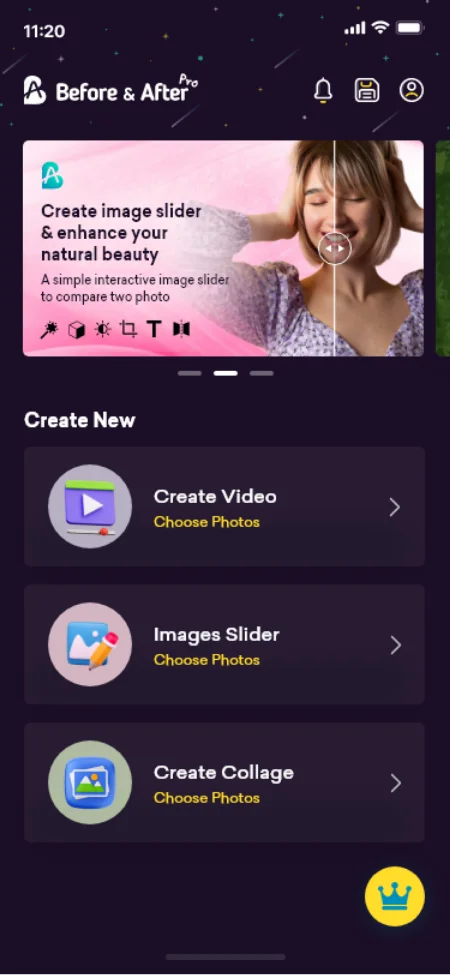 Client Goals
Our client, after a lot of research, understood the need for Before & After Pro, an ultimate app that can solve the problem of comparing before and after procedure transformation journeys. He aimed to create a photo editing and cosmetic transformation app having the following features:
App Objectives

Users should get a video slider option
A collage of the transformation journey
Multiple features and functionalities to choose from
Saving images in the phone's gallery
Before-image and after-image videos and collages
Premium features for advanced usage
Mobile Visual Designs
Our UI/UX team developed hi-fi prototype after low-fi approval, through intuitive interfaces and aesthetically appealing layouts.
Development
Our experienced developer team based on the final version of the high-fidelity prototype started working on the coding part of the Before and After Pro's customer app and admin panel. The basic features and functionalities they have incorporated into the application are all listed below:
Quick Onboarding
Users can sign up/login using their phone no, email id, or password.
Upload/Select Image
Users can choose two or more photos from their gallery to make a transition video or collage.
Edit Image
Before creating a video or collage, users can edit the chosen photos.
Add Filters
Users can apply multiple filters in photos such as magic touch, sharpness, contrast, etc.
Create Video
Once the editing is completed, users can create a video of their before and after transformation.
Collage Maker
Users can also save their transformation progress from day one in the form of a collage.
Premium Features
Users can enjoy premium features like crop, move, twirl, add logo, watermark, etc.
Easy Download
Users can easily download or save transition images, videos, and collages in their phone.
Activate/De-activate
Users can activate or de-activate their user id if they don't like to continue anymore.
Login/Sign up
Admin can manage user sign-up, login activities, and access control.
Dashboard
Admin can view and manage the total number of users.
Track Progress
Admin can track the transformation progress of users.
Subscription Management
Admin can monitor and manage user subscriptions and premium plans.
Feedback Management
Admin can collect users' feedback to improve the app's performance and user experience.
Report Generation
Admin can view and provide the progress reports of users.
Project Outcomes: Evaluating the Impact
Before and After Pro App gathered a massive user base. Users are really happy with the generated results through the app, as it involves tracking their cosmetic transformation journey. The app simplifies users' tracking and comparison process of their transformation voyage.
Enhances self-expression and users' creativity by editing their photos uniquely and imaginatively.
Users get a safe environment to explore cosmetic changes that helps in informed decision-making.
The app can be a fun, engaging, and enjoyable activity for users as they try out multiple creative transformations.
The result helps boost confidence and motivate users by virtually experiencing cosmetic changes.
Read More Case Studies
We extended our services to scale operations & services of our global clients. Team Codiant received much appreciation for quality solution offerings and successfully build a trustable relationship with each client.
EDUCATION & E-LEARNING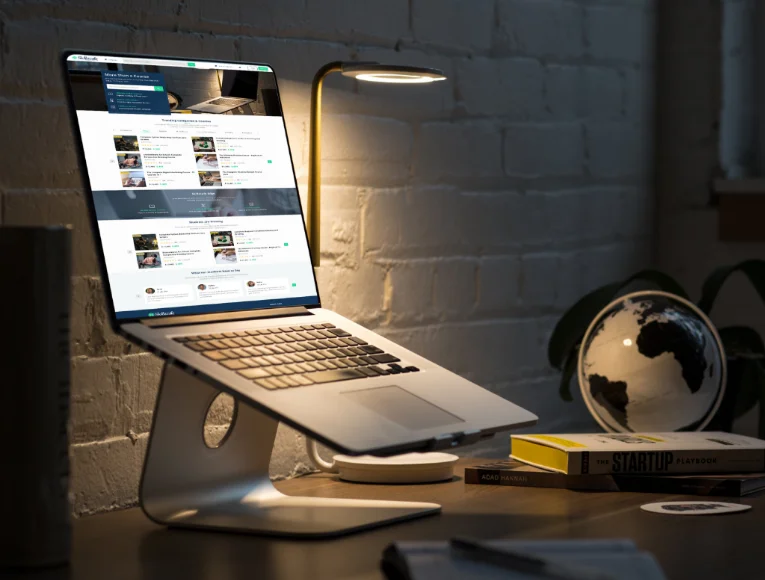 Skillzcafe is an e-learning web platform, where curious learners can find and easily connect with skilled and world-class instructors. The web platform follows the peer-to-peer connection concept where anyone can create or purchase online courses. New users should be able to easily find the online course from the available course list. Users should be able […]
DIGITAL MARKETING
Clinical Trial is a prominent US healthcare provider dedicated to evaluating the safety and efficacy of medical innovations, especially in Chronic Liver Disease and other medical issues.  Optimize website ranking in Search Engine Results Pages (SERPs) for increased organic visibility.  Share valuable content on social media platforms to engage followers and expand brand visibility. 
SOCIAL NETWORKING
Sociality is not like just another dating app brimming in the market. Soaked with reviving experience the app's open nature to befriend nearby people, view timeline, sports, etc. makes it a charismatic app to indulge into. Users can invite their friends to the app through social channels and messengers and earn points. Users can set […]