Features Of Online Food Delivery App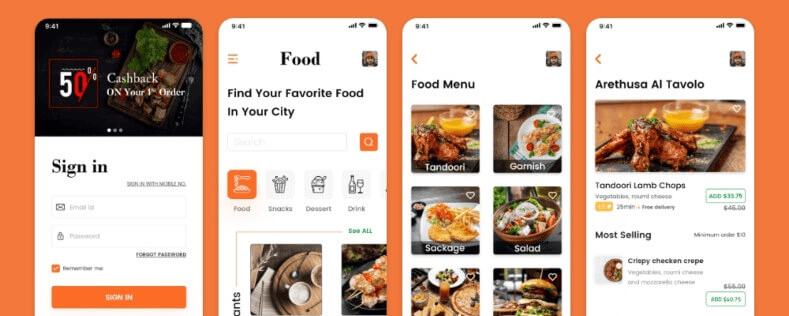 1. Customer App
Quick Signup : Simplify the access of users to experience your app. Make the on boarding process easy by allowing them to login through their existing social networks.
Search by Restaurants and Dishes : Give your customers a comfort to search for their favorite cuisines and restaurants by smart filters and sorting options.
Order Food : Give them the ease to order food from their nearby restaurants tracked from their current location.
Pick up & Drop : A feature where they can select the pickup and drop location of order within the app.
Track Orders : Give them the flexibility to track their orders and check their current order status. You can also use push notifications medium to keep them informing like the food is getting cooked in the kitchen, now out for delivery, about to reach etc. This increases the brands' reliability and keep the customer's informed and engaged.
Multiple Payment Options : Customers can pay smoothly with whatever option they like- cards, cash or wallet.
Prebook or Schedule Order : Allow your customers to place an order in advance for a scheduled date and time.
Ratings and Reviews : Give them the option to give feedback on the food ordering and delivery experience.
Promos & Offers : Customers can check the ongoing deals, promos and offers.
Order History & Repeat Orders : Let the customers check the past orders they made in the app and give them the flexibility to re-order with a few taps.
2. Restaurant App
Menu Management : Owners can add/update their menu listings, prices, items, minimum order amount, etc. and make them available for ordering.
Manage Orders : Check the order status (complete or processing), total amount earned on each order, and have the control on taking actions on them.
Order Alerts : Restaurants get real-time notifications for new orders and accept them on the go.
Push Notifications : Get notified to the assigned delivery guy and customer when the order is accepted and ready for delivery.
Track Payments : Add account details, view successful and pending payment settlements in one place.
Respond to Reviews : Restaurants get a direct line of communication with their customers to build trust.
Add and Manage Promos : Create and add new deals and offers to reward customers and gain new ones.
View Customer Details : Restaurant partners get useful information about their online customer base.
Order Reports : Partners get useful insights on their business performance and grow faster.
3. Delivery or Logistics
Easy Registration : Direct registration or easy onboarding from the mobile app.
Take Bookings : Approve/ disapprove new booking requests.
Check Distance : Check distance from the current location to the delivery point.
Manage Status : Updating status of order placed like accepted or rejected the booking, picked up order, delivered the order.
Booking History : Drivers can easily track the booking history.
4. Admin Panel
Add and manage restaurants, Check their active status on your app, take actions like editing or deleting from your restaurant list.
Manage Menu and Food Categories
Get menu from your restaurants or restaurant partners and put them online on your website/app arranged category wise (see below) and make them available for ordering. Manage them easily by the action button.
Check the order status (complete or processing), total amount earned on each order, and have the control on taking actions on them.
Manage Payments and Commissions
Track online payments you receive, set the commission rates with every restaurant partner.
Get the notifications of the emails, SMS, order delivered, drivers accepting request. Easily set the notification settings for your customers and Restaurant Partners.
View customers' ratings and reviews, check their feedback. Take actions on customers tampering your brand's image and so on.
View complete information about your customers like their email id, phone no, zip codes, status and edit/manage them easily.
Catalyze actions, make strategies and be a good decision maker by our reporting and analytics tool inbuilt in the Admin Panel of Online Food Ordering App.
Check all your driver details, add and update their information and check their current status.
See the Spot : Grocery Market Ropes In Mobile Apps Storefronts to Lead High Growth Prospects