On-Demand Food Delivery

App Development

Launch Your Own Online Food Delivery App & Web Portal Just Like Grubhub, UberEats & Doordash
Our On-Demand Food Delivery App Development Services
Serve millions of food lovers by creating high-end mobile app solutions. Our robust pack of services will let you reap growing profits in multiple ways.
Online Grocery Delivery App
Take your traditional grocery stores online with our super affordable, customizable, and scalable grocery shopping app. A comprehensive product catalog enables customers to place orders from the app and start earning quickly.
Nutritional & Organic Food Delivery App
Deliver healthy and freshly cooked meals to fitness enthusiasts, diet-conscious people, and people under medication. The app is customized for nutritionists, fitness trainers, and dieticians.
Online Corporate Food Delivery App
Make an app and start delivering food to corporate workspaces and offices. Whether it be online breakfast, daily meals, or dinner packs, give your customers a variety of options to choose from.
Online Restaurant Food Delivery App
Leverage our specialization in creating Online Restaurant Food Delivery Apps just like UberEats, and Grubhub. Partner with local food joints, quick-serve, and fast-casual restaurants and start catering around your city.
Milk and Daily Needs Delivery Service
Get built an app like Suprdaily, and DailyNinja with our custom Online Milk Delivery App Development Services. Deliver daily staples and fresh supplies like milk, bread, fruits, etc., and make healthy profits.
Fresh Fruits, Salad, and Sprouts Delivery App
Built an online fruit delivery app like FreshDirect or Bigbasket. Save your customers valuable time by selling freshly cut fruits, vegetables, salads, sprouts, and other packaged food.
Recipe and Ingredient Home Delivery Service App
Expand your finite options of food delivery by entailing a brand-new service of delivering home-cooked meals and sustainable meal kits with perfect recipes and step-by-step instructions.
Online Event Catering Service App
Get developed an online event catering service app and start serving as a full-service caterer to small-to-big-budgeted customers in their events, parties, and weddings at lucrative prices.
Online Night Food Delivery App
Develop an all-night food delivery business. Apps like Latenight and Nightfood offer late-night, midnight food deliveries and are becoming a topmost choice in bustling metro cities. Encash the opportunity now!
Food Delivery App Solutions For Everyone
Accelerate the execution speed and simplify the food ordering process with Codiant's dynamic, customizable, and powerful online food delivery app solutions.
Food Delivery Startups
Start your food business online and monetize it smartly with our strategically designed food delivery app.
QSR/Fast Casual
Transform your conventional restaurant into a smart app that drives revenue in a flick of a finger.
Restaurant Chain Owners
Take your restaurant chains online with our feature-rich readymade food delivery app solution.
Get Uniqueness For Your Food Startup
Whether you own a small start-up or a large food chain, we guarantee to deliver a quality experience for you. Streamline your on-demand food delivery landscape with a holistic approach.
Turn volumes of traffic and food orders from major search engines like Google, Yahoo, and Bing. Our script is extremely search-engine friendly.
Allow your restaurant vendor to manage their own restaurant profiles and maintain their business pages to attract more customers as per their style & ethos.
Our online food ordering script gives you the full scope of customization where you can add unique features to beat the existing players.
Our design experts create responsive designs for desktops, smartphones, and tablets so that no device can defy you to generate profits.
Establish a direct relationship with your customers and know what your customers' wants and needs are, this adds credibility to your portal and leads to increasing traffic to your website.
Flaunt, promote, and shout out loud to popularize your business. Social media sharing is a powerful platform to introduce yourself to new customers.
Start Capitalizing with The Plethora of Benefits
Create results by opening new avenues. We aim at empowering your business presence and transforming ideas to achieve desired goals.
Ease and Convenience
With a few taps, customers can search the nearby restaurants, select the menu, order the food, and pay online. And the food will be delivered to their doorsteps.
Operate 24/7
The app allows you to keep your order-taking operations 24/7 ON. Customers can schedule a flexible food delivery time at their convenience during your set business hours.
Simpler to Manage
Users get the liberty to update any changes in the menu like rates of dishes, their availability, etc. hence leaving no room for printed menu dependencies.
Social Media Friendly
Businesses can add the option of social media that provides the opportunity to interact and share easily. It allows food delivery startups to boost their popularity and gain online recognition.
Our Work & The Impact Stories
See our product development journey helping our clients open new opportunities and drive growth. Our solutions are conditioned to your customers' voices.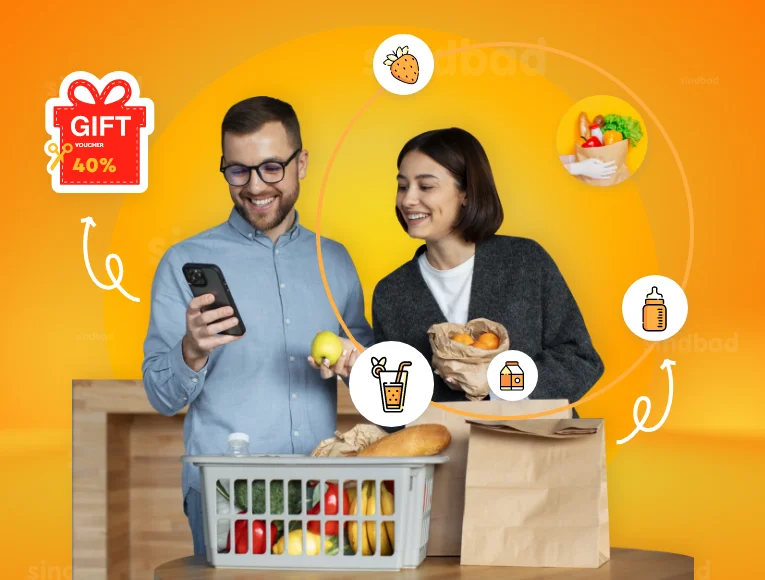 Sindbad
Sindbad is an on-demand grocery delivery app platform that rolls out the top line of features to connect users, delivery boys, and vendors with the aim to deliver daily essentials at the customer's doorsteps.
Users can configure the package by entering family members details.
Users can view packages matching with family configuration.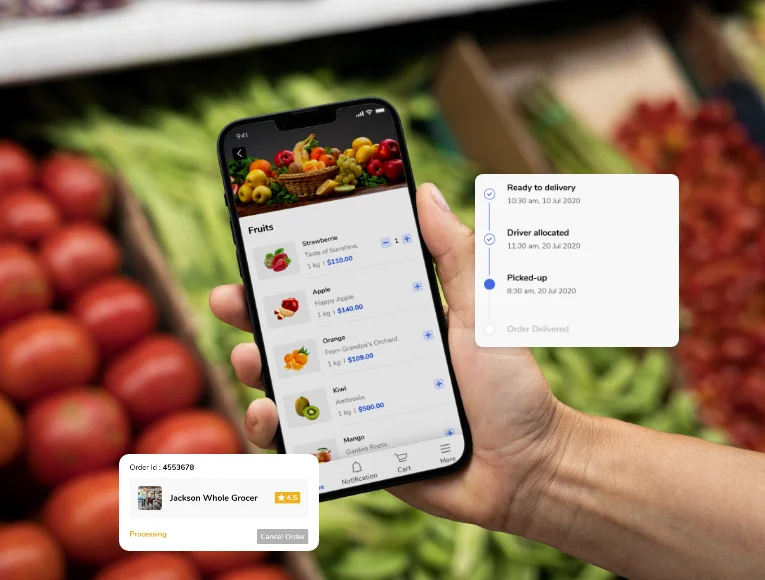 Vinedress
Vinedress is an on-demand grocery delivery application to order and deliver groceries from the nearest or preferred grocery stores. It is a well-managed app that can serve as a platform to take local and small grocery retailers' businesses online, automate their business and widen the business presence and reach.  
Vinedress enables users to make online payments from various payment tools.

 

 Users can easily cancel the order before it is picked up by the driver or delivery person. 
Looking to Jump-Start Your Food Delivery Business?
Discover innovative ways to launch a feature food delivery app for your target audience. Experience operational savings & sustainable growth with us.
Get Started
Experience Full-Line of Features
Leverage thoughtful deployment of main stakeholders in our intelligent food delivery app solution. We infuse a human-centric approach to deliver agility and a huge scope of growth.
Customer App

We serve our customers with value. From profile creation and food orders, to multiple payment options and takeaway, our on-demand food delivery app is feature-packed with all essential areas.

Restaurant App

Our restaurant app gives you the full scope of managing restaurant activities. Right from menu management and order management to customer details and reviews we add uniqueness' to achieve goals.

Driver App

We allow drivers to streamline business facets in the driver app. Starting from in-app notification, setting driver availability checking order history, and counting total earnings everything is handled smoothly in one place.
Frequently Asked Questions
The total cost to develop an Online food delivery app depends upon your choice of platform i.e. iOS or Android, no. of features you want to include, the complexities involved, and third-party integrations if any. Request a quote here.
Yes, we have a readymade script for food delivery apps like Swiggy and UberEats and it is completely customizable. Just re-skin it with your own brand and start earning quickly.
Yes, we provide multilingual food ordering app solution. This solution is optimal if you are looking to internationalize and expand your app on a large scale. And if you are looking to make your app multi-language friendly on a smaller scale as well, we can help you out readily.
We would love to showcase our portfolio and share the demo links of our featured work that matches your requirement list and needs. We have developed the best food delivery app and grocery delivery apps for various restaurant startups and aggregators. Send an inquiry to us right away and check out our amazing portfolio!
Yes, we can launch your app in multiple regions with multi-currency and language support. Also, we provide multiple payment gateways like Braintree, Stripe, Paypal, and more.