Grocery Delivery

App Development

Create a full-fledged Grocery Delivery App just like Big Basket, Grofers & Instacart and be the next forerunner brand in Grocery Delivery.

Get Started
Our Grocery Delivery App Development Services
Engage and impact your target audience with our impressively lucrative grocery app development services.
Recipe and Ingredient Delivery
Expand your finite options of food delivery by delivering home-cooked meals and sustainable meal kits with perfect recipes and step-by-step instructions.
Milk and Daily Needs Delivery
Get built an app like Suprdaily and DailyNinja with our custom Online Milk Delivery App Development Services. Deliver daily staples and fresh supplies and make healthy profits.
Fresh Fruits & Sprouts Delivery
Built an online fruit delivery app like FreshDirect or Bigbasket. Save your customers valuable time by selling freshly cut fruits, vegetables, salads, sprouts, and other packaged food.
Aggregator Grocery Delivery
Launch an on-demand grocery marketplace app solution like Instacart by partnering with supermarkets to collect orders.
Hyperlocal Grocery Delivery
Build an app for your local store to meet on-demand customer needs. It allows users to order groceries quickly by using GPS providing the best and fastest service from the app.
Farm-To-Table Grocery Delivery
Bring a new concept to the market by building a farm-to-table grocery delivery app. It allows users to order organic (unprocessed) groceries directly from the farm in their vicinity.
Market-Ready Features to Empower Your Business
Start in your budget with tech-strong features that satisfy your emerging business needs. We deliver an all-encompassing option to give you projected results.
100% Customizable
We have a fully customizable market-ready solution where you can set your own design, set of features and run under your brand name.
Gain Complete Control
Our intelligent admin dashboard allows you to gain complete control over your delivery business and gain smart insights.
Quickly Configurable
In no time you can launch your own shopping list or grocery app with our quick and convenient setup.
Gain Users' Interest by Leveraging the Radical App Functionalities
We aim at delivering lasting change and memorable user experience. Scale new heights of business with stunningly created grocery delivery app development services.
Give your users the ability to track their current spending (through categorized charts) on their favorite supermarket store.
Let your users know when they are about to run out of groceries by sending reminders.
Give users the ability to check complete product information like nutritional values, price, ingredients, etc.
Provide a feature like when the user selects a recipe, all the items needed to prepare it automatically get added to their shopping list.
Grocery list apps offer users a built-in database that allows them to quickly add items to their list through word prompter.
Start Capitalizing with The Plethora of Benefits
Embrace the exceptional benefits that we deliver with our grocery delivery app development expertise. Unlock the full potential of our services to soar to new heights of success.
Convenience
Shop easily by selecting the items in a few clicks and save time, fuel, and money by getting the groceries delivered to your doorstep.
Great Deals and Rewards
A great way to display special offers, coupons, deals, and discounts that lures customers and attract heavy traffic.
Product Reviews
Get better insights and understanding of the products while purchasing the items through the product reviews shared by the customers.
Know Consumer Behavior
Know the consumer's behavior closely like at what time they prefer to shop most, their personal likes and dislikes, their buying motivations, and more.
Our Work & The Impact Stories
See our product development journey helping our clients open new opportunities and drive growth. Our solutions are conditioned to your customers' voices.
Snapshopy
Snapshopy is a holistic on-demand grocery delivery app that allows users to shop for groceries to daily necessities and get it delivered on the doorsteps. The user can directly explore the variety of grocery items and order them at their convenience.
Easy access to explore grocery items as per the preferred category.
Send products and order updates via message/notification pop-up.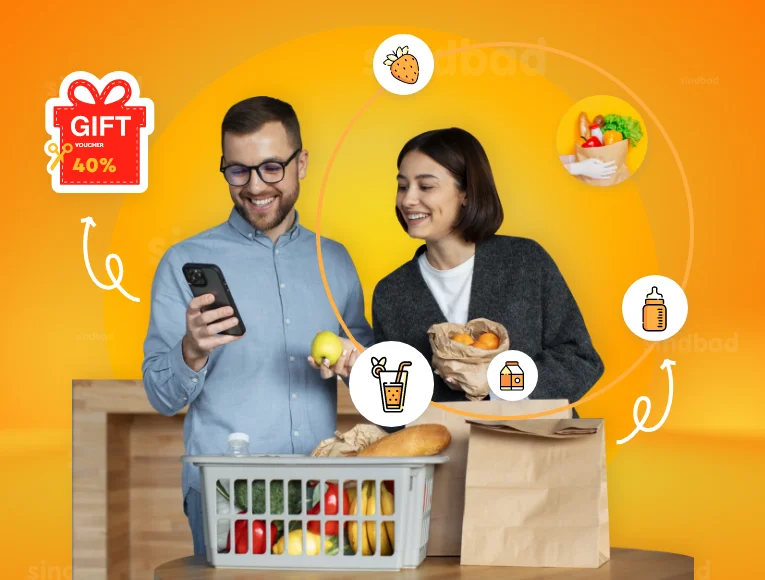 Sindbad
Sindbad is an on-demand grocery delivery app platform that rolls out the top line of features to connect users, delivery boys, and vendors with the aim to deliver daily essentials at the customer's doorsteps.
Users can configure the package by entering family members details.
Users can view packages matching with family configuration.
Want to turn your grocery business idea into reality?
Experience a good market presence with our custom grocery delivery app development services. We deliver efficient services that escalate progress.
Reach out to us now!
Engaging Stakeholders' Collaboration
Operationalise high-impact features that we offer through key stakeholders in grocery delivery app development services. We take care of your custom needs by infusing a proper mix of essentials.
Customer App

We serve our customers with value. From user registration and grocery orders to multiple payment options and order tracking, our on-demand Grocery delivery app is feature-packed with all essential areas.

Store Owner App

Our store owner app gives you the full scope of managing online store activities. Right from item/order management and tracking payments to managing promos and responding to reviews, we add exclusivity to achieve goals.

Driver App

We allow drivers to streamline business facets in the driver app. Starting from checking booking history to route optimization and viewing customer details, everything is handled smoothly in one place.
Frequently Asked Questions
We have Grofee as our white-label, readymade solution. Built with top technology stack it is fully customizable, highly scalable, multilingual, and quick to set up. The solution consists of a Customer app for ordering, a Store owner app for packaging, a Driver app for delivering, and Admin/Dispatch panel to control and manage operations.
Yes, we have developed multiple grocery apps for grocery chains, single stores, marketplaces, and aggregators. We can share the demo links once you send a quick inquiry to us.
Codiant provides super-affordable online grocery app development. Though the grocery application cost entirely depends upon the business model, platforms, and list of features involved you can always request a ballpark figure listing your requirements in short. We'll be happy to share! Request a free quote now!
Maintaining an app is crucial to its overall success. We keep your app technologically compatible and provide ongoing plus corrective, preventive, and fixing maintenance, and content updates to keep users happy, engaged, and coming back for more.
Codiant is a prominent grocery delivery app development company that offers custom grocery delivery app development solutions to grocers and supermart chain owners. We provide you with a complete set of features and functionalities that can help you build the app from scratch. You just discuss your requirements and we will take care of the rest.