Online Dating App

Development Company

Make a Dating App like Tinder, Bumble, or a Custom Match-Making App Loved by Everyone. Map the Journey from Online Dating to Match-Making.

Start A Project
Online Dating App Development Services
With business models ranging from community-driven dating app to match-making dating app, we have surpassed the dating industry outstandingly.
Match-Making Dating App
Match making allows daters to meet people based on their preferences, compatibility, and proximity enabling them to discover their ideal match.
Astrology Dating App
Displays matches based on dater's horoscope incorporating astrological compatibility into their dating experience and the way their planets are aligned.
Geolocation Matching App
A dating app like Tinder, these apps display matches based on geographic proximity. It uses the geographical location of users to suggest potential matches.
LGBT Dating Apps
For the entire LGBT community to help find meaningful relationships and love. These apps allow the LGBTQ+ community to connect, meet, and have potentially platonic relationships.
Community-based Dating App
Allows users to find a suitable caste-based or community-based match. The app prioritize the sense of community and shared connections among users.
Celebrity Dating App
Dating app designed for influencers, celebrities, and elite-class people who are looking for private and secure romantic relationships or companionship.
Meet the Future of Online Dating
Advance your app from others. Here we encounter strategies that will help you stage a great example in the online dating app world.
An All-Inclusive Dating App
Create a genderless community-focused app. Make it open for any sexual orientation and gender identity.
A Niche Based Dating App
Love with like-minded people will be the new currency. Focus on niche-based dating apps, love would be bound to happen!
App with A Difference
In the future, dating apps will focus more on safety, and better verification methods rather will offer a harassment-free user experience.
Our Dating App Special Features
We at Codiant offer highly advanced, customized, and unique dating app features that attracts users from all ages and groups.
Easy onboarding through mobile number or email id and password. Additional social logins available.
User's details like email, contact number, and other personal details are kept confidential.
Users can discover the profile of potential matches through the search option and add preferences, and filters.
Users can send/accept or reject requests to other daters for friendship, dating, or messaging.
The in-app video calls and voice chat let users connect before meeting in person, without having to swap phone numbers.
Features like in-app purchases, rewarding surveys are available. Users can purchase premium features monthly or yearly.
To avoid unwanted interactions users can block other users and prevent them from viewing their profile.
Multiple emojis' and rich media chat allow users to do real-time chatting without having to swap phone numbers.
Geo Positioning feature allows users to search and find matches based on locations. Nearby suggestions appear at the top.
The gamification component allows users to get emotionally stuck like habit forming feature "infinite swipe".
Why Choose Codiant as Your Tech Partner?
To take your business goals to the next level of success, Codiant offers several reasons to partner with our team for your Dating & Match Making app development.
Quality-First Approach
We focus on developing a quality solution to deploy a custom dating app that fulfils your needs and allows users to easily access the app services.
Custom Development
Our team offers complete custom services from start to finish while considering quick and timely delivery with our custom app advancement administrations.
Non-Disclosure Agreement
We understand your unique business demands and idea. To keep your details under the wrap and secure from other competitors, we sign an NDA for that.
Transparency
To keep you updated about the project's progress & quality, we follow a transparent approach regularly and make all the codes visible on GIT to review and use.
Our Work & The Impact Stories
See our product development journey helping our clients open new opportunities and drive growth. Our solutions are conditioned to your customers' voices.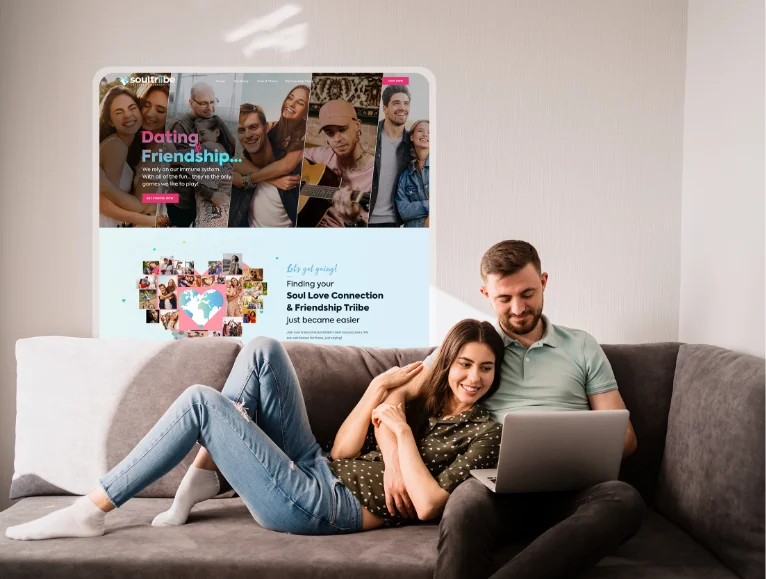 Soultriibe
Soultriibe is an on-demand online dating app that has no age-limits to find a soulmate or a friend tribe to connect. The app has ditched the old-school viewpoint that dating apps are only meant for youngsters.
Users can invite, connect, chat, or send GIFs based on their preferences.
Users can send a request for a match, like their profile, and can chat with the person of their preferences.
Live Date
Live Date is a modern dating app enabling individuals to connect with potential partners by exploring profiles, chatting, video calling, and engaging with like-minded people.  
The app offers a seamless way to socialize and build romantic connections with interactive features and relationship status options.

 

Users can choose a membership to access more accounts and their contact details or they can use it for free with limited access. 

 
Our Dating & Match-Making Service Offerings
At Codiant, we extend our support to take your dream dating app development idea live by integrating the latest technologies and innovative tactics.
We develop highly interactive and engaging dating apps that make the dating process fun, easy, and handy for all to quick access. We have expertise in all kinds of dating app development including LGBTQ+ communities, celebrities, community based, etc.
Get to build responsive and customized Dating Web Apps with our development experts that meet your end requirements. To make your dating web app look more attractive, our highly skilled app developers implement their best ideas while development.
Our expert dating app developers can help you to create, manage and deliver dating features through our robust and flexible DMS solution. We believe in the best and therefore, we try to offer the best dating app management system for you.
At Codiant, we deploy a highly intuitive CMS system that is designed to manage, create, edit, and publish webpage content. The team works continuously to offer the best content management system to build a strong and powerful application.
We offer immersive & interactive dating experiences with AR and VR-based dating apps for virtual interactions. Customizable AR/VR features to make your app look technologically advanced, better, and unique from other dating apps available in the market.
Looking for a Unique Dating App Solution?
Connect with us to get a customized dating app development solution and request a project cost estimation.
Get in Touch
Frequently Asked Questions
As a custom mobile app development company, we give the best quote to our clients that aligns with their budget constraints. Though the app pricings depend upon the number of features, functionalities, and third-party integrations plus the complexities involved, we can still give you a ballpark figure after roughly understanding your project requirements. Call us right away to get a free quote.
Of course. Whether you want to get built a tinder clone app or a personalized dating app with your own features, ideas, and concept. We would love to infuse your brand feel in the app covering all your special requirements of features with full confidentiality.
We currently work on a 6-8 week turnaround time to develop a basic version of a dating app. But if you want us to start the process from scratch i.e., from the project discovery phase to designing, app development, and deployment to testing, maintenance, and marketing- it will require considerable time. Nevertheless, it can be further minimized on stringent deadlines.
Yes, we take care of submitting the application on the App Store/Play Store without any additional charges.
Once the project marks completion and you clear the final payment, we will provide you with the source code and you will be the owner.
Yes, we provide 6 months of free Bug-Fixing maintenance post-project deployment.