About Oil Stack Ltd.
Oil Stack Limited is a leading natural gas distribution company. Oil Stack operates a vast network of steel pipelines for the distribution of natural gas. It consists of about 450 km (280 mi) steel and over 470 km (290 mi) PE Pipeline over 200 CNG stations through 1268 dispensing points.
Oil Stack is committed to promoting clean and sustainable energy solutions and has established a robust infrastructure to cater to the growing demand for natural gas in the region. The company has a significant workforce of over 4000 employees.
Client's Location

India

Development Time

08 Months

Target Users

CNG business owners, fuel distributors, fuel sales administrators, fuel business managers
Technologies Leveraged
We leveraged the strength of robust and secure technologies, tools, and frameworks used in the app/web to escalate the creation of new features and functionalities.
Laravel

PHP

MySQL

React Native

Swift

CSS
Identifying the Client Needs
The changing needs of oil and gas companies with digitalization are evident. The focus to be more agile and efficient as demands, utilities, and revenue pools are soaring has increased even more. Our client, a leading manufacturer of CNG, wanted to streamline its operations with its associated dealers to monitor sales and enhance efficiency. Given the status quo, Oil Stack Ltd. partnered with Codiant to develop a Mobile app for its registered dealers, viz CNG stations and marketing executives that helps them manage operations and monitor sales conveniently.
Client Goals
Oil Stack partnered with Codiant - A Yash Technologies Company, to create and enhance a mobile application and web reporting system. This collaboration aims to optimize their interactions with CNG dealers, resulting in mutually advantageous outcomes. Let's take a brief look at the highlighted features that encapsulate the objectives of the client:
App Objectives

To develop a mobile app and web reporting system that streamlines operations and sales monitoring for CNG dealers.
To enhance efficiency and agility in managing operations and sales for CNG stations and marketing executives.
To establish a robust digital platform to optimize interactions between Oil Stack Ltd. fostering mutually beneficial outcomes.
Mobile Visual Designs
Our UI/UX team developed hi-fi prototype after low-fi approval, through intuitive interfaces and aesthetically appealing layouts.
Admin Visual Design
We've designed the Admin Visual Panel for the implementation of user interface elements and aesthetics for administrative interfaces, with a focus on clarity and functionality.
Development
The Oil Stack application platform has been carefully designed to cater to a diverse range of stakeholders, encompassing Dealers and the Public Platform Admin. Delivering a comprehensive solution, enhances operations for CNG dealers while advancing the cause of eco-friendly and sustainable energy solutions.
Profile Creation
Easy profile creation of Dealers and Stations by entering a few personal details and business info.
Track CNG Sales
Dealers can track total CNG sales made on day, month, and yearly basis.
Invoice Management
Dealers can keep a record of total bills and payments, including billing history.
Billing Filter
Dealers can see bills by applying different filters like invoices raised and rejected bills.
Reports and Analytics
Dealers can gain insights into revenue generated as per the quantity sold.
Utilization Overview
Dealers can track and compare compressor performance by monitoring gas dispensed.
Consumption Analysis
The app can provide insights into the gas consumption of different compressors.
Compliance Management
Dealers can simplify regulatory processes by updating info about crucial compliances.
Live Vehicle Tracking
Dealers can monitor the location of each vehicle on the map with their details.
User Management
Admins can manage user accounts to ensure secured access to the platform.
Compliance Oversight
Admins can monitor and manage compliance-related information entered by dealers.
Billing And Payments
Admins can oversee the billing and payment processes, ensuring accuracy and transparency.
Reporting and Analytics
Admins can access reports and analytics for insights into sales and performance.
Inventory Management
Admins can monitor the inventory levels of CNG and other related resources.
Order Tracking
Admins can track the status of orders placed by dealers & view the progress of orders.
Vehicle Security
Admins can monitor the real-time location of vehicles carrying CNG shipments.
Equipment Maintenance
Admins can schedule and oversee equipment maintenance tasks through the platform.
Communication Hub
Admin section acts as a central hub for sending notifications and updates.
Project Outcomes: Evaluating the Impact
Streamlined ordering process boosts CNG dealer efficiency with smoother transactions and reduced processing time.
With the ability to track inventory levels in real-time, manufacturers can now manage the supply and demand chain more effectively, ensuring minimized stockouts.
Order tracking improves dealer-manufacturer communication, reduces uncertainties, and enhances delivery coordination.
The sales monitoring feature empowers dealers with comprehensive insights for informed inventory and resource management.
Read More Case Studies
We extended our services to scale operations & services of our global clients. Team Codiant received much appreciation for quality solution offerings and successfully build a trustable relationship with each client.
ON-DEMAND DELIVERY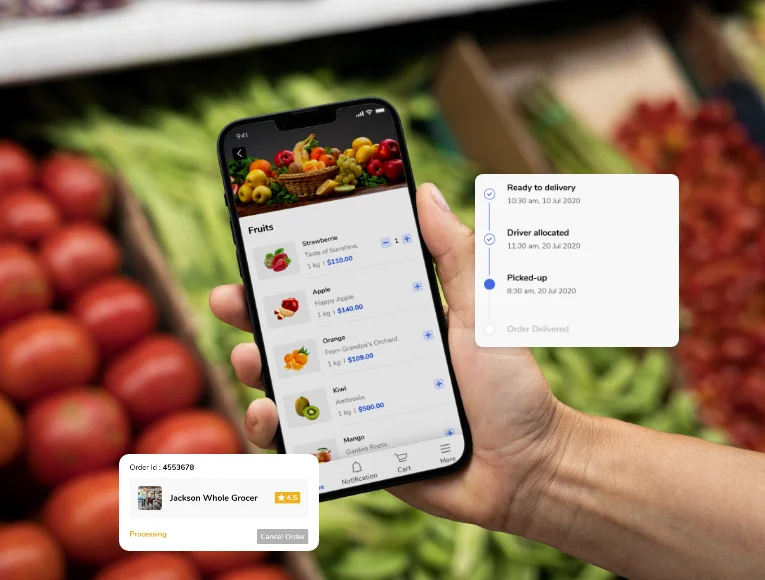 Vinedress is an on-demand grocery delivery application to order and deliver groceries from the nearest or preferred grocery stores. It is a well-managed app that can serve as a platform to take local and small grocery retailers' businesses online, automate their business and widen the business presence and reach.   Vinedress enables users to make online […]
ON-DEMAND DELIVERY
YPay transforms the parking experience for users by handling the inconvenience issues digitally for hassle-free parking at assigned locations, fee payment, and buying hours. Users get the feature of finding parking spots, viewing parking ticket, and select parking location. The app notifies users about parking hours, peak timings, and special considerations.
ON-DEMAND DELIVERY
Beeb Beeb is a fully integrated high-tech online platform that helps the logistics industry by connecting drivers and shippers in real time. The Beeb Beeb app seeks to improve the logistics ability to ensure seamless delivery of products from one place to another. Find a suitable trucking delivery partner/carrier. Send consignment-related notifications and pay in […]