About Ned2
NED2 is an online recruitment platform solution built to offer staff recruitment services to renowned companies and businesses. The web platform allows companies to register themselves and carry out the smooth process of finding the right candidate for their staff. The web admin initiates recruitment and suggests the best candidates as per individual company requirements and preferences. Furthermore, the role-based management system on the web helps the admin to ensure a seamless flow of recruitment among businesses, personal staff, and candidates.
Client's Location

USA

Development Time

14-16 weeks

Target Users

Recruiters, hiring managers, job seekers, talent managers, HR agencies
Technologies Leveraged
We leveraged the strength of robust and secure technologies, tools, and frameworks used in the app/web to escalate the creation of new features and functionalities.
Laravel

PHP

JavaScript

React

HTML5

CSS
Identifying the Client Needs
Going digital is no more a trend, rather it has become a necessity. And when the world has got digital wheels to ride the economy, being old school in identifying, attracting and screening potential candidates is something that pulls your business down. To resolve this problem, our client figured out smallest of the glitches that comes in recruitment and hiring and decided to provide a solution that helps companies and businesses in the recruitment process with ease. To bring this idea into reality, our client came up with the project NED2.
Client Goals
To develop an online web platform that engages and connects a huge number of businesses and companies to deliver them with the best staff. The platform fulfills individual company-specific needs and makes the process even more meaningful and simple.
Web Objectives

To develop a robust and user-friendly online recruitment platform that facilitates the hiring process.
To foster a strong network of potential employers.
To ensure that the platform effectively matches companies, offering top-quality staffing solutions.
To incorporate features that allow businesses to specify their unique requirements and preferences.
Web Visual Designs
To design visually captivating websites, our UX experts combined creativity and functionality to create a simple yet impactful interface that delivers the brand's message.
Development
The web development process was initiated by our expert developers' team after they got confirmation on the final version of the high-fidelity prototype. There are majorly two stakeholders involved in the NED2 platform i.e. User and Admin. The development process was smooth enough to integrate the following features into the web platform:
Login/ Sign Up
Users can log in/signup using the email id and password.
Questionnaire
The user can set up their profile by answering the available questions.
Dashboard
Users can view and manage active jobs, shortlisted candidates search by keyword, location, etc.
Job Management
Users can create, edit, delete and list down job orders.
Job Order Details
Users can view and manage suggested candidates, the recruitment status of the candidate, shortlisted candidate, etc.
Saved History
Users can save the searched filters for later use.
Contact Us
Users can contact the admin by sending a query through a message.
CMS Page
Users can take assistance using FAQs, privacy policy, terms and conditions, and the about us page.
Account Setting
Users can manage profile settings, update questionnaire responses, and change passwords.
Login/ SignUp
Admin can log in/signup using the email id and password.
Dashboard
Admin can manage total candidates, hired candidates, clients, and active jobs.
Analytic Dashboard
Admin can view the analytics like most searched profile, job role, job location, etc.
Staff Management
Admin can create staff list, view details, block/unblock staff, etc.
Candidate Management
Admin can create a candidate profile, no. of views in profile, upload bulk candidates, etc.
Client
Admin can create clients, list of clients, block/unblock clients, and more.
Job Order Management
Admin can create, edit, delete a job, view other job details, and more.
Mail Management
Admin can handle bulk emails to clients and candidates.
Master Setup
Admin can manage staff role management, skills mapping, industry mapping, job profile mapping, and more.
Project Outcomes: Evaluating the Impact
Landing to a wrong company to aspire the career dreams and hiring unskilled people can be just as fatal for both, an organization as well as the candidate. NED2 with the aim to bridge this gap, connects skilled candidates to recruiting companies. NED2 has remarkably overcome the risk of hiring someone incompetent. It has offered a virtual solution for sourcing talent and gained huge traction from clients and candidates to boost the process of talent recruitment.
NED2 provides job seekers a huge database of job openings from various industries and locations.
Allows users to streamline their search using multiple filters and functions as per their qualifications, location, job description, etc.
Users receive job notifications and suggestions for relevant job openings.
Enables easy application tracking for job seekers regarding their application status.
Read More Case Studies
We extended our services to scale operations & services of our global clients. Team Codiant received much appreciation for quality solution offerings and successfully build a trustable relationship with each client.
ON-DEMAND DELIVERY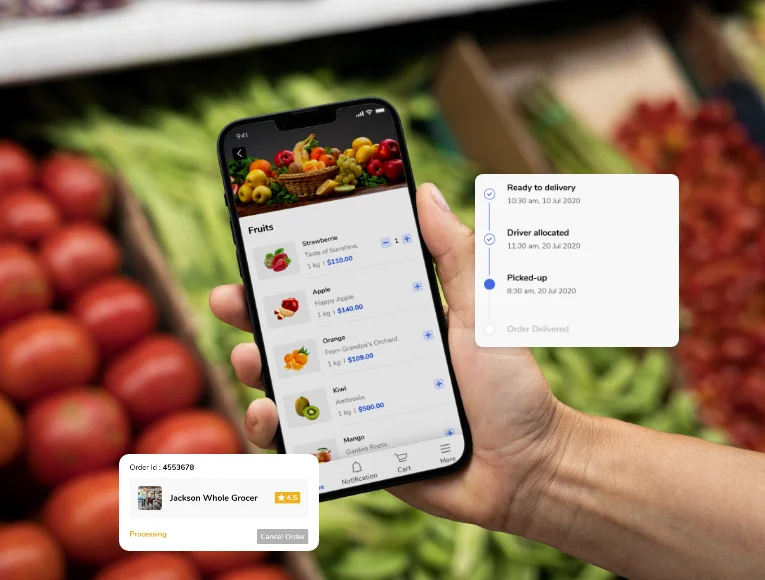 Vinedress is an on-demand grocery delivery application to order and deliver groceries from the nearest or preferred grocery stores. It is a well-managed app that can serve as a platform to take local and small grocery retailers' businesses online, automate their business and widen the business presence and reach.   Vinedress enables users to make online […]
BANKING, FINANCE & INSURANCE
Lendkash, an online lending platform, facilitates easy and secure cash loans with lower interest rates, streamlining the borrowing process and improving user experience. Connecting users with lenders for instant loans and investors for upgraded investment choices. This platform promotes financial inclusion by providing a user-friendly interface for quick loan access.
TRAVEL & HOSPITALITY
Gallivant is a travel and tourism platform that enables its customers to create and plan a multi-destination trip they like to visit. They can create custom trip itineraries by adding locations, share them with friends and family, and allow viewers to update the trip. Find the 'n' number of destinations en-route to their final journey. […]