Travel & Hospitality
Travel and Hospitality Industry Tech Trends: Your Guide For The Digital Journey Ahead
Published October 28, 2021
Among all the industries affected by COVID-19, the travel and hospitality industry is among the hardest hit. The pandemic has challenged the hotel and lodging operations and research suggests though the crisis is still deeply uncertain, the recovery to pre-COVID-19 levels could take until 2023- or later.
In this post, we will examine all the technology integrations for travel and hospitality software solutions that will comfort the turbulence created by COVID and counter the effects of quarantine through their potential capabilities.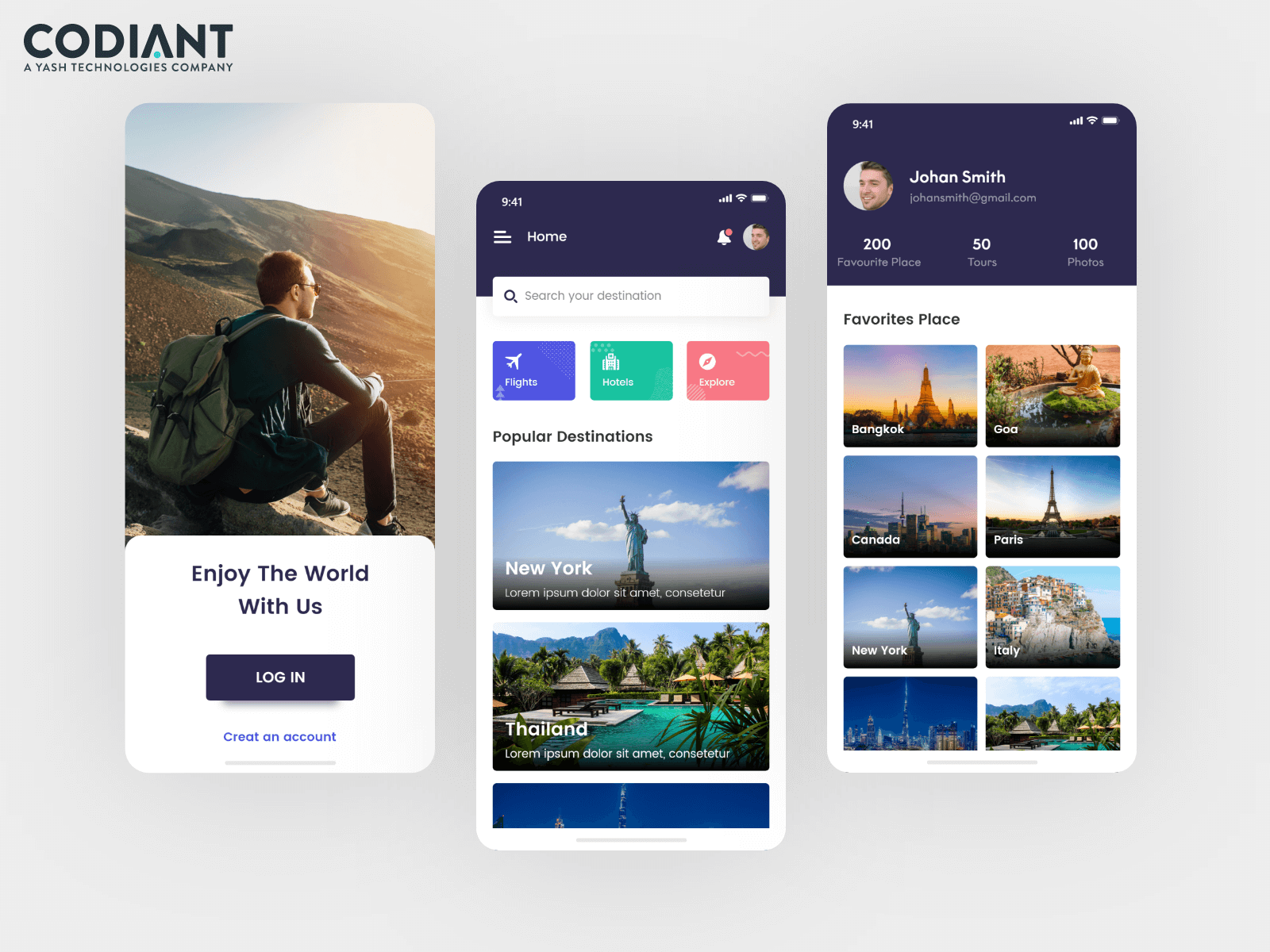 Travel and Hospitality Industry Tech Trends 2022
Digitalized Guest Experiences
Extreme Personalization
Experience Economy
Virtual Reality
Augmented Reality
Automation & Technology
AI-Powered Chatbots
New Hospitality Skills
Marketplace Apps
Macro Technology Forces
Digitalized Guest Experiences
For Seamless Check-ins and Check-outs
Customers will soon access their hotel rooms through "Facial and fingerprint recognition". The hospitality industry will also expect more extensive use of technology-assisted options, such as mobile check-in, contactless payments, voice control, and biometrics.
Extreme Personalization
Building Deeper Relationships Through Personalization
Guests' increasing expectations to be greeted and treated individually will prompt hotel establishments to deliver personalized experiences through email marketing tools. These tools provide real-time data into users' booking habits and preferences enabling hotels to send tailored offers and promotions.
Experience Economy
Experience Economy Will Vanish The Travel Agent Culture
As travelers choose to spend wisely, travel apps like Airbnb and others that boost local communities, advocate adventurous holidays and relaxation retreats will take on the core.
Eventually, leading to vanishing the need for travel agents and surging independent travelers that rely on online travel marketplace apps connecting hosts and guests directly without the need of middlemen.
Virtual Reality
Virtual Reality Will Act As An Excellent Marketing Tool
Virtual reality apps unique and immersive nature will help users experience a virtual version of a hotel room. This makes it perfect for the travel and hospitality industry to show users a real-time location rather than displaying pictures or simulations in a portfolio gallery.
This, in turn, helps hotels capitalize on features such as virtual tours and videos with 360-degrees views of restaurant ambiance.
Augmented Reality
Augmented Reality Will Turbocharge Human Experiences
Augmented Reality apps are very much like a duet 'Made for each other'. The key activities of a tourist lie in gripping every minute information of the places they want to visit and destinations full of attractions. An AR-based mobile app fascinates travelers with its handy guide nature.
These AR apps act more like a real-life tour guide and enable travelers to capture vital information of significant places like interactive tourist information maps, restaurant opening times, check reviews, and even helps in creating user-generated content.
Automation & Technology
Automation & Technology Will Align With Business Model
As business and technology strategy becomes increasingly inseparable, technological developments will bear a greater role in optimizing processes, reducing customers waiting times, and outsourcing tedious tasks that increase the dependency on staff.
AI-Powered Chatbots
AI-powered Chatbots Will Fare As A Better Customer Service Asset
AI Chatbots that act as the first point of contact for users will prove as a customer service asset both during the booking process and COVID-19 related protective measures. Hotels will be able to smoothen the process of check-ins and check-outs, without requiring human contact and can sort billing via a chatbot.
Not only this can benefit customers but also reduce the time customer service staff spend on solving simple issues and they can now focus more on complicated ones.
New Hospitality Skills
New Hospitality Skills To Improve Efficiency
There will be a stark separation between the real-estate assets and travel and hospitality management which will eventually allow hospitality companies to respond to dramatic fluctuations in demand and meet rising customer expectations.
In addition, the pandemic crashed emergency problems and complications will call for the emergence of new types of jobs and skillsets, including a sharp spike in quantitative competencies for forecasting, budgeting, etc.
Marketplace Apps
Marketplace Apps Will Attract Gen-Y
Travel online marketplace apps like Airbnb and taxi app like Uber will attract young generation more than ever. The boredom and quarantine effect will cage out and lure travelers to experience local communities and adventurous places at competitive prices.
Taken together, this free-wheeling outlook will boost the Uberify and Airbnb-like apps, creating a rush to seek COVID-resilient travel and hospitality software development services.
Macro Technology Forces
Macro Technology Forces Will Be The Backbone Of Business Innovation
Hospitality companies will progress by enabling advanced integrations into their travel booking software that can help them in making strategic decisions, pivot business direction, and prioritize investments. Their ultimate objective would be to fine-tune their customer booking and management tools right from their arrival to departure.
Make Your Hospitality Business Resilient With Our Travel Tech Leaders on the Front Lines
For now and in the future, it's important to make guests feel safe when traveling. These technology trends when consolidated into travel software will surely spawn new business models and strategies that will help the hospitality industry thrive and disrupt in the next decade of business innovation.
Subscribe To Our Newsletter
Featured Blogs
Read our thoughts and insights on the latest tech and business trends