Instant Messaging

App Development

Real-time communication app development for personal chat, social chat, enterprise chat, in-app chat

Start a Project
Features of Instant Messaging App Development
At Codiant we set up features that tighten up the connections making it more open, secure, connected, and engaging to users.
Social Integration
Users can sign into the app through their social media accounts hassle-free. They can connect with people across the globe easily.
Broadcast Messages
Create a broadcast list and send messages (one way) to all featuring it as a personal message at the same time.
Sync and Store
Cloud synchronization allows you to retrieve the chat through any device. Backup makes sure to store chats in case it gets unwillingly formatted.
Group Chat
Users can create chat groups and do real-time communication like chat, voice calls, or video calls with countless people at any time.
Screen Sharing
Take a screenshot and share it with your contacts through a real-time screen. These help users to communicate effectively.
End-To-End Encryption
Users get message protection by end-to-end signal encryption protocol that secures the messages before leaving your device.
Instant Payment
UPI-based payment service lets you send and receive money securely by bringing trust and security among users with their transactions.
Voice/Video Call
Allow users to have facetime video calling, voice chatting, or group calling with HD quality, from and to anywhere in the world.
Emojis, Gifs & Sticker
Featuring a ton of emojis, hilarious gifs, multiple stickers, and face bitmoji in chat to make it more fun and interesting.
Experience Reinforced Chats with Safety
Security and Privacy lay the foundation for any conversation. We make the collaboration secure through features like end-to-end encryption, authentication, and verification.
Secured Messages
A safeguard end-to-end encryption of chats for users by helping them to exchange messages safely with complete trust.
Disappearing Messages
A unique feature for auto-deletion of the message after a custom set time that secures private or official chat.
Status Verification
Check if the person is online or offline while you send them messages for better understanding.
Stay Connected, Round-the-Clock Service
We make your social networking app rich with all features, giving users more flexibility and serving as a catalyst to maintain active relationships and drive more business.
Live to Connect via top-notch quality voice calls and video calls for a richer communication experience for one on one or group calls.
Send and share your recorded voice messages and audio clips. Allow users to pause and resume recordings to avoid dead-air silences.
Create a fast and active interaction by texting in real time. Recipients can immediately read the message while it is being written, without waiting.
Share your real-time location with anyone and help them to reach you out. You can share your Live Location with a group of friends or an individual person.
View the last time someone connected or came online.  The last-seen feature allows contacts to see when you were last active on that app.
Know the online presence of your contact with the green presence indicator. It indicates that the user is active and available to communicate.
Why Choose Codiant for Instant Messaging App Development?
Codiant offers several reasons to partner with our team for your instant messaging app development to take your business goals to the next level of success.
Data
Privacy
We focus on deploying a custom messaging app that fulfils your needs and allows users to easily access the app services with complete data privacy maintained.
Custom Quality Development
Our team offers complete custom & quality services from start to finish while considering quick and timely delivery with our custom app advancement administrations.
Non-Disclosure Agreement
We understand your unique business demands and idea. To keep your details under the wrap and secure from other competitors, we sign an NDA for that.
100% Transparency
To keep you updated about the project's progress & quality, we follow a transparent approach regularly and make all the codes visible on GIT to review and use.
Our Work & The Impact Stories
See our product development journey helping our clients open new opportunities and drive growth. Our solutions are conditioned to your customers' voices.
Zinglin
Zinglin is an online social media app platform that allows users to create, upload, and share short, entertaining videos. The platform enables a unique feature for the users to earn reward points on their uploaded videos based on the number of likes and shares.
Create entertaining videos displaying great talent.
Add animations and effects to the videos.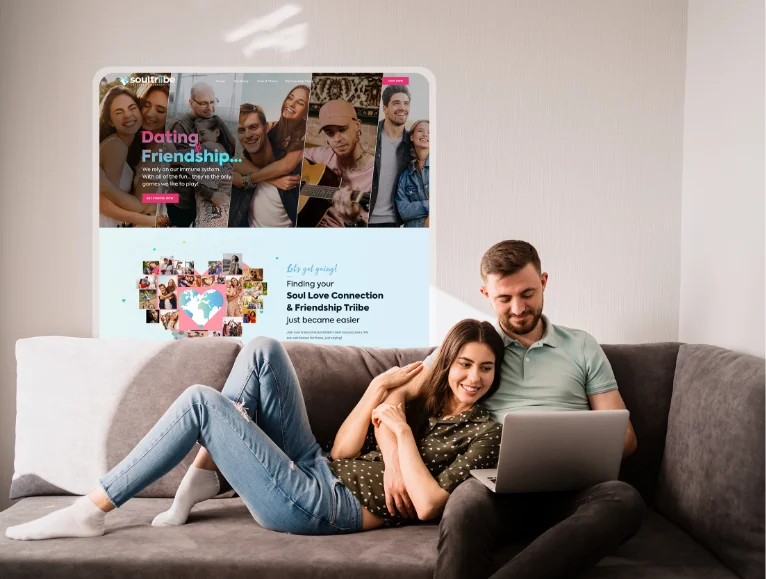 Soultriibe
Soultriibe is an on-demand online dating app that has no age-limits to find a soulmate or a friend tribe to connect. The app has ditched the old-school viewpoint that dating apps are only meant for youngsters.
Users can invite, connect, chat, or send GIFs based on their preferences.
Users can send a request for a match, like their profile, and can chat with the person of their preferences.
Get Inspired from Top Messaging Clones
We strive to customize instant messaging apps that are inspired from top messaging clone apps. To provide a similar experience like popular messaging apps, our team work hard to deliver the best for you.
WhatsApp is a free cross-platform messaging service. It lets users of iPhone, Android smartphones, Mac, and Windows PC call and exchange text, photo, audio, and video messages with others across the globe for free, regardless of the recipient's device.
Facebook Messenger allows you to effortlessly send messages, exchange photos, videos, stickers, audio files, and documents. Engage with other users by reacting to their messages and interact with bots for a seamless experience.
Snapchat started as private photo sharing, but now offers video sharing, live video chat, messaging, Bitmoji avatars, and chronological stories shared with followers.
Skype, a pioneer in instant messaging, voice, and video calling, remains a trusted platform for individuals and businesses alike. Allow users to connect with others through free one-to-one or group video and voice calls, exchange instant messages, and effortlessly share files.
Seeking for Unique Instant Messaging App Solution?
Get customized instant messaging app development solutions to create an environment with exhaustive features to make users slayed. Connect with us to receive a full consultation and cost estimation.
Get Consultation
Frequently Asked Questions
An instant messaging app is a real-time online communication method that connects two or more people. Many IM apps allow users to send and share text, location, images, audio, and video files with other users with end-to-end encryption that helps in keeping the conversations secure.
Instant messaging apps allow businesses to chat with customers, acquire new contacts, and send them targeted messages for lead generation, customer care, inquiries, etc.
Messenger, WhatsApp, Skype, WeChat, Telegram, Line, and Vyber are some of the instant messaging apps that allow users to send messages to anyone in the world.
The total cost to develop an instant messaging app goes around $20,000 to $30,000. This is a rough estimate the cost has its dependency upon the features and functionalities you choose to integrate.