About Ridepro
Ridepro learning is an online app platform specially built to help those individuals who are struggling to learn the art of driving a car. It provides an excellent option for users to choose a specific course based on their level of expertise. The trainers help users in enhancing their performance by daily monitoring their actions and giving instructions based on students' everyday progress.
The app is built with highly robust features, functionalities, and technologies that help trainers as well as users in enhancing their daily performance.
Team

04 Member

Development Time

06 Months

Client's Location

India

Industry

Transport & Automation

Service

UI/UX Design, Mobile App & Web Development

Target Users

Motor Driving Schools
The Need
Finding a skilled and responsible professional driver who can help to learn car driving skills is a gruelling task. Even if somebody manages to find one; latter they struggle to manage the technical driving glitches and other complex issues in which only tips and tricks comes into play.
Our client paid heed to this need of the hour and decided to build a feature-rich app platform that can help individuals to master the skill of car driving. The RidePro team associated with the team Codiant to discuss and build an online app platform with a user-friendly interface and intuitive design concept. Thus, it became easy for the users to find a suitable trainer and master the art of car driving.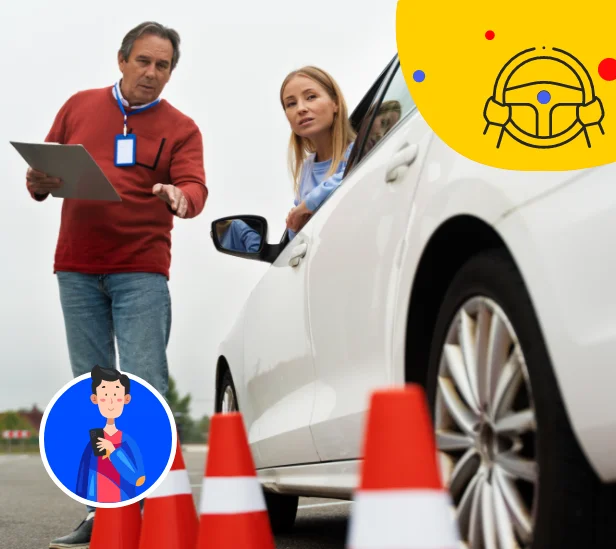 Just after analyzing the serious issue of learning a car driving skill among many individuals, the client gained cognizance of some actions that can help in minimizing the problem. Therefore, to help individuals to enhance their driving skills and support trainers to find the right audience, our client-focused on presenting a well-structured solution i.e. RidePro. The following functionalities were kept as a demand to fulfil the app's agenda:
Help individuals to learn car driving skills from basic level to pro level.
Real-time interaction with trainers.
Choose a trainer and course as per individual budget, time, and level of expertise.
Track everyday progress with a live monitoring feature.
Technologies Leveraged
Native Android and iOS
High Fidelity Prototype
After getting a deep understanding of the lo-fi prototypes, the UI designers took the time to understand and showcase their creative and intuitive design skills by ensuring that it doesn't hamper the overall flow and functionalities of the app. The major aim of the designers was to create an eye-catchy, intuitive, and user-friendly design that can easily engage and immerse the users. These hi-fi prototypes are created with much consideration because these are the advanced version of the low-fi wireframes.
Development
The development process begins just after the final hi-fi wireframes are confirmed. The developers started working on both versions of Android and iOS platforms. They ensure to integrate essential functionalities of both the major stakeholders i.e. learner and trainer. The following list of app functionalities and features were incorporated appropriately:
Sign Up
The user/learner can signup/login using details like email & password, phone number, and social media credentials.
Setup Profile
User can update their personal information like name, address, photo, email, and more.
Learning History
Users can check the history of all completed courses to make better decisions.
Browse Courses
Users can select courses based on their level of expertise and course duration and time.
Confirm Booking/Payment
Users can confirm the booking by making payments through the integrated payment mode.
Mark Favourite
User can mark their favorite trainers and keep them in a separate list.
Register/Signup
The trainer can sign up using email, name, number, and password.
Create profile
User can upload their personal details i.e. name, email, license, photo, and other required vehicle documents.
Booking request
The trainer can view, accept/reject the booking request as per their availability.
Completed Sessions
The trainer can check their previous completed sessions.
Payment History
The trainer can check their weekly/ monthly earnings.
Ratings And Reviews
A trainer can share their experience by providing ratings and reviews to the students/learners.
Login
Admin can log in using the name, email, and password.
Dashboard
Admin can have a comprehensive view of users, earnings, trainers, courses, and more.
Manage Courses
Admin can add or delete courses with other minute details like course type, duration, description, and more.
Manage Training
Admin can keep track of the ongoing and completed training with every minute detail.
Commission Management
Admin can update the commission amount on each different course.
Payment Management
Admin can keep track of the paid and unpaid status.
Project Outcomes: Evaluating the Impact
The Ridepro learning app is perfectly fulfilling their agenda of providing the best-in-class car learning online services to enthusiast learners. More and more students are participating in the process of becoming the car driving champion. The unique option to select a car learning process based on their level of expertise has allowed the brand to create a buzz in the market. Even trainers are getting good opportunities to showcase their talent and use their skills to earn a good amount of commission in return.
Read More Case Studies
We extended our services to scale operations & services of our global clients. Team Codiant received much appreciation for quality solution offerings and successfully build a trustable relationship with each client.
A Cashless solution that supports peer-to-peer money transfers and retail payments via. Monay Wallet balance, credit and debit cards to fasten transaction process. Facilitates a convenient and secure mode of making payments or requests for money. Streamlines light to heavy amounts of payment among merchants within seconds.
EDUCATION & E-LEARNING
Skillzcafe is an e-learning web platform where curious learners can find and easily connect with skilled and world-class instructors. The web platform follows the peer-to-peer connection concept, where anyone can create or purchase online courses.
TRAVEL & HOSPITALITY
Gallivant enables its customers to create and plan a multi-destination trip they like to visit. They can design their destination sequence as they like by adding locations to the trip itinerary Find the 'n' number of destinations en route to their final journey Share their trip details and experience