Next-Gen Startup

Solutions

Empowering startup concepts and crafting top-tier software solutions to help you scale up in the market.

Hire Our Experts
Our Startup Solutions
Embarking on a new business venture is a dream realized. Our startup solutions are designed to help your business get off the ground and succeed.
Startup MVP Development
Launch your idea confidently with a market-tested MVP for startup success.
Startup PWA App Development
Elevate user experiences with cutting-edge Progressive Web Apps for startups.
Startup Mobile App Development
Get build a standout mobile app, revolutionizing user engagement and market reach.
Startup Web Development
Crafting dynamic web solutions that amplify your startup's online presence.
Startup Product Development
Empower your startup with our expertise to bring innovative products to market.
Startup Marketing Services
Fuel startup growth with tailored digital strategies and exclusive marketing solutions.
Scalable Cloud Solutions
Future-proof vour startup with scalable cloud infrastructure for seamless growth.
Startup Solutions Services Ideation
Transform ideas into reality with tech-driven solutions for mobile and web platforms.
Startup IT Consulting Services
From concept to launch, we guide startups through every software development phase.
We Go Extra Mile to Leverage Latest techniques
By incorporating cutting-edge AI, blockchain, and IT solutions, we pioneer innovation, ensuring secure, data-driven, and interconnected experiences for startups.
AI-Powered Predictive Analytics
Harness the potential of AI-driven insights to forecast trends and optimize strategies.
Blockchain for Secure Transactions
Ensure utmost security and transparency with blockchain technology in financial transactions.
IoT Integration for Smart Solutions
Elevate user experiences with IoT-enabled devices, creating seamless, connected environments.
Our Development Approach for Startup Solutions
We advocate a strategic approach, advising patience in delivering what customers truly need. This ensures lasting success, a principle we apply to every client project.
We define objectives, target users, and technical details; anticipate challenges for a clear app development roadmap.
We collaborate to define project scope, enhancing functionality design; deliver detailed statement of work for streamlined execution.
Uncover business, user, and technical needs; translate requirements into developer-friendly functionalities; validate proposed features through stakeholder and competitor analysis.
It's a meticulous process involving research, problem-solving, storyboarding, prototyping, and user testing to refine the final design.
We create MVP's initial version with core functionalities; deploy for end-user feedback, ensuring a seamless user experience.
We continually improve and adapt to market trends; offer value-added features for enhanced customer acquisition and brand recognition.
Why Choose Codiant for Startup Solutions?
We assist startups in planning, designing, and establishing a cost-effective software development process.
Create Proof of Concept
We create product by using market research and evaluate technical feasibility of project.
Prototyping
Our team will create the UI/UX to visualize how your product will be used by the end user.
Design and Launch MVP
Our development team will use the MVP to learn, improve, and analyze what changes are needed to create a full-scale product.
Expertise
Bringing decades of seasoned expertise in development, we develop startup solutions.
Discover Our Way to Impactful Work
See our product development journey helping our clients open new opportunities and drive growth. Our solutions are conditioned to your customers' voice.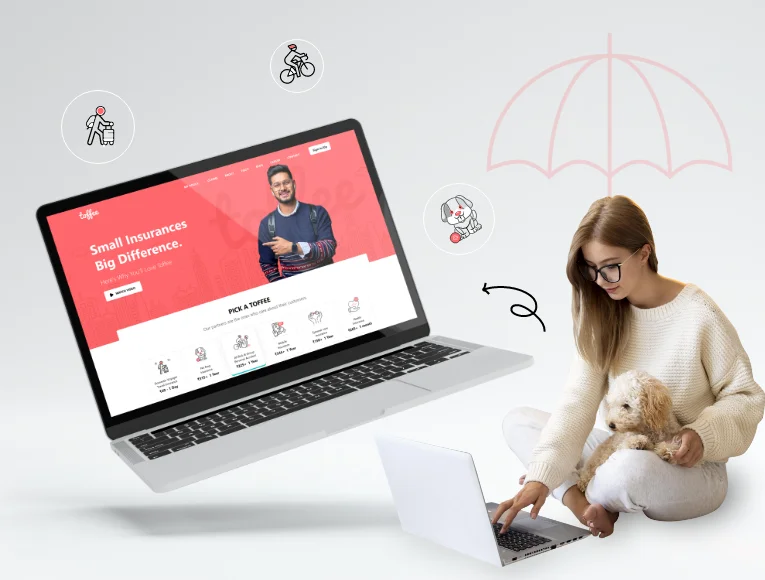 Toffee Insurance
Toffee Insurance is one of the best platforms to insure things you are close with, making all the complicated paperwork hassle-free without visiting any bank physically.
The app users can explore a variety of micro-insurance products to secure things.
Allows users to buy insurance at minimal prices with a quick & efficient claiming process.
Key Features of Startup Solutions
Start-up solutions comes with a range of essential features to support emerging businesses. We take care we provide our clients with all the latest functionalities.
We provide startups with the flexibility to scale their infrastructure as they grow. This means that startups can start small and expand as their needs evolve.
By leveraging cloud computing resources, we help startups access cost-effective and reliable services, including data storage, computing power, and software applications.
We implement robust cybersecurity measures to protect startups from potential threats. This includes data encryption, firewall protection, and regular security updates.
For Start-up solutions, we include data analytics tools that help businesses gather insights from their data. This enables startups to make informed decisions.
We offer ongoing support and maintenance to ensure that startups' IT systems operate smoothly. This includes troubleshooting, updates, and regular system.
We Work in A Manner That We Know, How To Deal With
Hire us and our experts will handle the rest- with the right hardware, the cost-efficient software, prompt development, configuration, & cloud solutions.
Get in Touch
Why Does Your Business Require Startup Solutions?
Startup solutions are specialized resources and strategies, which offer significant benefits to growing businesses, helping to overcome challenges for long-term success.
Cost-Effective Scalability

Startups often operate with limited budgets. Many solutions offer scalable services, allowing businesses to adjust their expenses as they grow.

Operational Efficiency

Startup solutions encompass several tools and technologies that streamline various aspects of business operations by reducing manual work.

Financial Management

Managing finances is a challenge for startups. Startup Solutions provide financial management platforms that help in budgeting and expense tracking.

Data-Driven Decisions

Data is a prized asset. Startup solutions include analytics tools that provide valuable insights into customer behavior and performance, help in growth.
Frequently Asked Questions
A startup solution partner is an IT company that leads startup businesses to launch their digital presence in the market. As a reliable startup solution provider, Codiant has a dedicated team of developers, designers, business analysts and project managers that infuse their learnings and expertise into the solution in the best possible manner and help businesses to raise the business ROl value.
A startup IT consulting services includes app discovery and market research, wireframing, app designing, project development, and app testing.
To ensure our clients' project's privacy and maintain secrecy, we sign an NDA to safeguard our client's project and project idea.
We use a wide range of collaboration tools like Zoom, Skype, Slack, Jira, Emails, Calls, etc. to support smooth collaboration. We take all necessary steps to keep you updated with every development stage of the project.
Codiant- A Yash Technologies Company is a most trusted startup solutions service provider that extends its helping hand to clients to build a revenue-generating digital solution. We have partnered with diverse industries to build startup to large-scale digital products, ranging from Healthcare, E-commerce, On-demand, Education/E-learning, Logistics, Real Estate, FinTech, Fitness, and many more.