Fantasy Sports

App Development

Encash with Our Immersive Fantasy Sports App & Web Solutions for Endless Possibilities.
Our Fantasy Sports Development Services
Transforming digital sports dreams into revenue-generating realities through seamless apps and captivating websites—your fantasies, our expertise.
Dynamic Fantasy Web Development
Craft dynamic web solutions that immerse fans in the thrill of daily and season-long fantasy sports experiences.
Fantasy Sports App Development
Bring fantasies to life with our expertise in developing immersive and user-friendly mobile apps for the ultimate fantasy sports journey.
Sports League Website Development
Enrich sports leagues with tailor-made websites that foster communication, engagement, and a sense of community among fans.
White Label Fantasy Sports App
Empower your brand identity with our white-label solutions, customizing fantasy sports software to reflect your unique mark in the industry.
Fantasy Basketball Software Development
Score big in the basketball realm by leveraging our software solutions, finely tuned for the passion and excitement of fantasy enthusiasts.
Football Fantasy App & Site Development
Score touchdowns in the digital landscape with our football-centric websites and mobile apps, captivating fans with every play.
Fantasy eSports Software Development
Immerse in the world of eSports with our cutting-edge software, delivering a thrilling fantasy experience tailored for gaming enthusiasts.
Sports Betting Software Development
Explore the dynamic fusion of sports and gaming through our advanced sports betting software, designed for an immersive and engaging experience.
Interactive Fan Engagement Apps
Ignite fan enthusiasm with custom apps that enhance interaction during live events, polls, and exclusive content.
Inside Fantasy Tech: Unravelling App Insights
Dive into the pulse of fantasy innovation—where insights transform into winning strategies in the ever-evolving universe of fantasy sports app development.
Al Enhancements for User Engagement
Uncover the impact of Al on user engagement with our fantasy sports apps, showcasing innovative applications designed to elevate user experiences.
Our Real-time Analytics Trends
Stay at the forefront of real-time analytics development, as we share insights into trends that directly influence strategic decision-making within the realm of fantasy sports.
Crafting Next-gen User Interfaces
Explore the evolution of user interfaces in our fantasy sports apps, where we continuously pioneer advancements to ensure seamless and enriching experiences for our users.
Fantasy Sports App Core Features
Strengthen your fantasy platform with Codiant's progressive all-in-one fantasy sports app development solution for participants and admin.
Effortlessly organize and manage your dream team with user-friendly player selection and management tools.
Stay in the loop with instant, real-time updates on player scores, ensuring an immersive and competitive experience.
Tailor your fantasy experience with customizable league options, allowing you to set rules and scoring criteria that match your preferences.
Connect with fellow enthusiasts through interactive social features, fostering a sense of community and healthy competition.
Gain strategic insights with a comprehensive analytics dashboard, providing a detailed overview of player performance and trends.
Enjoy flexibility with seamless access across various platforms, from web browsers to mobile apps, ensuring you never miss a moment of the fantasy action.
Why Only Codiant For Fantasy Sports App Development?
Because we don't just craft apps; we create winning game plans tailored to your vision, powered by unmatched expertise.
Comprehensive Solutions
One-stop-shop for all Fantasy Sport IT needs, offering end-to-end solutions tailored to your requirements.
Custom Development
Specialized in crafting customized Fantasy Sports platforms, ensuring a solution perfectly aligned with your vision.
Top-Tier Mobile App Development
Unrivalled expertise in native Android and iOS app development, delivering seamless and high-performance mobile experiences.
Immersive Experiences
Flexible, feature-rich, and scalable solutions, providing immersive digital experiences with the ability to grow alongside your business.
Trending and Intuitive Solutions
Stay ahead of the technology with our trending solutions and expertise in Augmented Reality, Blockchain technology, AI and custom fantasy analysis software programs.
Explore the future of fantasy sports with our Augmented Reality (AR) solutions, immersing users in an interactive and dynamic gaming experience.
Gain a competitive edge with our advanced analytics software, offering deep insights and data-driven strategies for fantasy sports enthusiasts.
Ensure transparency, security, and fair play with our Blockchain-based solutions, revolutionizing the integrity of fantasy sports platforms.
Integrate the excitement of stock market dynamics into fantasy sports with our innovative software, creating a unique and engaging experience.
Enhance user interaction and community building with seamless social media integration, making your fantasy sports platform a hub for discussions and sharing.
Excited to Craft Your Fantasy Masterpiece?
Tell us about your project nuances, and we'll match you with the ideal solution from our team of skilled fantasy app architects.
Forge Your Fantasy Now!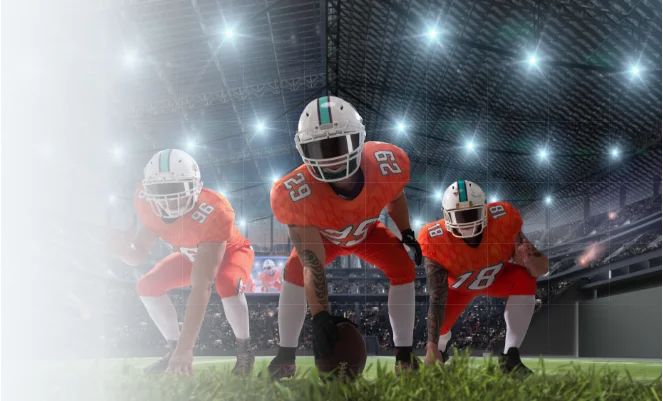 Frequently Asked Questions
Codiant has a dedicated team of fantasy sports app developers who stay up-to-date with the industry's hot trends, norms, and rules. With years of experience in mobile app development, we design and build apps that are most loved by Gen-Z.
The cost of your fantasy sports app development entirely depends upon the no. of platforms (iOS, Android, or both), the number of features, third-party integrations (if any), and the complexities involved in it. Want to know how much will it cost for your project? Request a free quote now!
We develop daily and season-long fantasy sports web and apps for all types of games including Football, Rugby, Cricket, Basketball, Soccer, Hockey, Golf, and Baseball to name a few.
We are your end-to-end fantasy sports app development partner and provide you with complete qualitative analysis, performance analysis, ongoing support, and maintenance services 24*7 post-deployment. We cover servers, emergency maintenance, push notifications, payment processing, and more. Contact us for more details.