About Gift Reegalo
Gift Reegalo is a renowned online Corporate Gifting Company that prides itself on curating a thoughtful collection of gift hampers to suit various occasions. Whether it's a special celebration, a corporate event, or a significant milestone, they have a wide range of options to choose from. With a selection of products from over 100 well-known brands, they ensure variety and quality in their offerings. Additionally, Gift Reegalo guarantees home delivery anywhere, making it convenient for customers to send their selected gifts to their desired locations.
Client's Location

India

Development Time

21 weeks

Target Users

Corporate Members, IT Companies, Startups
The Challenge
One of the biggest challenges that ecommerce businesses face is the task of successfully converting visitors into paying customers. While an ecommerce website may experience a significant amount of traffic, generate numerous clicks, and create a high number of impressions, it can be disheartening to find that these metrics are not translating into the desired sales. This challenge often prompts business owners to eagerly seek effective strategies to bridge the gap between attracting potential customers and ultimately closing the sale.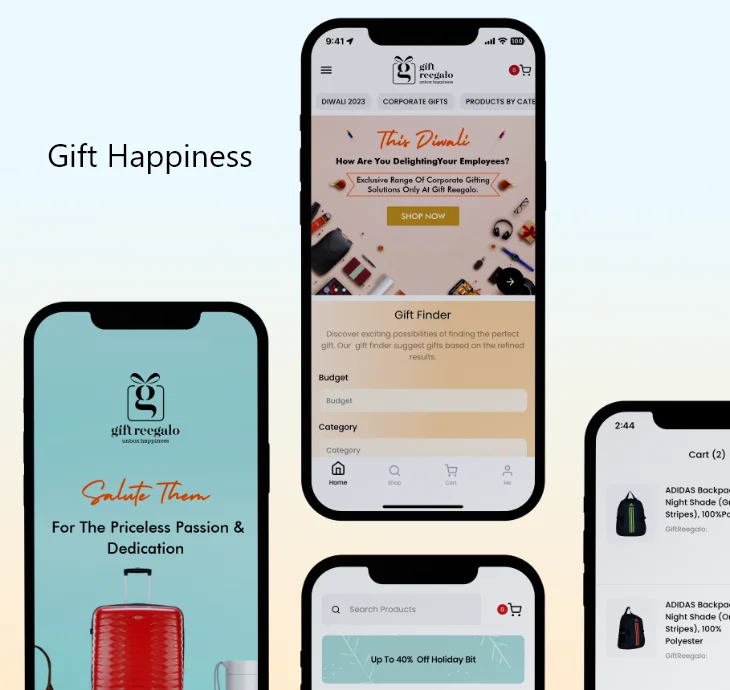 Our Solution
Codiant developed a full-featured digital marketing campaign with a strong targeting strategy to boost app store visibility & increase app conversion rate.

We ran an intensive marketing campaign for this app because it makes customers curious about knowing the app. We created a newsletter, posted on social media, and showed some screenshots of the app screens to get people interested.

We implemented full-service app store optimization including copywriting, A/B testing, attribution & reporting, market researching, keyword optimization & conversion optimization.

We also worked on the app listing optimization which is the best way of promoting the app. We used paid ad campaigns and email marketing to get the results we wanted.
What we did
We delved into the challenges faced by our client and outlined the strategic solutions & implemented them to address their unique needs and drive impactful results.
Google Ads
We have executed various campaigns on the Google Ad platform, from branding to lead generation.
SEO & SMM
Our SEO and SMM services have helped Gift Reegalo improve its brand visibility and search engine rankings.
Email Marketing
To increase brand awareness and conversion rates, we have done Email Marketing campaigns.
The Result
Gift Reegalo, a renowned online Corporate Gifting Company, joined forces with Codiant to overcome the challenges of enhancing app store visibility and driving higher conversion rates. Through a comprehensive digital marketing campaign, here are the remarkable results achieved:
Gift Reegalo achieved a 22% conversion rate increase, turning visitors into loyal customers, and a 150% rise in social media followers, boosting online brand presence.
Our campaign delivered exceptional results: 120% growth in monthly organic revenue and a specific 120% boost for optimized website pages, highlighting the success of website optimization efforts.
The company's remarkable growth includes increased user registrations and significant referrals, demonstrating successful word-of-mouth marketing.
Read More Case Studies
We extended our services to scale operations & services of our global clients. Team Codiant received much appreciation for quality solution offerings and successfully build a trustable relationship with each client.
E-COMMERCE
Gift Reegalo is a specially designed merchandising and gifting e-commerce platform that streamlines and automates the gift ordering process for their employees and clients. Users can order online from the exceptionally curated gifting ideas. Users can choose from varieties of corporate gifting options suited to multiple budgets. Users can customize gifts as per their choices […]
RECRUITMENT
NED2 is an online recruitment platform solution built to offer staff recruitment services to renowned companies and businesses. The web platform facilitates seamless company registration and enables efficient candidate search for staffing needs. Users can view and manage active jobs, shortlisted candidates search by keyword, location, etc. Users can view and manage suggested candidates, the […]
FITNESS & WELLNESS
24/7 Fitness is an online fitness website and mobile fitness application for Android and iOS platforms that offers fitness enthusiasts reasonable, no-contract 24-hour gym memberships. Users can purchase memberships and gift memberships to other users. Users can contact Personal trainers through email/mobile number.