About Restros
Restros is a readymade on-demand food delivery app for restaurant owners and foodies to find their favorite cuisines from their most preferred restaurant chain and place the order to get it delivered at their desired location.
The white-label food ordering app serves the need of quick service food chains that aim to digitalize their business process, serve customers instantly, and eliminate queues and delays in delivering orders.
Team

04 Member

Development Time

06 Months

Client's Location

In house

Industry

On-demand delivery

Service

UI/UX Design, Mobile App & Web Development

Target Users

Restaurant Owners, Food Delivery businesses (Zomato and Swiggy)
Identify the Client Needs
The food ordering and delivery business concept is taking a huge leap in the digital world. Eventually enforcing fast food restaurants and food chains to partner with customized food delivery apps fasten the entire process. The app can serve as a solution to a majority of issues that nowadays restaurant business owners are facing. After understanding a diverse range of issues the restaurant and food chain businesses are dealing with, Codiant developed a universal app solution that can automate any food chain business. The market ready Restros app works as a brilliant solution for food businesses to automate their processes, have a personalized business management system, and widen their business reach.
To develop a readymade solution for restaurant chain business owners who can manage distant customers, take their orders and get it delivered to their doorsteps. The Restros application is developed to deliver the following business goals;
Each business owner can handle their own delivery fleet system.
Can directly take orders from the customer.
Can reach distant customers easily.
Take instant payment through multiple digital modes.
Track real-time order status and delivery person route.
Technologies Leveraged
HTML5
CSS
Bootstrap
JavaScript
CakePHP
Native Android and iOS
High Fidelity Prototype
After finalizing the low-fidelity wireframes, our UI designers took the opportunity to present their creativity without hampering the app's functionality and flow. The designers ensure to build an eye-catchy, user-friendly, and a drool-worthy app prototype that can arrest any eyes and attention.
Development
Taking the hi-fi prototypes as the base of project development, our development team started their work. The developers build the Android and iOS versions of the app by integrating the smooth working of all three stakeholders, namely Customer, Driver and Admin Panel. They sewed the following features in each stakeholder's app;
Easy Onboarding
The customer can sign up/log in with an email id/phone number and password.
Manage Profile
Customer can easily update their profile details and location for making quick orders.
Browse Menu
Customers can instantly find a cuisine list under multiple categories.
Make Order
Customers can place the order directly from the app by adding dishes to the order list.
Easy Payment
Customers can make payments through multiple modes or cash on delivery.
Track Order
Customers can track the status of their placed order and its whereabouts.
Offers & Discounts
The customer can avail of offers & discounts before placing their order.
Rate & Review
Customers can submit their rating and review experience after each order.
Notification
Customer receives notification for new offers & discounts, order status updates, and other activities.
Sign up/Log In
The driver can quickly sign up/log in with a contact number and password.
Manage Profile
Drivers can create a profile, update personal details, and upload required documents.
Order Delivery Request
Drivers can accept/reject the received notification for order delivery.
Manage Order
The driver can keep track of order history, like completed, ongoing, or failed.
Update Status
The driver can update the status or order, as picked, on the way, arrived and delivered.
Manage Payments
The driver can track all the cash payments made by the customers, and the commission earned.
Sign Up/Log In
Admin can easily sign up/log in with user id and password.
Manage Customers
Admin can easily manage the list and personal details of customers.
Manage Orders
Admin can handle and keep track of all the previous and currently placed orders and assign to the driver.
Manage Drivers
Admin keeps track of all the drivers with their current status to assign them the new order delivery.
Manage Payment
Admin manages all the payments and their modes to calculate driver commission, profit, and other details.
Generate Reports
Admin can generate periodic reports of ongoing, previous, canceled orders, mode of payments, driver details, etc.
Project Outcomes: Evaluating the Impact
Restros, a readymade food ordering and delivery solution is making a buzz in the market and till now earned a pretty decent list of satisfied business owners. The ordering process is easy, restaurant owners and food chains are getting exposure to new customers with better customer data and greater reach. They are acquiring pocket-friendly business automation with open arms and are successfully expanding their local business reach.
Read More Case Studies
We extended our services to scale operations & services of our global clients. Team Codiant received much appreciation for quality solution offerings and successfully build a trustable relationship with each client.
TRANSPORT & LOGISTICS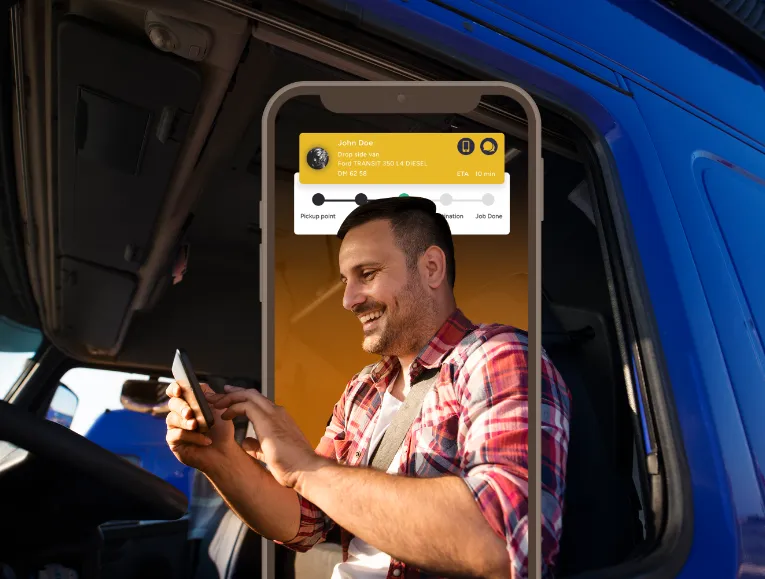 The Uber-styled trucking app is removing all the longstanding hurdles that accounted for hassles like hiring drivers, uncertainty, safety issues, and other consequences of an opaque delivery system. Finds the nearest and most suitable delivery service provider Allows to quickly place order booking
ON-DEMAND DELIVERY
With Ummys, the customers can find their local favorite chefs and check out their menu to order their most preferred cuisine and can opt for home delivery or order pick-up option. The chefs can offer their specialties to individual food lovers at their comfortable place. Customers can place an order instantly for home delivery or […]
Planit is an online event finder app that helps users find local happening places and events to visit. From nearby city hotspots to music festivals and other events, the app has all the right reasons to entice tourists. Get detailed information about the nearby events and places Online ticket pre-booking for users' favorite shows