Top 5 Augmented Reality SDKs in 2023
1. ARKit
ARKit was introduced by Apple during Apple's Worldwide Developer's Conference in 2017 (WWDC17).
This framework is exclusively developed by Apple i.e. iOS devices for developing AR-based applications. ARKit is an open-source tool for developers to access from anywhere and anytime.
This framework enables developers to avail the benefits of the latest integrated functions with their advanced devices and develop augmented reality software. The latest version of this Augment Reality DevKit available today is ARKit 3.0.
The key features of ARKit are object detection, light estimation, space recognition using SLAM, multi-player support, and a continuing AR experience through ongoing sessions.
The best iOS apps built with ARKit are, AirMeasure, WiTag, Solarscene, Dance Reality, etc.
2. ARCore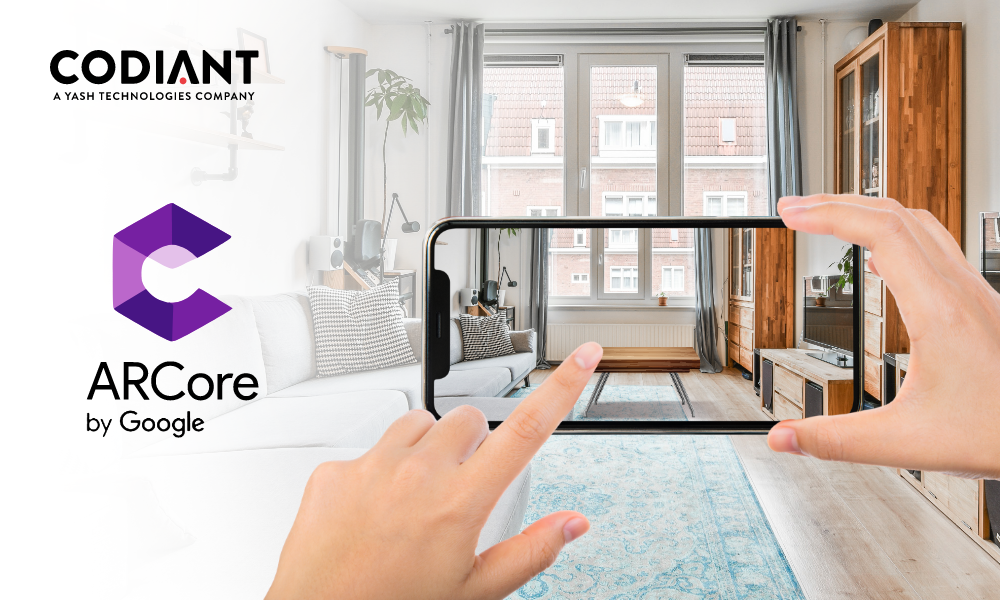 ARCore is a Google-supported open-source SDK for developing AR-based applications and was presented in the market for the final users in March 2018. The developers can effectively use this SDK for both Android and iOS app development.
To integrate with this Android SDK platform tool, the developers require at least an Android 7.0 operating system or above, as all previous versions of Android OS are very old and don't support ARCore's feature. On the other hand, for iOS app development, ARCore demands iOS 11 OS or above.
The key features of ARCore SDK are motion tracking, lighting estimation, flat surface recognition, and environmental understanding.
Some of the top examples of ARCore apps are, Just a Line, Molecatch, Measure App, AR Stickers, Beer Pong, Stack Tower, etc.
3. DeepAR
The DeepAR SDK was initially built for app developers who aim to build high-quality, fully-optimized, Snapchat and Facebook-style 3D lenses and masks. It also supports special effects via Android, iOS, HTML, and Unity platforms.
DeepAR is known for its simplicity to integrate with new projects and a wide range of lenses, masks, and filters to develop an AR-based application that can make real-time changes with human faces.
It is quite a fast, accurate and reliable DevKit, which can easily recognize more than 70 facial features in real-time, it includes anger, happiness, sadness, fear, and many more.
The key features of the DeepAR software development kit are face recognition, emotion detection, face tracking, and mobile-optimized AR images, and can work with existing software like Blender and Maya.
Some of the top brands that leverage the exceptional AR features of DeepAR SDK are Ray Ban, Armani, and Sephora.
4. Wikitude
Wikitude SDK was specially designed to develop AR apps and prototypes suitable for smartphones, smart glasses, and tablets. The SDK tools' first version was released in 2008, and since then about 9 updated versions have been introduced in the market.
It supports Android, iOS, and Windows devices along with Vuzix and Epson Moverio smart glasses. Its' trial version is available for free with a watermark for non-commercial uses, however, other versions are chargeable.
The key features of the latest version of Wikitude SDK are object and scene recognition using SLAM, the ability to identify about 1,000 images and can identify more than one image at a time, 3D model rendering, cloud recognition, location-based service and instant tracking that allows placement of a virtual object in the real space.
Wikitude SDK is compatible with multiple app development platforms i.e. Xamarin, Unity 3D, Appcelerator Titanium, and Cordova/Phonegap.
5. MaxST
MaxST an Augmented Reality SDK supports iOS, Android, Windows, Mac OS, and Unity, along with many HUDs and smart eyewear products like ODG R-7, and Epson MOVERIO BT-300, 350.
This AR SDK provides the following functionalities; visual SLAM, instant tracking, image tracking, object tracking, marker tracking, and QR/barcode scanning functionality. It is one of the most comprehensive AR SDKs that offers a great range of tools for objects and image recognition.
The key features of the MaxST AR SDK are a 2D image tracker that can track almost three flat images simultaneously, an instant tracker, cloud recognition and visual SLAM, and a 2D object tracker. Its version 4.1 allows the development of a 3D map by using a pin and bounding box.
Some of the successful apps built with MaxST SDK are AR Money, Canada AR, Volvo AR Stories, and many more.
Benefits of Mobile SDKs For Your Brand
1. Faster Integration
Quick performance is the soul of the mobile application, and integrating SDKs ensures that. These platform-specific SDKs allow developers to fasten the development process. Through SDK, developers can easily have all the features and resources that are required to be integrated into the app development, which ultimately influences the development process and time.
Moreover, the dedicated SDKs shorten the sales cycle and provide quick and easy integration with the existing tech stack. As a result, quick integration with mobile SDKs provides shortened sales cycles.
2. Efficient Development & Quick Deployment
With the rising demand for mobile applications in the market, custom app development is at its peak. Thus, it is not at all possible for developers to write codes for each module from scratch. From that, SDK toolkits came to their rescue, in which developers can find the code for the individual services that work accurately on the specific platform and devices.
These DevKits increase developers' efficiency leading to quick development and also bridging the development gap – further saving money as the businesses only have to pay for the development or productive time of the developers. This maintains efficient development, which ultimately leads to quick development.
3. Minimizes Risks
The SDKs provide advanced control over the details of user interface elements.
These kits make it easier for the developers to manage the integration of the app with other apps and take care of the entire user interface i.e. how it looks.
Such control in app designing and development allows developers to eliminate the risk of delivering the best possible user experience. SDKs ensure efficient browser services and allow to deliver the much advanced and quality services.
4. Increased Business Reach
If you are integrating SDK into your application product and are allowing the smooth transfer of data or information, then you are on the journey of building the best combination for success. There is a great possibility that other tools will like to integrate with your product.
A great product with a great SDK builds an exceptional end-product, which formulates the path to increase your business reach.
Wrapping Up
AR technologies' acceptance in the market is depicting a very promising future and potential to transform all industries and infuse a new height to the customer experience. So, if you are a brand or business and are likely to introduce AR technology in your business or develop AR-enabled software, then it couldn't be a better time than now.
AR technology is increasingly becoming sophisticated and the SDKs are advancing and expanding rapidly.
Likewise, the number of AR-enabled commercial opportunities is also increasing exponentially. So, this is the best time to invest in AR technology and capitalize on the advanced possibilities the AR app development toolkits are offering.
If you are still unsure about the selection of the right and suitable DevKit for your development requirements, then we suggest having professional assistance.
At Codiant, we have a proven, expert team of developers who are well-versed in AR technology. For further assistance connect with us, and we will work with you to figure up your AR app development specifications and support you in finding the most optimized and cost-effective solution.