UI UX Development
An In-Depth Guide To Website Redesign Cost
Published November 28, 2022
Did you know, a website design can boost or hurt business conversions and sales?
Generally, for a visitor/user, it takes less than a second to decide whether they like this platform or not.
About 88% of website visitors, won't prefer to revisit the website after having a bad or poor experience with the platform.
If your website visitors are also bouncing out due to poor first impression, then it is time to redesign your website without a second thought.
However, a website redesign is quite a time taking process to implement, yield results and witness customer conversions. Still, it is a vital step to be implemented to gain visitors' attention.
So, to retain the shine of your business with the website, you must consider website redesigning. To assist you, we have prepared an informative blog post where we are going to discuss, what is website redesigning, its types, reasons, process and cost of website redesigning.
Let's dive right in.
What is Website Redesign?
A website redesign is a process of revamping the entire site or making significant changes to your website to enhance user experience, increase traffic on the website and raise conversion rates. The revamping process includes creating compelling content, improving navigation and refreshing the web layout.
There are different types of website redesign projects, however, they all aim to achieve those common goals. Usually, businesses prefer website redesigning to rebrand their business and gain ranking improvement on the search engine result page.
Generally, a website redesign includes a new front-end and back-end designing, which enhances the experience of both visitors and the team who manages the web platform. The decision on the website redesigning can be accurately suggested by the web designer and helps to shape the revamping process and cost at the same time.
Types of Website Redesigning:
1. Redecoration
Website redecoration is about introducing minor to major improvements to the design, including images, videos, color, text styles, etc. they can be changed to enhance the visual appeal of the platform.
Every industry or domain follows some trends and infuses customers' psychology before designing the platform. So, if you haven't earlier considered this concept, then adopt it now to get the best-redesigned solution for your business.
The Cost of Redecorating a Website could cost nearly about $2,000 to $5,000 or more.
2. Rewire
The website rewiring method is considered when you are experiencing performance or reliability issues with the platform. It is related to updating the back-end services of the platform.
Here, web designers can use suitable tools and frameworks to streamline the websites' operations or let's say to rewire the website and ensure the smooth running of the functions. Rewiring of the website redesigning includes cloud migration to upgrade the data security and accessibility and introducing a new or advanced version of the CMS (Content Management System).
This type of website redesign costs about $4,000 to $10,000 or more.
3. Remodel
This type of website redesign is a combination of redecoration and rewiring. It will not only make your website looks appealing but also improves its performance. To make it possible, it will require more time and resources.
The remodelling of the website involves technical expertise and creativity at the same time to achieve the desired goal. The remodelling team involves an expert web designer, technical lead and back-end developer. Detailed website redesigning can help your business to achieve your set objectives and streamline the gaps where your previous web version is lacking.
The Remodelling cost of a website could be around $8,000 to $15,000 or more.
4. Rebuild
As the name suggests, rebuilding a website is designing every part of the website from scratch, or can exclude a few exceptionally designed sections from any changes. It is a very effective strategy in rebranding your business, where everything is changed from visual aspects, however, the essence of the website and the business remains intact in the new design.
To take care of all these points while website redesigning, you require expert developers and designers who ensure to keep your business spirit alive with an appealing presentation and a slight twist. It requires the assistance and adoption of some latest technologies to achieve your business goal.
The cost of rebuilding a website ranges between $12,000 to $70,000 or more.
Reasons to Redesign a Website: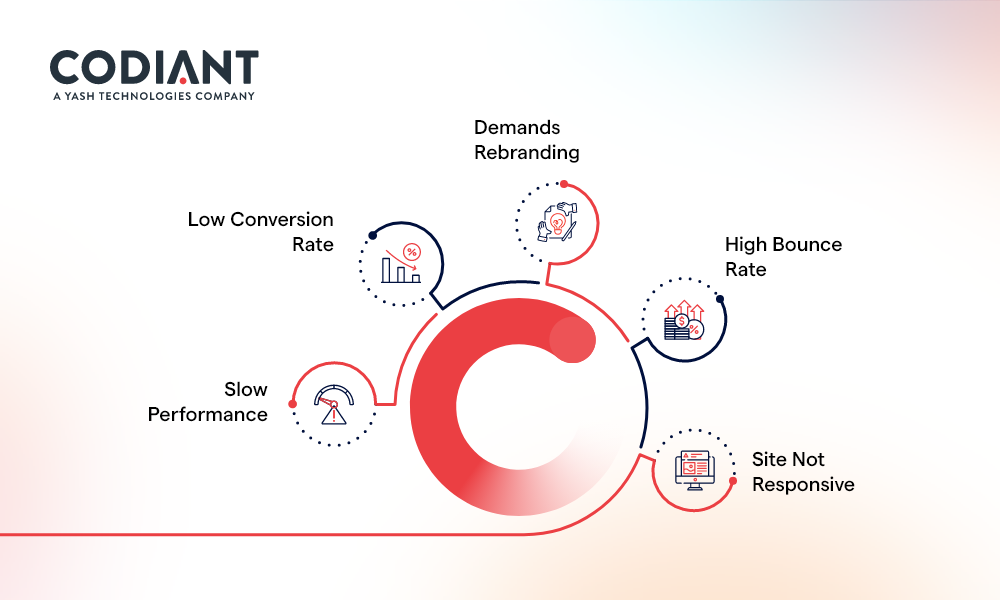 1. Website is Not Responsive
With the evolving search engine algorithm, the website will lose ranking due to a bad responsive platform. It ultimately affects the visitor count, as the visitor will also leave the platform instantly if the website is non-responsive in terms of design and content.
There is 'n' number of platforms where a person can extract information or find what they are looking for, as it has become quite handy to fetch information just on a few key presses on their internet-connected devices.
If the user is struggling with your website, then website redesigning should be on your priority list.
2. High Bounce Rate
The high bounce rate can be witnessed due to multiple reasons, such as cluttered design, slow page loading speed, bad web design, and more. The slow page loading speed can be a major concern and lead to losing a potential customer.
Usually, 40% of the users will leave the website, if it takes more than 3 seconds to load the page. It could have a drastically negative effect on E-commerce businesses especially. Hence, to minimize the bounce rate, it demands balance in the website from different segments, such as attractive designs, optimal performance, and the latest technologies.
If your business is experiencing a high bounce rate then, it is important to perform detailed website scrutiny, analyze the issues and then plan for website redesigning whenever it is required.
3. Rebrand Your Website
The market and customer demand evolve regularly, hence businesses frequently become outdated if they don't upgrade or rebrand their presence in the market. It will, ultimately affect the visitor conversion rate and ROI. However, rebranding your business with a different look or some required and planned changes can retain and gain visitors easily.
With rebranding, you can give a new look to your website, and can even change your company culture, marketing strategy, brand logo, and many other things. Many renowned brands like YouTube and Instagram even preferred to rebrand and redesign their website and applications to provide a refreshing user experience and boost business.
4. Low Conversion Rate and Revenue Generation
Due to fierce market competition, many corelative businesses have to deal with a fewer number of lead generation. This ultimately hampers the business's credibility and revenue at the same time.
So, if your website is not getting an ample number of leads then, you must understand the problem. With the Google Analytics tool, you can easily deduce the issue by analyzing website traffic and conversion metrics.
For traffic issues, it requires fixing the issues that your website is having, whereas, for conversion issues, you require website redesigning to drive leads and revenue.
5. Slow Performance
The website loading speed and the back-end support structure could cause issues and despite implementing the best design principles, your website can fail to attain results. The back-end support structure that experiences issues are databases, CMS, Hosting Services and Servers.
All these support structures work behind the scene and keep the website running. But, using outdated and incorrect technologies and introducing rapid updates can hamper the website processing speed. It could cause trouble to the users, influence the website loading speed and influences their experience with the website.
These issues will definitely call for action and website redesigning to deal with such problems and upgrade the back-end support as well.
Steps Involved in Website Redesigning Process:
A successful website redesign process comprises 6 steps. And it is important that the website designing service provider must be aware of it and guides you through these steps.
1. Strategy & Planning
Before heading towards any concrete step in website designing, it is crucial to plan and strategize how you can make your existing website successful and support your business growth. Thus, here are the few important steps that must be considered and followed to develop a guided approach and planned strategies to boost your business with the website redesigning process.
Learn and understand your buyer personas or user stories
Study and streamline your content flow; edit, if required
Identify conversion opportunities
Implement a growth-driven design approach
Perform Keyword Research
Follow Link Building Strategy i.e. inbound links, outbound links and backlinks
2. Content Management
Content is the most valuable and costly aspect of the website designing process. The content should be informative, educative, and relevant but in a concise manner. As, the major purpose of any website is to help people find you, get the required information, resolve their queries, and streamline their experience with the platform.
These preventive measures with a guided approach will help to convert leads and close sales.
For any business's success, 'Content is the Key'. So, don't ever ignore its importance, as the content will only educate the visitor about your product and services. On the other hand, the design will hold them to the platform and explore more.
Together, both aspects can lead to a rise in conversions, an increase in SERP website ranking, and many more.
3. Define Redesigning Goals
Determine the goals that you and your client seek to achieve by redesigning the website. Divide your clients' goals into different sub-goals that will help you to achieve your client's high-level goals.
Just believe, now you are the owner of the platform and need to rejuvenate the platform with all the required changes and by fulfilling the client's requirements. If you are planning some additional changes then update your client, take their affirmation and always keep them in the loop with every small progress.
To achieve the much-needed quality and advanced goals, consider using the relevant and right technology, tools, appealing visual theme and structure while keeping the website's performance into consideration.
4. Determine Budget & Timeline
Based on the client's reviews, desired changes and budget, you need to define your budget and timeline to update the client accordingly. Discuss, it in detail with the client and let them be aware of what they are expecting is realistic or not, what could be your charges for these changes, along with the approximate timeline required to complete the website redesigning process.
It will help the client to exactly visualize what could be the total cost of website redesigning and the timeline. The proper and detailed definition of the timeline and budget will also avoid clients' frustration and let them wait patiently to expect the desired result.
5. Redesigning & Testing
While considering all the points that are finalized in the earlier phase, it's time to redesign the existing website and make changes accordingly. The designers can avail the creative freedom and implement the best practices to design the SEO-optimized website. Additionally, they'll take care of the content management and manage UI/UX of the website at the same time.
After redesigning the final version of the website, it is time to test the site by using a reasonable amount of data. Check Google Search Console to track SEO performance, and other important metrics like time spent on pages, bounce rate, website traffic and many more.
Last but not the least, share the design with the client for their feedback before the final deployment. Be ready for making changes to the website, if the client demands.
6. Site Deployment
After finalizing the design, it's time to re-launch the new version of the design. Before deploying the site, the following things should be considered to ensure a successful experience;
Setup 301 redirects, if your webpage URL is changed and moved to the new website.
Integrate Google Analytics, Search Console Setup, and Google Tag manager.
Submit a new sitemap to Google, to index the site quickly.
How Much Does It Cost to Redesign A Website?
To maintain their position in the competitive market, businesses demand a faster, well-organized, useful and mobile-friendly website. As a result, most of them aim to redesign their website and often they look for top web designing companies to accomplish their business objectives and goals.
However, businesses can have more than one partnering option with whom they can redesign their website:
Do It Yourself (DIY)- It will cost around $1,000 to $5,000.
Hire Freelancers- It will cost somewhere around $2,000 to $10,000.
Hiring an Agency- Website designing will cost about $5,000 to $100,000.
The website redesigning cost also relies on the varying size of the website,
Small Size Website (1-50 pages): The redesigning cost for a small website will range between $3,000 to $24,000 or more.
Medium Size Website (50-150 pages): It will cost between $20,000 to $40,000 or more.
Large Size Website (150-250+ pages): Large-size website redesigning costs about $30,000 to $70,000 or more.
Factors Influencing the Website Redesigning Cost
Basic to advanced or feature-rich web designing
Website size i.e., small website (1 to 50 pages) to the medium website (50 to 150 pages) to large website (150 to 250 pages)
Integrating basic to advanced functionality features
Integrating third-party systems, such as CMS, E-commerce solutions, etc.
Website Responsiveness to all screen sizes
Website content and copywriting for the number of pages
Digital marketing by designing a competitive strategy
Web Designer's experience and domain expertise
Web designing deadline influences the design cost
Conclusion
The unique identity of every business or company usually gets reflected through its website. However, with challenging times businesses have to evolve and redefine their strategies to get a hold of their existing customers and attract new ones as well.
Codiant can be your best solution provider with website redesigning and rebranding, no matter what you are aiming for. We are a professional web designing and development service provider, who have successfully developed and delivered more than 1500 websites across diverse domains.
We have a very professional and friendly in-house team who can easily understand and deliver the solution that suits your requirements and get into your budget with ease. At Codiant, we exercise our expert resources to design a beautiful and user-friendly website that will support your business to grow and be a market leader. For further assistance and partnering with us, get in touch.
Subscribe To Our Newsletter
Featured Blogs
Read our thoughts and insights on the latest tech and business trends