10 Outstanding Features of Online Food Delivery System
1. Real-Time Tracking and Navigation
With real-time tracking features in food delivery apps, the fleet managers and the customers at the same time can track the whereabouts of the deliveries.
Not only this, but the GPS-integrated feature of the online food ordering system also helps the delivery person to find the most optimized route to reach the customer's locations, which ultimately minimizes time by 5 times and costs by 20% of the deliveries.
The fleet managers can also integrate APIs, like Google Maps, MapKit, and Waze's Navigation to facilitate a convenient real-time tracking system. Automatic route planning becomes possible with these APIs while considering the traffic situation or following the heat map and order grouping.
2. Seamless Ordering System
For customers, having an easy-to-go ordering system is one of the major requirements with the food delivery app, which ultimately increases the chances of order placement. In addition to that, the customer can even schedule the order, so that the customer doesn't have to wait much longer for the order delivery.
They can simply place the order in advance with the mentioned time of delivery and can get the food at the perfect time on their doorsteps or at the mentioned location.
By making the regular order placement and the order delivery process simple for the customer, you as a food delivery app owner increases the likelihood that the customers will place the order and will also become your repeat customer.
Evidently, no customer would prefer to call to place an order and wait for hours for their food – rather they are open to an easy to ordering in-app experience with simple and minimum steps and efforts. So, to win the customer, it is a must to build a seamless ordering system with your food delivery app system.
3. Loyalty, Rewards, and Cashback Programs
Loyalty, Rewards, and Cashback Programs
Introducing special offers, cashback, discounts, and loyalty programs is the most tried and tested method and a food ordering app feature not only attracts new customers but also retains and lures existing customers repeatedly.
It is a brilliant strategy to keep the client interested and engaged with your platform frequently, by giving generous discounts and offers at frequent intervals.
The cost of attracting a new customer is 5 times higher than retaining the existing customers, thus earning brand loyalty is relatively cheaper than generating brand awareness. As a result, most of the big names in the food delivery app business pay close attention to their loyalty programs.
4. Push Notification for Real-Time Updates
With growing competition, it is quite obvious that a customer is having multiple food-ordering apps on their phones. Hence, sending push notifications is the most suitable approach to gain customers' attention and visibility against your rivals.
The push notification food delivery app feature supports businesses to remain in contact with their customers. This feature can be used to update the customer with various information, such as order status, delivery partner, offers & discounts, location-based drop messages, and many more.
However, always be cautious with push notifications, and never overdo anything. It should be only informative and relevant to the customer rather than just being a sales pitch and annoying with frequent notifications. The relevant information immediately grabs customers' attention and engages them this way.
5. Simple & Secure Payment Methods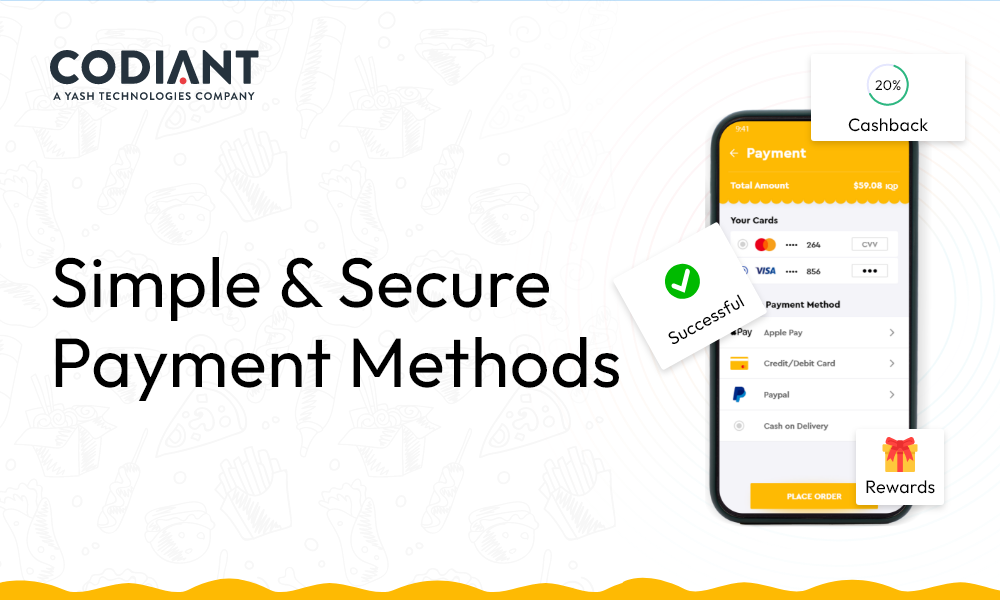 Payment is one of the vital features that can define the customer's experience and time with the app, whether the customer is going to reuse the services or is it going to be his first and last visit.
Even though payment is the final step in the order placement process, the customer will not try again if the experience is not good or has faced any issues.
Thus, ensure to integration of glitch-free, safe and secure payment gateways or mobile wallet software services. It includes Apple pay, Google Pay, Paypal, Stripe, Mobile or Internet Banking, Debit/Credit Card Banking, or Cash on Delivery (COD) options.
All these services are reliable and secure, which doesn't make customers hesitant if any issue arises (in the worst case). Additionally, these services are quite easier and nowadays, most of the customers are well-rehearsed with these digital payment modes which will keep them hooked and satisfied with this food ordering app feature.
6. Geo-Fencing or Location-based Marketing
Marketing is the essence of a business, without which no business can survive the brutal market. Hence, businesses apply varied marketing tactics – among which geofencing marketing is one of the most preferred food delivery app features to grab customers' attention.
Under location-based marketing, proper planning and implementation of marketing tactics are used based on geolocation. This technology helps businesses to engage with their customers even before they become aware of the brand or business.
In simple words, it is much more like a digital flyer that is distributed to local passers-by to promote their business services and special deals. It is a modern way of marketing that a great number of businesses are adopting to take their food delivery business to a new peak.
7. Chatbot Integration
Chatbots are intelligent AI-enabled tools that facilitate easy, quick, and convenient interactions for customers. It responds no less than a human but ensures instant response. Most businesses are using chatbot technology to ensure a personalized service experience for their customers.
Intelligent AI chatbots are not just a machine that addresses customers' basic questions, rather it accurately helps the user in finding the right solution to what they are looking for. Chatbots are taking customer personalization to a new level and providing accurate assistance.
Recommended Read: Some Introductory Tips and Trends To Start An Online Food Delivery Business
8. Multiple Platform Presence
You develop an app with the expectation that it reaches a wider audience and everyone will notice it quickly. It can be possible only when your digital business presence exists on multiple platforms, such as Android and iOS versions of the food delivery app.
The presence of your app at multiple avenues can increase the app visibility to a great extent and results in an increase in app downloads and the number of users or customers at the same time.
Make sure the app works smoothly and has the same quality features and functionalities in each platform. To ensure this, you can hire a food delivery app development company to build the app quickly with the required precision.
9. Customer Feedback
Customer Feedback is a quite convenient and effective way that a great number of digital businesses harness to gain visibility and valuable insights into app improvement.
Feedbacks help to understand your customer's requirements by reviewing feedback regularly and making necessary changes to remain ahead of your competitors.
Integrating the feedback feature in your food delivery app allows user to share their experience with the app, food, restaurant, and delivery person at the same time.
All this transparency and shared details help to build a cordial and loyal customer base and increase customer engagement rates.
10. Reports and Analytics
Reports and analytics are a very valuable food ordering app feature for an admin or business owner to track and study customer behavior by studying the user's extensive database. All these statistical data will help your food ordering and delivery business to make better decisions.
Being an admin, you can study the data in an easily understandable form of graphs, which ensures to easily study the trend and instantly spot the positive and negative trends and formulate the much-needed strategies to combat them. And it also increases revenue at the same time.
In your food delivery app, you can also integrate multiple tools to make the reporting and analytics study quite convenient and well-organized. The tools are Google Analytics, Delivery Heatmap, SEO, and many more.
Conclusion
Innovation is what we all admire and in food delivery services our customer is not any exception. It will not only increase customer acceptance and revenue generation but also make your app a world-class food delivery mobile application.
So, if you are planning to get into the business and escalate it with food delivery app development, then you must figure out the most important yet outstanding features that can help you stand out against your competitors.
To make this possible, Codiant can be your smart technology solution provider. We have a plethora of services to answer your digital solution query, it includes web and app development, digital marketing, and a lot more.
You can reach out to us with project details and we will help you to take your idea to a live project by integrating advanced and trending functionalities.