WooCommerce Website

Development Company

Build a winning online retail store with our powerful and feature rich WooCommerce Development Services.

Hire Our Experts
Our WooCommerce Development Service Offerings
With our customizable and future-ready plugins of WooCommerce, we transform your ordinary e-commerce platform into a revenue-generating platform.
WooCommerce E-Commerce Development
Build an e-commerce store on WooCommerce with our customized client assistance to widen the reach of your retail business online.
WooCommerce Website Customization
Our expert WooCommerce developers can easily integrate or customize the plugins to provide a high-end solution.
WooCommerce Theme Design and Development
We provide top-notch theme design and development services that give your business a unique identity.
WooCommerce Extension and Plugin Development
We develop custom extensions and plugins from scratch and themes to cater to business and industry-specific demands.
WooCommerce Integration and Upgrades
Our WooCommerce developers can support you in integrating multiple tools and plugin development services.
PSD to Responsive WooCommerce Conversion
With PSD to WooCommerce conversion, you will get a WooCommerce website that looks exactly similar to your PSD website.
WooCommerce Migration
We provide seamless, rapid, and secure WooCommerce Migration Services in the minimum time frame.
WooCommerce Maintenance and Support
We accurately monitor the performance of the WooCommerce platform by debugging the platform to infuse perfection.
WooCommerce API Development
Our developers help you to make API requests that interact with your store, then use these API calls to create your plugin.
Your WooCommerce Development Partner
Avail WooCommerce Development Services from Codiant to initiate your online website or upgrade your online existence with quality and excellence.
With our dedicated team of WooCommerce developers, we have expertise in the latest technologies and frameworks to deliver customized solutions.
We offer a world-class WooCommerce development service at cost-effective rates. With our quality work, we marked our presence all over the globe.
We closely follow the latest design trends and apply them precisely to create easy and interactive customer-facing interfaces that boost user engagement.
We help to review the source code, integrated plugins and themes to maintain the site's security.
We are dedicated to delivering end-to-end business solutions to all our clients. If you are looking for a tailor-made business solution, contact us today.
Why Choose Us for WooCommerce Development?
We are a well-established and recognized WooCommerce Website Development Company, hailed for offering multi-dimensional e-commerce solutions in the marketplace.
Proven Professionals
We have a close-knit team of experienced WooCommerce developers that hold wide expertise in eCommerce development.
Striking Designs
Enjoy a world-class quality and affordable eCommerce design and development that fit your needs.
Demand Driven
We hold knowledge in developing high-performance WooCommerce websites that adhere to best industry practices.
Full Customer Satisfaction
We are willing to go the extra mile to make sure we meet and exceed our customer's expectations.
Looking for Exclusive WooCommerce Development Services?
Discuss your idea with our business executives to build a robust, custom, and secure website for your business.
Contact Us!
Features of WooCommerce Development
We build an easily customizable eCommerce platform for the businesses with an array of excellent features that makes it unique from others.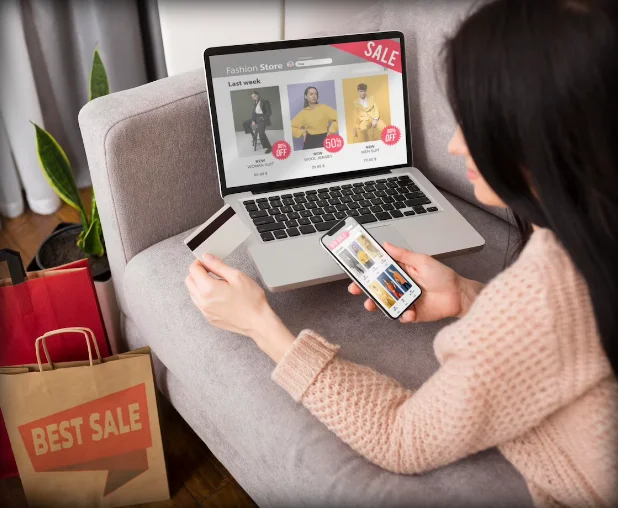 Open-source platform

Entrepreneurs from all over the world can easily access the fully-customizable open-source platform.

Easy Setup

Even the beginners and newbies can setup in a cost-effective and super-flexible way to achieve the desired goals.

Payment & Shipping

Platform supports a variety of shipping & payment methods, gateways and services as peer the emerging business requirement needs.

Orders Management

Easily track the order status of multiple orders through a systematic order management system accessible for admin.
Frequently Asked Questions
The services rely on your project requirements, but we can assure you to provide world-class services. Apart from that, you will be associated with experienced developers and project managers, who can take on all your project management burdens.
No, WooCommerce is an open-source platform, so no charges are required to develop the basic product. However, if you want to introduce some advanced functionalities, then need to pay for purchasing additional themes and extensions, or you can get customized extensions too.
WooCommerce is a highly flexible software that enables easy website expansion in terms of features, functionalities, pages, etc. If you need our assistance in doing so, you can contact us at info@codiant.com and hire WooCommerce experts to fulfil your business needs.
Yes, you don't have to worry about it. We assure you to deliver a highly responsive, well-designed, and SEO-friendly end solution.
Yes, we offer 30 days of maintenance and support duration for WooCommerce services. During that duration, we support you to check the quality, debugging, and implementing modifications wherever required. If you require extended support from us, then can hire our WooCommerce Developers for a definite time frame.