Social Media

Marketing Company

We develop social media solutions that aligns with your business goals

Get A Quote
Our Game-changing Social Media Marketing Services
Social media marketing is a best tool that can help brands to reach their target audience, build community, and grow business.
Social media consulting
Grow your social media presence and reach your target audience with our expert guidance. We'll help you create a social media strategy, develop engaging content, and track your results.
Social Media Strategy Development
This service involves creating a comprehensive social media strategy tailored to a client's specific goals and target audience. It includes defining objectives, identifying key platforms, and outlining content and engagement strategies.
Content Creation and Management
This service focuses on producing engaging and shareable content for social media platforms. It includes creating text, images, videos, and other media, as well as scheduling and publishing content to ensure consistent and timely updates.
Social Media Advertising
This service involves running paid advertising campaigns on social media platforms to increase brand visibility, reach a wider audience, and drive traffic or conversions. It includes ad creation, targeting, bidding, and monitoring campaign performance.
Community Management
This service revolves around managing and engaging with a client's social media community. It includes monitoring comments, messages, and mentions, responding to inquiries or concerns, and fostering positive relationships with followers.
Social Media Analytics and Reporting
This service focuses on tracking and analyzing social media performance metrics. It includes measuring reach, engagement, conversions, and other key indicators to evaluate the effectiveness of social media efforts.
Win Big with Social Media Management Services
As social media management agency our main goal is to create a strong social media presence and help business and brands to grow.
Increased brand awareness & Reputation Management
Grow brand recognition and reputation management to reach a larger audience, develop relationships with prospective clients.
Built a strong community
Connect with potential customers on a more personal level. Host contests and giveaways to engage with your target audience.
Generated Leads or Driven Sales
Generate leads by providing prospects with a way to contact you or drive sales by offering your products or services in your target market.
Personalised Social Media Advertising
We believe that a successful Social Media advertising campaign is one that is well-planned, executed, and measured. Our social media marketing expert will identify the best Social Media advertising Platform for you.
We are a Facebook advertising company that can assist you create and manage effective Facebook advertising campaigns. We will assist you reach your target audience and forcing results.
Instagram advertisements are used to elevate recognition, growth engagement, and convert users. We enlarge your brand, attain target market, and obtain marketing and advertising goals.
LinkedIn Ads help you grow your business to create and manage LinkedIn campaigns that will help you reach your target audience and drive results.
Reach target audience on Snapchat with effective social media marketing campaigns. We create and manage Snapchat ads to drive traffic to your website and increase brand awareness.
We help you create and manage effective Twitter advertising campaigns. We will assist you in reaching your target audience and driving results.
Reach your target audience on TikTok with effective social media marketing campaigns. We create and manage TikTok campaigns to drive traffic and increase brand awareness.
Why Select Codiant as Your Social Media Marketing Agency?
Codiant is a social media marketing agency that can help you grow your brand and reach your target audience through social media. We have a proven track record of success, and we can help you achieve your social media marketing goals.
Brand Marketing Solutions
We offer a variety of brand marketing solutions to help you build your brand and reach your target audience. We will create and manage branding and social media marketing campaigns, your social media presence, and provide social media analytics.
Data-driven
We use data to inform our decisions about where to place your ads, who to target, and what messages to use. This ensures that your ads are seen by the right people at the right time, and that you are getting the most out of your social media marketing investment.
Cross-platform expertise
We have experience working with a variety of social media platforms, including Facebook, Twitter, Instagram, and LinkedIn. This gives us a deep understanding of unique strengths and weaknesses of each.
Tech-Enabled
We use a variety of tools and platforms to automate and streamline our social media marketing processes. This allows us to deliver better results and successful social media campaigns for our clients.
Looking to boost engagement, reach, and conversions?
Supercharge your brand's online presence with our expert social media marketing services.
Get a free consultation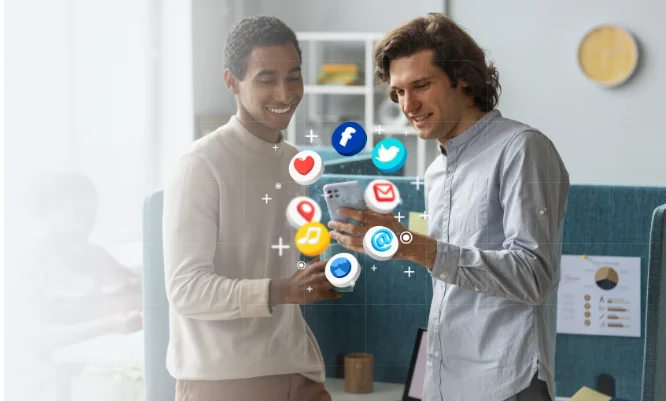 Social Media Marketing services FAQs
Social media advertising and marketing can gain your business in a whole lot of approaches, together with
Social media can help you reach a broader audience and raise brand awareness.
Social media can help you generate leads & sales by informing potential buyers about your products or services.
By generating traffic to your website or landing pages, social media let you improve sales.
Social media can help you in enticing along with your clients and growing relationships with them.
Social networking can aid within the optimisation of your internet site's search engine position.
While creating a successful social media marketing strategy there are a few key things to remember
Set clear goals
Target your audience
Create engaging content
Measure your results
Social media management can help businesses to increase brand focus, generate leads, and power sales. There are principal varieties of social media management services
In-house social media management: This is when a business manages its own social media accounts.
Outsourcing Social Media Marketing: This is when a business hires a social media marketing company to manage its social media accounts.
Are you looking for a social media advertising company that can help you achieve your business goals? Look no further than Codiant. We offer a comprehensive suite professional social media marketing services, including
Social media strategy
Content creation
Social media management
Social media advertising