The Business Model
1. Key Partners
Hotels
Guests
Online travel Agencies
Investors and shareholders
Payment processors
2. Key Activities
Product Development & Management
Sales & Marketing
Manage guest networks
Manage hotel networks
3. Customer Segments
Partners
Hotels
Online travel agencies
Media
Guests
Travelers with affinity for online banking
Tourists looking for the best deal
Business travelers
4. Revenue Streams
Cost per click (CPC)/ Cost per acquisition (CPA)
Advertising and Media
5. Cost Structure
Technology set up and running costs
Marketing costs
Employee salary
Choose The Type Of Model:
1. Aggregator Model : You want to aggregate hotels in a mobile app/website.
2. Hotelier App : You want to build an app/website for your own hotel chain.
3. Online Travel Agencies : You want a full-fledged app/website that includes hotel searches, flight bookings, car rentals, restaurant bookings etc.
List Of Features In An Online Hotel Booking Aggregator App
Customer App
Sign Up : Users can create a account with details like name, email id, mobile no., password, confirm password.
Social Login : Make the signup process convenient by enabling users to login through their social accounts like Facebook, Instagram.
Profile Creation : Users can create their profile by entering all the vital information like name, email, DOB, state, country, phone number and address.
View Hotel List : Users can search hotels, filter hotels (with price, property type, ratings, & locations), view hotel details.
Filter Option : Apart from filters like price, property type, ratings, & locations users can also apply filters like free WiFi, Air conditioners, car park, pool, spa, pet friendly, kitchen etc.
Compare : Users can compare the prices, proximity, and spaciousness of hotels and find the ideal hotel.
Book Hotels : In this feature, users can select hotel, check availability, select booking dates, enter traveler information (name, email id, mobile no.), make payment etc.
Payment Gateway Integration : Users can make payment through credit/debit cards, online banking, and wallet payments.
View Bookings : Users can view past bookings, upcoming bookings, reservation details and transaction history.
View Deals : Users can view special offers, deals, announcements, coupons, vouchers, gift cards if any.
Recommendation Engine : Recommendation engine help customers to find the product they would like by knowing their taste.
Push Notifications : Users can be kept updated with email and push notifications.
Geolocation Integration : Users can view the location of the hotels through maps.
Multilanguage Interface : Users can set their own language preference.
Hotel Ratings and Reviews : Users can view hotel ratings, reviews and feedback and also rate and review hotels.
Hotel Owner App
Content Management System (CMS) : Hotel owners can upload and manage content like hotel amenities, room details, pictures, rates, special deals etc.
Customer Relationship Management (CRM) : Through CRM integration, hotel owners can manage and analyze customer interactions and data throughout the customer lifecycle, with the goal of improving customer service relationships and assisting in customer retention and driving.
Price Management : Hotel owners can manage and adjust the price of rooms depending upon the factors like availability, rush, or city events.
Room Management : Hotel owners can update the information of rooms, availability etc.
Customer Support : Hotel owners can assist guests before, during, and after their stay.
Admin Panel
Login : Admin can login through email id and password.
Dashboard : Admin can check total bookings, total number of users, number of hotels registered, total amount collected, all in a single view.
Hotel Management : Admin can manage hotels, add hotels, delete hotels, and update their information.
Customer Management : Admin can add customers, delete customers, check their personal details and send messages.
Bookings Management : Admin can view total number of hotel bookings, book on behalf of customers, cancel bookings, update bookings.
Reports and Analytics : Admin can check reports and analytics to drive key decisions; get deep insights so as to catalyze next action.
Ratings and Reviews Management : Admin can manage ratings and reviews, users' feedback.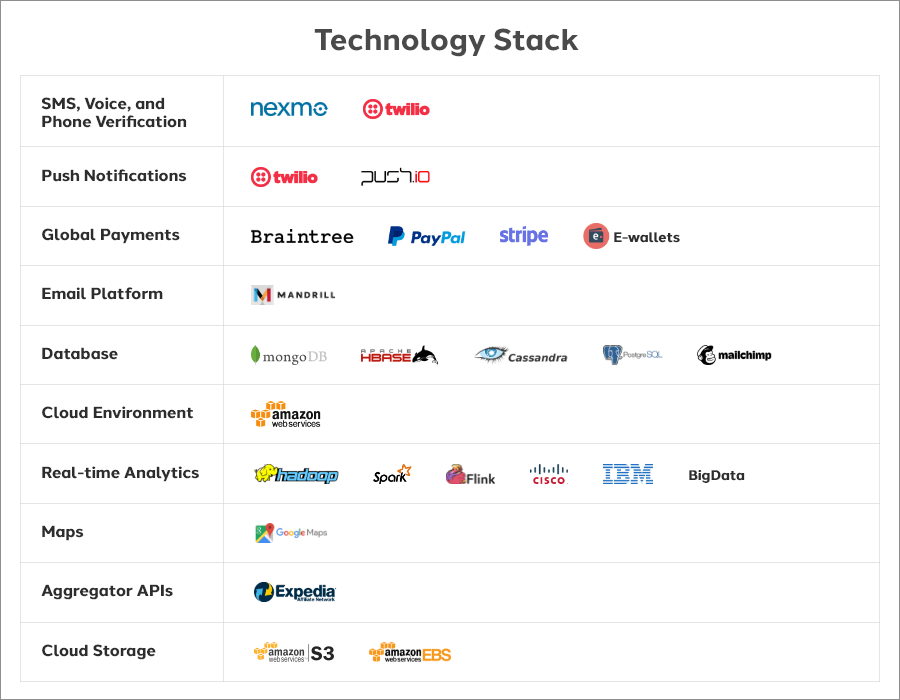 Cost To Develop A Hotel Booking App
The cost to develop a hotel booking app generally depends on the number of features you require and total hours employed in developing those features, which generally depends upon the per hour cost the mobile app development company charges.
The total cost to develop a hotel booking app costs around $27000 – $34000. Given, the app development charges are $20/hr-$50/hr.