About Virtual MD
Virtual MD, is a HIPAA compliant Telemedicine Application for USA where patient and doctors can register to give and avail telemedicine services through the platform. It is an easy-to-use, telemedicine app solution that helps care providers improve patient satisfaction and increase practice revenue. Patients get convenient, accessible care for chronic care and follow-ups with features like Online Appointment Booking (on-demand and scheduled visits) for Video calls, Phone calls and Home Visits. They can also search for a doctor in their vicinity based on desired specialty and pay via card, insurance or health plans for self or dependent.
Team

04 Member

Development Time

06 Months

Client's Location

Mumbai, India

Industry

Healthcare & Lifesciences

Service

UI/UX Design, Mobile App & Web Development

Target Users

Young Audience, between 16 - 35 years
The Need
The dire need of combining two worlds medical and technological with regulatory safeguards is critical more than ever. In United States, 84% of people are more likely to select a provider that offers telemedicine over that doesn't. Clearly, mHealth is something that patients want.
Noteworthy, too is the fact that doctors and physicians look to deploy telemedicine right away and flatten the curve that could alleviate the burdens on all the clinics/hospitals.
In respond to this, our client moved quickly to deploy a telehealth solution that suffice physicians and help them expand their reach with the ability to examine remotely and diagnose more patients in a shorter amount of time.
Our client's only motive was to modernize care across hospitals and healthcare organizations using flexible digital options that connects patients and providers from any location with full security and reliability. The major features targeted to achieve this state-of-the-art mobile app and web panel were:
Area-based Doctor Search
Online Appointment Booking
Mode of communication (Video/Phone Call/Home Visit)
Appointment Scheduling
Insurance Management
Online payments and more.
Technologies Leveraged
Native Android and iOS
Laravel
High Fidelity Prototype
We created high fidelity designs and prototypes with our chosen color palette, styles, color, UI elements and typefaces. The prototype was ready for usability testing. Here's the final glimpse of the app screens.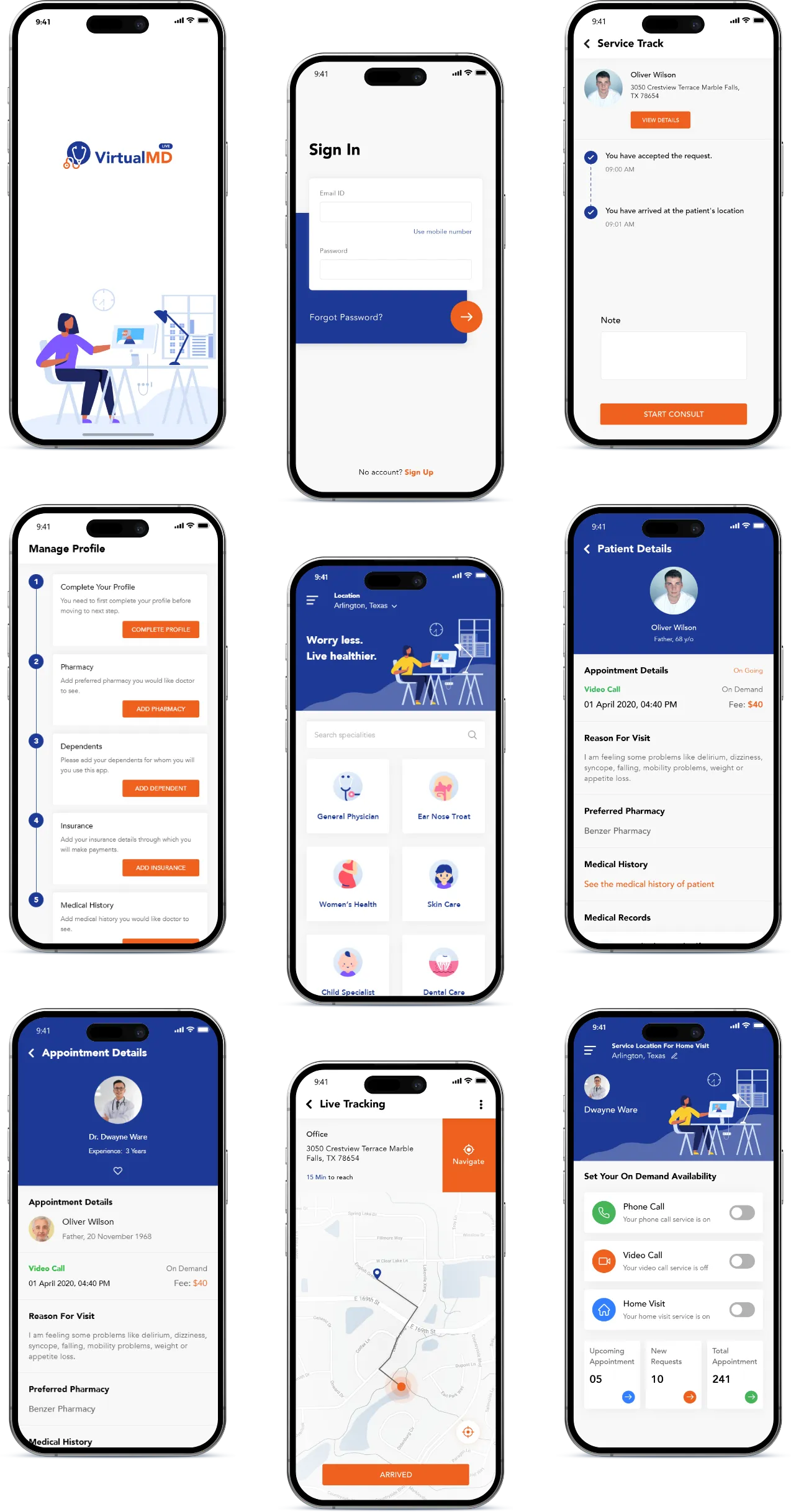 Development
Our Mobile app and Web development team started working on developing separate modules and detailed features for all the important stakeholders including: Admin, Clinic, Provider (Doctor/Nurse), and Patient Panel. They implemented features like:
Sign Up/Login
Patient can easily sign-up or login using email id or phone number and OTP as password.
Create Profile
Patient can create profile by adding details like name, DOB, location, etc.
Search Doctors
Patients can search doctors based on their specialties and in their vicinity.
Add Pharmacy
Patients can add preferred pharmacy they would like Doctors to see.
Add Dependents
Patients can add dependent(s) with their profile image and basic details.
Manage Insurance
Patients can add insurance details through which they will claim or make payments.
Medical History
Patients can add medical history by filling a questionnaire having suggestions in choice boxes and dropdowns.
Appointment Booking
Patients can book appointments for a scheduled date and time for self or dependent.
Communication Mode
Patients can select preferred communication mode from video call, phone call, and home visit.
On-demand Doctor Booking
Patients can book doctors on-demand, select mode of communication, and payment mode.
Health Plans
It is a subscription plan for family or self which can activated after paying a set monthly price along with it the reduced price set for selected consultation mode.
Patient engagement
Other patient engagement options include demographics, access to medical history, manage medical records, transactions and payment settings, etc.
Register/Login
Doctors can easily sign up through email id or mobile number and OTP as password.
Set Availability
Doctors can set their own on-demand availability on phone, video, or home visit with active/inactive toggles.
Check Appointments
Doctors can check their upcoming appointments, new requests, and total appointments.
Manage Appointments
Doctors can accept/reject on-demand appointments requested by patients.
View Patient Details
Doctors can view patient details including reason for visit, preferred pharmacy, medical history, and uploaded medical records.
Prescription
After taking a tele-visit with patient, doctor can add prescription with dosage, number of days and times.
Manage Availability
Doctors can select their availability by adding working days and timeslot.
Notifications
Doctors will receive notifications for LIVE appointment status and other important events like if patient enter the waiting room, joins the video call, etc.
Manage Profile
Doctors can update their profiles by adding their specialties, medical license, education, certifications, experience and other basic info.
Register/Login
Clinic Admin can easily sign up or log in through email id and password.
Dashboard
An interactive dashboard to view total no. of providers, patients, earnings and appointments in the system.
Manage Providers
Clinic Admin can manage providers by adding their availability, editing their status, and viewing and updating other details.
Manage Appointments
Clinic Admin can search appointments by day, week, month, and year, and view appointment details.
Manage Patients
Clinic Admin can search patients, set status, edit, delete, and view details.
Appointment Request
Clinic Admin can check appointment request by day, week, month, and year, and view appointment status and details.
Register/Login
Admin can easily sign up or log in through email id and password.
Dashboard
An interactive dashboard to view total no. of clinics, providers, patients, earnings and appointments in the system.
Appointment Statistics
Admin can view total number of appointments, active, canceled, and completed appointments.
Manage Providers
Admin can search and view provider details like clinic, NPI no., license, specialty, etc. and have controls to activate/deactivate them.
Manage Patients
Admin can view, update, edit, delete patients, view their details and select their status.
Manage Clinic
Admin can search clinics registered, check their status and take necessary actions (edit/active/inactive/delete)
Manage Specialties
Admin can search specialty, manage appointment fee, check status and take necessary actions (edit/active/inactive/delete)
Manage Appointments
Admin can search and view appointment details like provider and patient's name, ongoing status, booking type, fees, date and time.
Manage Reports
Admin can view and manage appointment reports, providers' payment report, and health plan payment reports.
Project Outcomes: Evaluating the Impact
Virtual MD is adding immense value to clinics and hospitals in the USA, especially in this time of pandemic, the app is helping to limit virus exposure at the frontlines and protecting healthcare staff as well as patients from getting affected with infections and viruses. Also, the telemedicine app is significantly reducing extra pressure levied on clinics as they are exceeding their normal capacities in this challenging times through its core features like online appointment booking and video/phone calling with an option to home visits.
Read More Case Studies
We extended our services to scale operations & services of our global clients. Team Codiant received much appreciation for quality solution offerings and successfully build a trustable relationship with each client.
Ned2 is a web platform that helps companies to bridge their resource gap by searching & hiring the right candidate for the organization. The platform also suggests resources based on their search. Hiring skilled candidates becomes quite easier and quicker for organizations and saves a lot of manpower. The organizations can quickly onboard the platform […]
A Cashless solution that supports peer-to-peer money transfers and retail payments via. Monay Wallet balance, credit and debit cards to fasten transaction process. Facilitates a convenient and secure mode of making payments or requests for money. Streamlines light to heavy amounts of payment among merchants within seconds.
ON-DEMAND DELIVERY
With Ummys, the customers can find their local favorite chefs and check out their menu to order their most preferred cuisine and can opt for home delivery or order pick-up option. The chefs can offer their specialties to individual food lovers at their comfortable place. Customers can place an order instantly for home delivery or […]