About Fytness
Fytness is a social networking mobile app platform designed for the global squad of fitness freaks where they can inspire each other to stay fit together. The functions that shape the significance of this motivating platform include features like finding friends, creating fitness videos, events, and connecting with other fitness users. The app also tugs users to stick on the app without losing interest as their peers challenge them to reach a certain fitness goal.
Team

04 Member

Development Time

06 Months

Client's Location

USA

Industry

Fitness

Service

UI/UX Design, Mobile App & Web Development

Target Users

Gyms and Fitness center
Identify the Client Needs
In a world that isn't ready to pause, it's extremely crushing to hit Gyms daily and channel your efforts in meeting the daily fitness goals. Also, when we are bombarded with the daily to-do list often hitting a Gym takes a backseat. In such an uncertain situation, missing daily fitness regimes can thwart a user's progress towards a healthier body. Fytness clears these obstacles by allowing the user to attain their goals in full spirits even without having to visit gyms. The social networking app platform pulls up the fitness vibes with attributes like inspiration through fitness-centric videos and posts, setting challenges, companionship with like-minded people, among others.
To develop an engaging Fitness Network App Platform for users that covers the following key features:
Display other users' activity in the form of text, images, audio, or video, and viewers can react or comment on posts.
Record and upload videos of exercise and challenge others.
Users should be able to follow and unfollow other members to get relevant and selected feeds.
Users can create events or take actions over existing events, such as being interested or going to the event.
Messaging, events, and notifications.
Technologies Leveraged
ReactJS
Native iOS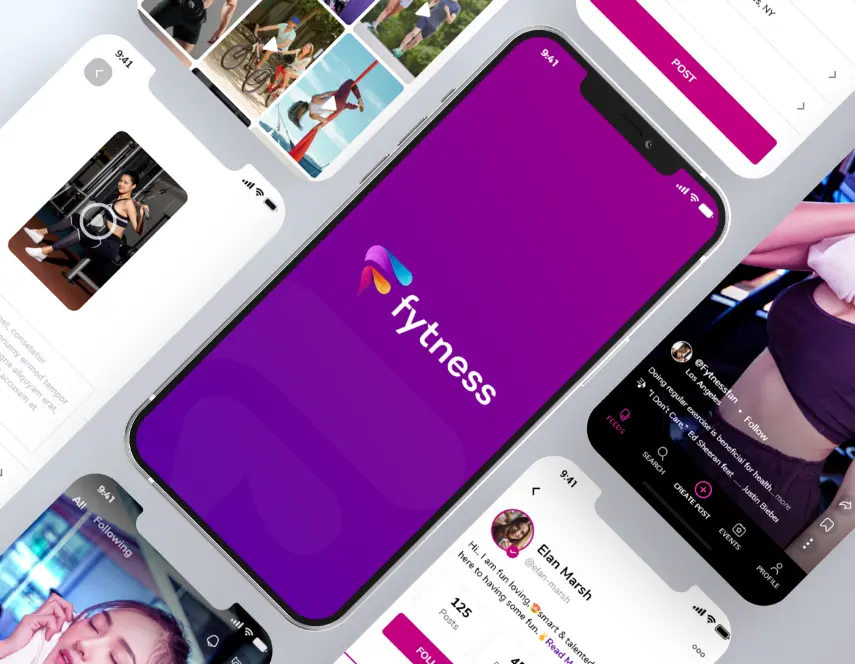 Development
To deliver the final app solution, our front-end, back-end, and design team has worked closely. The back-end team proposed the Fytness App Solution with the following functionalities.
Register/Login
Register and login with basic details & password, or social media account.
User Profile
Add profile image, gender, age, interest, location, and many more.
Display Feed
View other users' post to like, comment, or view based on set preferences and interests.
Posting Content
Use app camera or upload video to share feed, or post text & audio feeds.
Group Request
User can request to join the group or another user can invite to join.
Personal or Group Chat
Chat with friends, followers, or in a group.
Events
Create an event or perform action over existing events.
Bookmark or Tag Post
User can see all the bookmarked and tagged posts in the profile.
Calendar
Set reminders of calls, events, instructor classes, etc.
Notification
Likes, comments, reply, group join request, follower request, etc. in-app notification.
Settings
Manage privacy in profile, messaging, follower, comments, display details, etc.
Contact Support
Seek instant support from admin for any query or complaint.
Register/Login
Admin requires to enter email id and password to login or signup.
Dashboard
Detail about the number of users, published videos, audios, and text on the platform.
Manage User
Check user profile details and can block the user or activate/deactivate status toggle.
Control Post
Admin can keep track of all the published posts and can delete or hide the post if found inappropriate.
Hashtags
Admin can keep track of the number and variety of hashtags introduced in the user post.
Sports/Activities
Manage all the existing, ongoing, and proposed sporting events and activities.
Artist
Manage artist's profiles and can activate or inactive them.
Album
Manage existing album's names and images or can active and deactivate any.
Events
Admin can keep track of previous, ongoing, and proposed events.
Reported Video
Admin checks reported video and perform relevant action over it.
CMS
Admin can manage terms and conditions and privacy policy from here.
Feedback
Admin can manage customer feedback, rating, and review screen, and cancellation reasons.
Project Outcomes: Evaluating the Impact
Fytness's entirely new technology footprint i.e. social networking approach for fitness users signed up a large number of users with full motivation, determination, and engagement. Challenges posed by their peers kept them engaged with time-bound goals. Thus, helping them increase the engagement rate and daily subscriptions. Moreover, that easy-to-use and straightforward user experience spiked the daily users count remarkably.
Read More Case Studies
We extended our services to scale operations & services of our global clients. Team Codiant received much appreciation for quality solution offerings and successfully build a trustable relationship with each client.
TRANSPORT & LOGISTICS
RidePro offers multiple car learning courses based on your level of expertise and can monitor your actions and progress every day to master your car driving skill. Choose a budget-friendly and expert trainer along with a specific course for a definite period of time. Enhance your driving skill while interacting with trainer in the real […]
E-COMMERCE
Cosmetic choice is Australia's most trusted online directory and appointment booking platform for Beauty, Cosmetics, and Health.
Snapshopy is a comprehensive on-demand grocery delivery app that allows users to shop for groceries to daily necessities and get it delivered on the doorsteps. Easy access to explore grocery items as per preferred category Quick order delivery at shopper's doorsteps